Panasonic Lumix DMC-FT3 Review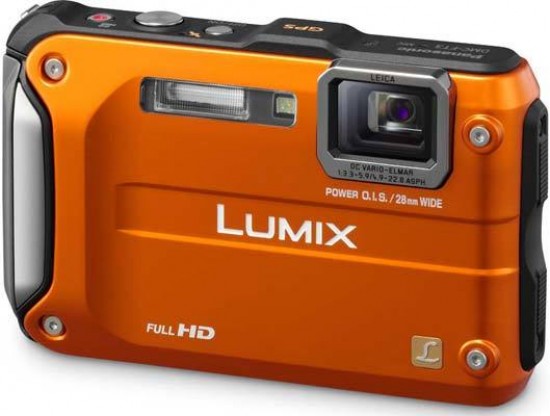 Image Quality
All of the sample images in this Review were taken using the 12 megapixel Fine JPEG setting, which gives an average image size of around 5.5Mb.
Images from the FT3 are sharp for the most part, displaying good, even exposure and an impressive degree of detail, although in comparison with an interchangeable lens compact camera they inevitably come off looking like they could be sharper still. As we've said, at the end of the day this is a camera for taking snapshots.
With that in mind however there's little about the FT3's reliably consistent output that necessitates adjustment in Photoshop, though contrast and brightness levels can be improved on if we're being picky. Lens flare is likewise an occasional problem if shooting in bright sunlight, as is pixel fringing between areas of high contrast, but this isn't anything we hadn't expected in its compact class.
Colours are natural, veering towards the warm on occasion - an assessment which is true of Panasonic's Lumix range as a whole, and, should the weather or conditions at the time of shooting be a little dull, the built-in Vivid colour mode can add some visual punch.
In terms of the FT3's low light performance, grain is only really starting to intrude into shadow areas at ISO800, which is better than we'd hoped, and overall detail doesn't begin to noticeably soften until ISO1600. So, while it's best stick below ISO800 if at all possible for a 'clean' image, we'd be happy shooting up to and including ISO1600 if pushed; incidentally the top manually selectable setting here anyway.
Noise
There are 5 ISO settings available on the Panasonic Lumix DMC-FT3. Here are some 100% crops which show the noise levels for each ISO setting.
| | |
| --- | --- |
| ISO 100 (100% Crop) | ISO 200 (100% Crop) |
| | |
|   |   |
| ISO 400 (100% Crop) | ISO 800 (100% Crop) |
| | |
|   |   |
| ISO 1600 (100% Crop) |   |
| |   |
Sharpening
Here are two 100% Crops which have been Saved as Web - Quality 50 in Photoshop. The right-hand image has had some sharpening applied in Photoshop. The out-of-the camera images are a little soft at the default sharpening setting and benefit from some further sharpening in a program like Adobe Photoshop. Unfortunately you can't change the in-camera sharpening level.
| | |
| --- | --- |
| Original (100% Crop) | Sharpened (100% Crop) |
| | |
|   |   |
| | |
Chromatic Aberrations
The Panasonic Lumix DMC-FT3 handled chromatic aberrations well during the review, with limited purple fringing present around the edges of objects in certain high-contrast situations, as shown in the example below.
Example 1 (100% Crop)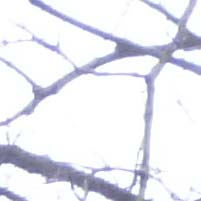 Macro
The Panasonic Lumix DMC-FT3 offers a Macro setting that allows you to focus on a subject that is 5cms away from the camera when the lens is set to wide-angle. The first image shows how close you can get to the subject (in this case a compact flash card). The second image is a 100% crop.
| | |
| --- | --- |
| Macro Shot | 100% Crop |
| | |
Flash
The flash settings on the Panasonic Lumix DMC-FT3 are Auto, Auto/Red-eye Reduction, Forced On, Slow Sync./Red-eye Reduction, Forced Off. These shots of a white coloured wall were taken at a distance of 1.5m.
| | |
| --- | --- |
| Forced Off - Wide Angle (28mm) | Forced On - Wide Angle (28mm) |
| | |
|   |   |
| Forced Off - Telephoto (128mm) | Forced On - Telephoto (128mm) |
| | |
And here are some portrait shots. As you can see, neither the Flash On or the Auto/Red-eye Reduction settings caused any red-eye.
| | |
| --- | --- |
| Forced On | Forced On (100% Crop) |
| | |
|   |   |
| Auto/Red-eye Reduction | Auto/Red-eye Reduction (100% Crop) |
| | |
Night
The Panasonic Lumix DMC-FT3's maximum shutter speed is 60 seconds in the Starry Sky Mode scene mode (there are also 15 and 30 second options) and 8 seconds in the Night Scene mode, which is great news if you're seriously interested in night photography. The shot below was taken using a shutter speed of 1/15th second at ISO 800. I've included a 100% crop of the image to show what the quality is like. The camera takes the same amount of time again to apply noise reduction, so for example at the 15 second setting the actual exposure takes 30 seconds.
| | |
| --- | --- |
| Night Shot | Night Shot (100% Crop) |
| | |