Panasonic Lumix DMC-FT4 Review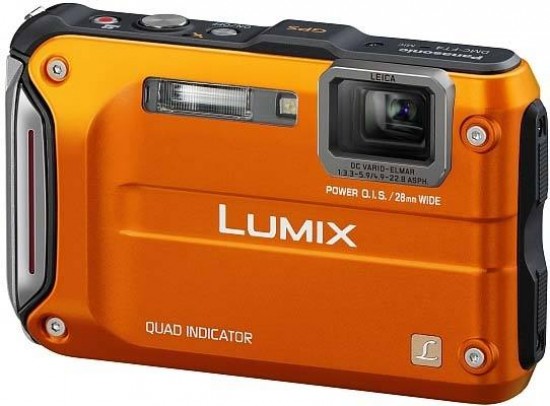 Introduction
The Panasonic Lumix DMC-FT4 (also known as the DMC-TS4) is a waterproof, shockproof and dustproof digital camera. The FT4 can be used underwater to a depth of up to 12 meters and is drop proof from a height up to 2m, freezeproof to -10 degrees C and dustproof. In addition, the 12.1 megapixel Panasonic FT4 offers a 28mm wide-angle 4.6x optical zoom lens, 1920x1080 full-HD movie recording, 3D photo mode, an on-board GPS module, a compass, altimeter and even a barometer. Panasonic has also added three new shooting modes, including Time Lapse Shot, Miniature Effect and Panorama Shot. The Panasonic Lumix DMC-FT4 / TS3 is available in black, blue, white or orange and costs £349.99 / $399.95.
Ease of Use
Fighting its corner in a market that has become awash with waterproof and shockproof compacts of late, the Panasonic Lumix DMC-FT4 follows on from last spring's FT3. And the FT2 and FT1 models before that. Like its forebears it is fashioned in the rugged style of a workman's toolbox miniaturized and with a lens attached, and is available in a range of colours. Dimensions are 103.5x64x26.5mm, so it's barely wider than your non-armoured compact, while a weight of 197g with battery and optional SD card loaded ensures it can be comfortably transported in a trouser pocket.
The first surprise is how similar this camera is to 2011's FT3. Has Panasonic adopted the 'if it ain't broke don't fix it' attitude, simply changed the model number on the top and bottom plates, and sent the same camera back out to market? While the FT3 was one of the best in its class for specification, it certainly seems that this could be the least changed 'upgrades' we've witnessed.
A case in point: stills resolution remains the same as not only the FT3 model, but also the original FT1 from three years ago. Here we have an effective 12.1 megapixels offered via a 12.5 megapixel 1/2.33 type CCD sensor. Admittedly that's fine for what is, beneath the armour cladding, your average pocket-sized Lumix point and shoot - albeit one with the funky feature of GPS for the location tagging of images, which is another feature retained from its predecessor. This provides real-time information naming the location at which your shot is being taken, with, claims Panasonic, up to a million landmarks stored. It's one of the more precise GPS antennae we've seen on a digital compact, being able to pin down our location within a borough rather than simply flagging up the wider area. And, unusually, we didn't experience the usual problems of getting it to work when we were indoors as well as outside. Longitude and latitude coordinates are stored in the particular JPEG image's Exif data. Coupled with the exterior padding, this might suggest the compact as having appeal for the amateur travel photographer too, not simply the clumsy, even if the zoom is modest in comparison with travel cameras such as those in Panasonic's own peerless TZ series.
Also remaining exactly the same as the FT3 is the claim that the camera can withstand being dunked underwater to a depth of 12 metres and still come up functioning, while it can likewise survive a fall from two metres in height. The FT4 model also retains the previous camera's ability to be used in temperatures as low as -10°C, and the fact that it's dustproof – which again was a capability introduced way back on the FT1. Unlike Olympus Tough models, it's not yet crushproof.
However, in Panasonic's favour and when viewed in combination, even this 12 month old specification still reads pretty well compared to the best of what the competition can muster, with current rivals including Nikon's AW100 and Coolpix S30, the Olympus TG-320, Canon D20 and Fujifilm XP50 to name but a handful.
| | |
| --- | --- |
| | |
| Front | Rear |
The Lumix DMC-FT4's refusal to change too much inevitably means that also most of the criticism we levelled at the previous iteration remains the same.
Though like its predecessors you can't, for the most part, fault the build quality, our gripes continue to include the fact that, with the exception of the main shutter release button, all of the controls are too small and fiddly to be operated accurately with either wet fingers or while wearing gloves (unless of the fingerless variety!). It seems that Panasonic would rather retain a modicum of style than give wholly in to practicality, perhaps mindful of the danger of ending up with something as large buttoned yet pug ugly as Canon's original PowerShot D10 if image quality and usability is placed higher in priority than creating something that simply looks good.
Such 'compromise' also means that the FT4 retains folded optics, so at no point does the optically image stabilised 4.6x zoom emerge from the body and into harm's way if dropped. Protected by reinforced glass in lieu of an automatic lens cover, the Leica-branded lens offers an adequate focal range of 28-128mm in 35mm terms. We did notice some drop off of focus towards the corners of the frame at maximum wide angle, while as with most pocket compacts offering more than the old 3x capability, results are softer the closer you get to maximum zoom setting, plus there's the option to let the zoom run on and extend it digitally to an equivalent 9.3x. A narrow window for the integral flash, plus self-timer/AF assist light indicator are set alongside the lens. Thankfully the flash is set far enough away from the camera's edge to avoid fingers obscuring it.
There is a subtly raised portion to the front and backplates provided by way of extra grip, though because the camera's surface is smooth and glossy, fingertips do tend to slide around. A rubber strip on the front of the camera might have helped provide a firmer hold, while at the back you find your thumb resting on and obscuring the built-in speaker. In terms of low light suitability, a user selectable ISO range of ISO100 to ISO1600 remains and is the same spec as not only the previous FT3 but also Lumix compacts costing half the price the FT4 was being listed for at the time of writing - £349 on Panasonic's own e-shop – which is incidentally marginally more than the £329 the FT3 is currently listed at.
Press the FT3's power button and the camera readies itself for image capture in just under two seconds, initially presenting users with the on-screen offer of a tour of the precautions to bear in mind if using the camera underwater, so you're always mindful of accidentally trashing the camera. A half press of the shutter release dissolves this message if you're on dry land and just want to get on with the business of taking a shot. Press down fully to take a photo and, with no discernable shutter delay, a full resolution JPEG is committed to memory in 2-3 seconds, the screen briefly displaying a frozen image of the captured shot. Like its FT3 forebear it's certainly as quick as anyone would want from what at the end of the day is a point and shoot pocket camera.
| | |
| --- | --- |
| | |
| Front | Front |
With images framed and reviewed via the so-so but adequate 2.7-inch, 230k dot resolution LCD screen, commendably, video clips here are the Full HD 1920x1080 pixels, with a dedicated record button provided alongside the shutter release button to commence their capture – no matter what alternative stills mode might be in play. There is also a choice of two formats: the highly compressed AVCHD or the less tightly squeezed MP4 for wider compatibility. The useful wind cut feature remains for making recordings, as does continuous auto focus, and the fact that the optical zoom can be accessed for video as well as stills. There's no traditional bottle-top style mode dial here for alternative stills selections – indeed the control layout at the rear is identical to that of the FT3 in its streamlined appearance – whereby a mode button is provided instead, a press of which brings up the shooting options as two rows of icons presented centre of screen. These are then tabbed through and selected via four-way command pad with familiar 'menu/set' button located at its centre as you'd expect, a press of which selects whichever setting is highlighted upon.
Here the ten shooting settings, rather than the eight of its predecessor, are laid over the image in front of the lens so you don't lose sight of your subject whilst adjusting settings. As well as the familiar scene and subject-recognising intelligent Auto (iA) setting, we get a Program mode – a re-naming of the FT3's 'Normal Picture' mode, a new manual mode alongside sports – which allows the adjustment of aperture and shutter speed - plus snow and separate beach and snorkeling modes by way of indicating how Panasonic imagines this camera might be used. Next up are separate underwater and miniature effects modes, also a new addition which as with the same feature on rival cameras apes a tilt and shift lens and narrows the portion of an image in focus to a central band to trick your mind that you're viewing a full size building on a toy town scale. The 26 pre-optimised scene modes that were found on the FT3 have here been reduced to 14 in number, whilst still managing to cover the usual range of portrait and landscape photo biased subjects. The last shooting mode menu icon is what would have at one time been exciting but is now merely ubiquitous 3D mode.
As with the FT3, on the FT4 this 3D feature again recalls the Sweep Panorama feature of the Sony Cyber-shot and NEX compacts by compositing an image from a sequence of shots taken as you pan with the camera in the direction the on-screen arrow indicates (left to right), through an arc of just 10cm or 0.33 feet. Like competing models, the file generated by the Lumix DMC-FT4 is an MPO file. So this isn't actually viewable in all its stereoscopic glory unless you own a 3D TV – although, as when shooting with the specialist 3D lens for Panasonic's GF2 and GH2 for example – a Fine or Normal quality JPEG is saved alongside the MPO file for easy reference. However it really is for reference only as the quality is akin to a grab from a video sequence rather than a dedicated still, and delivers a file size of only around 1MB.
Staying at the back and directing our attention to the top right hand corner, as we found with the FT3 at first it feels slightly odd that the camera's zoom is operated by a pair of adjacent round buttons, rather than the familiar rocker switch which might have proved impractical and slippery with wet fingers. Here instead, in order to move between wideangle and telephoto options, the user's fingers have to perform a little dance and hop between them. With the camera's lens at its widest setting from the off, a press of the right hand (telephoto) button and its travels through the focal range slowly but steadily and moreover nigh silently, in around three seconds. The zoom can also be utilized when recording video clips, but slows down further to avoid mechanical noise being a distraction, taking around five seconds to get from wide to tele setting.
The regulation issue four-way control pad/cross key set up meanwhile features the same layout as the FT3. So at 12 o'clock we have a means of tweaking exposure compensation (again +/- 2EV with an on-screen slide bar provided) if you're not in iA mode that is, which disables access to certain functions including this one. Then, as we move around clockwise we find a means of adjusting flash options (auto, auto with red eye reduction, forced flash on, slow sync flash with red eye reduction and flash off), then selecting macro setting for close ups (as close as 5cm) and/or self timer (an option of two or ten second countdowns).
| | |
| --- | --- |
| | |
| Front | Top |
A press of the centrally located menu/set button meanwhile brings up a quartet of icon-distinguished folders on screen, including a dedicated one for GPS functionality. This again is the same as we found with the FT3. Aside from GPS we get the regulars of still image capture – the 'record' mode – plus a separate one video recording, and a fourth equally self-explanatory option of 'set up'. The contents of the photo record folder are split across five screens if you have the camera in Program shooting mode and run the gamut of picture quality and size settings along with the ability to adjust aspect ratio from 4:3 to 3:2 to 16:9, and, more unusually on to 1:1.
We also get intelligent ISO among the ISO settings, and the ability here to select incremental stages from ISO100 up to ISO1600 as one would normally, which is a fairly modest range as previously mentioned. White balance can also be adjusted manually, whilst AF mode can be swapped from the default 1-area AF to 23-area, or to spot AF, or by AF tracking, as well as to face detection mode if you're going to be taking portraits in the main. It's within the record folders that we also find the colour mode options, which are rather squirreled away as a result, plus remain unchanged from the old FT1. Colour can therefore be altered from the default of 'standard' to vivid, B&W or sepia. Formerly selectable warm, cool and neutral options have vanished from the FT4 iteration however.
Dipping next into the video recording folder we find two screens' worth of options and again the ability to adjust quality dependant on end use and swap between AVCHD and Motion JPEG compression options. It's here that as we mentioned earlier users can deploy the wind cutting option when filming video outdoors, as well as activating continuous AF so the shot doesn't go totally out of focus as you gradually adjust framing.
The set up icon/folder meanwhile provides access to seven screens' worth of options and it's here that we get to turn a histogram on/off or call up a nine zone compositional grid on screen, as well as set date, time, and format the internal memory or card in use.
The last folder as indicated pertains to the use of GPS. This can be set to be constantly active (a lamp therefore glowing on the camera even when it is otherwise inactive), turned off entirely, or placed in 'airplane mode', whereby the GPS only kicks in when the camera is switched on, rather than keeping working while it's off. You can also re-position/refresh the GPS settings, plus manually set the compass by perform a bizarre figure eight 'dance' with the camera. An impressive array of functionality is therefore included here.
| | |
| --- | --- |
| | |
| Battery Compartment | Memory Card Slot |
As identical to the FT3, the remaining two buttons at the bottom of the camera back are for the self-explanatory display and the less immediately obvious 'Q.Menu'. A press of the latter 'Quick Menu' option brings up a toolbar across the top of the LCD screen, allowing the user to quickly tab through options for adjusting the likes of GPS mode, AF mode, burst shooting (maximum 10fps at three megapxels) white balance, ISO, still and video resolution/quality as well as adjusting the LED light and monitor brightness. Basically, these are your key settings at a glance, saving the time required to dip into the menu folders previously discussed. Subsequent presses of 'display' meanwhile turn off the otherwise constant onscreen icons and shooting info to provide an image clear of distractions, and/or call up a nine zone compositional grid on screen for those users practicing their rule of thirds, or, more funky still, a graphical interface of GPS coordinates and compass, which adjusts automatically as you tilt the camera itself.
On the right hand flank of the FT4, if still viewing it from the back, there's not only a sliding catch on the side door protecting the joint battery and SD/SDHC/SDXC card compartment, plus HDMI and USB outputs, but also an additional lock to prevent any ingress of undesirables. On-screen prompts and warnings also lessen the prospect of accidents or jumping into the pool without doing the equivalent of battening down the hatches first. We dunked the camera in our local pond twice, and though it survived on both occasions we did discover beads of moisture present along the edge of the battery/card compartment when opening the side of the camera. When this happening after an arm's length dip, it would make us feel slightly nervous about attempting the full 12 metres if we were to take it out in an ocean (unfortunately we don't live anywhere near one). Also located over at the far right hand edge – which curves around to 'bleed' into the top plate – is a lug for attaching a provided wrist strap: a useful addition if you're skiing down a black run with it. Incidentally according to CIPA testing, battery life is good for 310 shots from a full charge, which is the same as the FT3 and slightly down from the FT1's 340, the GPS undoubtedly sucking an extra degree of power. You'll want to take the supplied charger along if heading off on holiday.
The base of the FT4 meanwhile features the familiar slightly off-centre screw thread for attaching the camera to a tripod, and that's your lot as regards features and functionality. But what about picture quality? Is it also very familiar when compared with its predecessors or does the FT4 cast a new light on Panasonic's toughened compact's capability? Read on to discover more…