Panasonic Lumix DMC-FX40 Review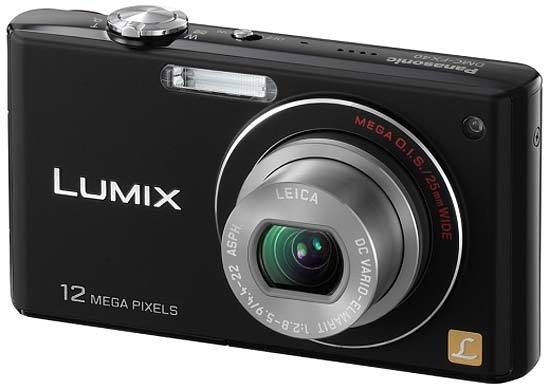 Image Quality
All of the sample images in this Review were taken using the 12 Fine megapixel JPEG setting, which gives an average image size of around 4.5Mb.
Whilst when there's sun shining and clear blue skies the Panasonic Lumix DMC-FX40, like most point and shoots, acquits itself reliably, in lower lighting conditions we found the camera's AF system occasionally struggled to find focus and, when in iA mode, the same conditions also caused it some confusion - for example selecting macro when landscape was warranted and thus delivering a blurred image. We also found flash slightly under-powered, struggling to deliver sharply defined images, most notable when examining our interior portraits taken with flash to check how well the camera does in avoiding - or rather correcting for - red eye.
In terms of the visibility or otherwise of image noise, although it begins to creep into shadow areas from ISO 400 upwards, overall images look smooth and free from obvious degradation up to and including ISO 800. At ISO 1600 however images begin to appear as if being viewed through a fine layer of silt, with detail softened overall. Opt for the camera's high sensitivity mode that will result in a three megapixel image to limit the appearance of noise and, sure, it looks cleaner, but the obvious softness remains. In general images from the Panasonic Lumix DMC-FX40 aren't routinely as sharp as we would have liked, so a subtle application of unsharp mask in Photoshop afterwards proves beneficial.
On a more positive note, the Panasonic Lumix DMC-FX40 pictures are almost uniformly warm and colourful, with tell-tale pixel fringing of a blue-ish/purplish hue most noticeable around the edges of objects and subjects when framed against particularly bright backgrounds; tree leaves against featureless skies being one of the more obvious examples. Again, as we recently found with the FX550, a large amount of green in the foreground of landscape shots resulted in the camera's auto white balance rendering blue skies an unreal looking shade of turquoise.
Not a bad set of results for a snapshot model and we're being picky of course, but though reliable for most conditions, it's not quite a perfect showing.
Noise
There are 6 ISO settings available on the Panasonic Lumix DMC-FX40. Here are some 100% crops which show the noise levels for each ISO setting:
| | |
| --- | --- |
| ISO 80 (100% Crop) | ISO 100 (100% Crop) |
| | |
|   |   |
| ISO 200 (100% Crop) | ISO 400 (100% Crop) |
| | |
|   |   |
| ISO 800 (100% Crop) | ISO 1600 (100% Crop) |
| | |
Sharpening
Here are two 100% crops which have been Saved as Web - Quality 50 in Photoshop. The right-hand image has had some sharpening applied in Photoshop. The out-of-the camera images are soft at the default sharpening setting. Unfortunately you can't change the in-camera sharpening level if you don't like the default look, so you will have to edit the images later.
| | |
| --- | --- |
| Original (100% Crop) | Sharpened (100% Crop) |
| | |
|   |   |
| | |
Chromatic Aberrations
The Panasonic Lumix DMC-FX40 handled chromatic aberrations very well during the review. There's slight purple fringing between areas of high contrast, but it's only noticeable on really close inspection, as shown in the examples below.
| | |
| --- | --- |
| Example 1 (100% Crop) | Example 2 (100% Crop) |
| | |
Macro
The Panasonic Lumix DMC-FX40 offers a Macro setting that allows you to focus on a subject that is 5cms away from the camera when the lens is set to wide-angle. The first image shows how close you can get to the subject (in this case a compact flash card). The second image is a 100% crop.
| | |
| --- | --- |
| Macro Shot | 100% Crop |
| | |
Flash
The flash settings on the Panasonic Lumix DMC-FX40 are Auto, Auto/Red-eye Reduction, Forced On, Slow Sync./Red-eye Reduction, and Forced Off. These shots of a white coloured wall were taken at a distance of 1.5m.
| | |
| --- | --- |
| Flash Off - Wide Angle (25mm) | Flash On - Wide Angle (25mm) |
| | |
|   |   |
| Flash Off - Telephoto (125mm) | Flash On - Telephoto (125mm) |
| | |
And here are a couple of portrait shots. As you can see, neither the Forced On setting or the Auto/Red-eye Reduction option caused any amount of red-eye.
| | |
| --- | --- |
| Forced On | Forced On (100% Crop) |
| | |
|   |   |
| Auto/Red-eye Reduction | Auto/Red-eye Reduction (100% Crop) |
| | |
Night
The Panasonic Lumix DMC-FX40's maximum shutter speed is 60 seconds in the Starry Sky Mode scene mode, which is great news if you're seriously interested in night photography. The shot below was taken using a shutter speed of 5 seconds at ISO 80. I've included a 100% crop of the image to show what the quality is like.
| | |
| --- | --- |
| Night Shot | Night Shot (100% Crop) |
| | |