Panasonic Lumix DMC-FX60 Review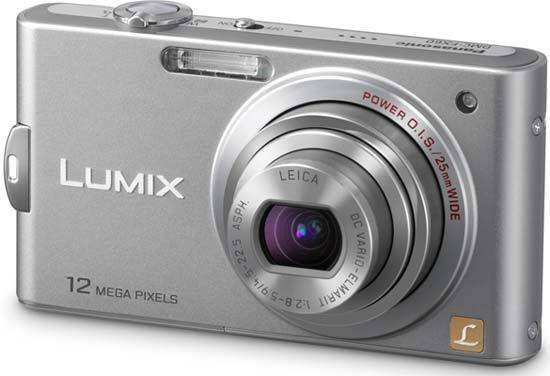 Introduction
The Panasonic Lumix DMC-FX60 (also known as the DMC-FX65) is a small and light point-and-shoot camera aimed at the casual user. At first glance the FX60 is rather unassuming, with a 2.7 inch LCD screen and understated styling, but there are a couple of stand-out features. The 5x zoom lens is the main one, an unusually versatile focal range on such a small camera, but even more so when you find out that the Panasonic FX60 offers a wide-angle setting of 25mm. The second is the ability to shoot high-definition 1280 x 720p video at 30fps, a feature retained from the previous FX40 model but still something of a rarity in this class of camera. Other improvements from the FX40 are more subtle - a faster auto-focus system, larger 2.7 inch LCD screen, upgraded Optical Image Stabilizer and longer battery life. The new Panasonic DMC-FX60 is available in black, purple, blue or silver and has an official list price of £249 / $349.
Ease of Use
Outwardly, the solid feel, pocket sized Lumix DMC-FX60 point and shoot from Panasonic appears identical to the FX40 model that preceded it, with no-nonsense boxy design, slim 19.4mm depth and metallic silver finish to our review sample. Black, violet or blue are the other outer shell colours for fashion conscious consumers.
Weighing 146g without battery or card inserted yet still feeling sturdy when gripped in the palm, feature wise it includes the same ultra wide, Leica branded 25mm lens as found on the recently reviewed Lumix FP8, likewise newly supported by Power OIS (Optical Image Stabilisation) claimed by its manufacturer to be twice as effective as the 'Mega OIS' it replaces.
Resolution of this new model is 12 megapixels, and further improvements include enhanced Venus Engine V processor, a 1.1 second start up time and elaborately named Sonic Speed AF (auto focus). This is also unsurprisingly claimed to be twice as fast to lock on target as the FX40 predecessor. Its manufacturer further suggests shutter lag as short as 0.006 seconds, whilst additionally offered is burst shooting at 2.3 frames per second to a maximum five shots at full resolution, plus up to 10 fps in High Speed Burst shooting mode with the inevitable resolution drop to three megapixels or less.
Panasonic's press blurb for the FX60 makes note also of the fact that in respect of image processing, luminance noise and chromatic noise are reduced separately before and after signal processing. The manufacturer claims this is further refined by separating noise into high-frequency and low-frequency noise. Only the low-frequency noise is then reduced to minimise the unwanted grainy effect and help produce sharper stills and movies. We'll examine later as to how effective this is, and remark on whether we've noticed any significant improvement over previous models.
Given the above, the cost, whilst not cheap, is par for the course and comparable with others in its class. UK recommended price is currently the same as the FP8 at around £245, and, as the FX60 will fit conveniently in any trouser pocket or handbag, first impressions are that, yet again, this is a Panasonic compact that suggests itself as user-friendly travel companion. But have a few under-the-bonnet tweaks given it a noticeable lead over its forebears?
Beneath the unassuming but not unattractive metal and plastic exterior the FX60 packs the advantage of a 5x optical zoom, starting at the aforementioned wide angle 25mm equivalent (in 35mm terms) and peaking at 125mm at the telephoto end. The bright f2.8 lens is stored compactly within the body when the camera is not in use, and its positioning and eventual prominence ensures, when active, that there's no danger of fingers straying into shot when shooting handheld.
Its broad-ish (for a compact) focal range ensures this snapper has most everyday subjects covered, from landscape and group portraits to candid close ups. And, if you don't mind a resolution drop to three megapixels then use can be made of the device's Extra Optical Zoom function which utilises the central part of the CCD sensor - effectively a crop - to boost the reach to a 9.8x zoom equivalent.
| | |
| --- | --- |
| | |
| Front | Rear |
Of course, since there's little if anything provided on the camera's rounded edges or smooth and shiny front and back surfaces for the user to get a firm grip on when taking photographs without the aid of a tripod - save for a small square of nine raised nodules at the back that fall under the thumb - it's important that the FX60's image stabilization proves effective to avoid external wobble translating into as blurred images. Three selectable three modes are offered, including automatic implementation and off. As a belt to this 'brace', manually selectable light sensitivity runs from ISO80 through to ISO1600, adjustable via the on-screen menu folder options, with up to an equivalent ISO6400 independently offered via the High Sensitivity mode, though resolution takes a dive to additionally limit the appearance of noise at this setting.
In terms of video the FX60 now offers the expected High Definition capture, and here at the Full HD 1920x1080 pixels rather than just the 1280x720 pixels offered by most of its point and shoot competitors, plus there's the option to also shoot in standard definition 640x480 pixels or compress footage even further to make it more suitable for Internet use.
Also present and correct are the imaging staples of Face Detection, which now allows up to three faces to be registered for each person to enable improved accuracy, plus the mostly reliable iA (intelligent Auto) mode, selected from the five-option shooting mode dial top right of the camera's backplate. The latter compares any given subject with the FX60's on on-board settings, 'recognising' it and adjusting parameters accordingly to deliver optimum results. Thus, there's theoretically no need to press the dedicated macro button at the rear if faced with photographing small objects; unless of course shooting in regular (non iA) program auto mode.
From the front then, this camera displays a clean, unfussy - and in its silver incarnation, almost drab - faceplate, retractable lens barrel the most prominent feature, top left of which is a lozenge shaped window for the built-in flash - sufficiently clear of the camera edges to avoid fingers partly obscuring it - and to the right, we also find a small porthole housing the reasonably powerful AF assist lamp/self timer indicator.
Meanwhile set into a nail file-thin brushed metal panel that runs the length of the FX60's top plate is the shutter release button, the largest control here, encircled by a zoom slider with raised lip to the front in order to allow some purchase for the forefinger. It does the job.
Next to this is a partly recessed on/off switch. Power the camera up and in just over a second - thus matching Panasonic's claims - we were ready to begin shooting, the rear 2.7-inch, standard-issue 230k dot resolution LCD having burst into life in the absence of any optical viewfinder alternative. Operate the zoom and the user can move through the complete focal range from wide to tele setting in just over two seconds, which again is fast without being surprisingly so.
| | |
| --- | --- |
| | |
| Front | Top |
Also set into the FX60's top strip is a pinprick housing the mono built-in microphone plus a row of four further dots for the integral speaker - so barely noticeable that there's nothing to confuse first time users here. Avoiding the need for any head scratching also is the rudimentary bottle-top style shooting mode dial set into the top right of the backplate.
As noted earlier, set around this halfpenny-sized dial are five options: intelligent Auto, 'normal' Auto, 28-strong Scene mode(s), movie capture plus clipboard mode, in which the user can take one or two megapixel shots of signs and directions as a visual aide memoire and avoid eating up too much of the capacity otherwise reserved for 'proper' photographs. Again, when shooting video on this Panasonic the optical zoom is disabled at the point it was left when recording commenced; therefore you can't zoom in or out as filming progresses as on a camcorder proper - or alternative stills camera.
Indicating that Panasonic is however looking to the widest possible customer base for the FX60, among the scene mode options there are no fewer than five subject-flattering portrait settings plus two separate ones for photographing babies alone. We also get dedicated scenery and party modes, plus pinhole camera and film grain ape-ing settings for the more creatively curious. Users tab through the available options with the aid of the familiar directional cross keys on the backplate, implementing the chosen setting with a press of the central menu/set button. So far, still so intuitive…
Which brings us to the back of the camera, available space mostly swallowed up by the LCD, offering adequate visibility and viewing angle - indoors under natural light still better than outdoors - in that absence of optical viewfinder. Top right of the screen - positioned where it falls under the thumb - is a switch for swapping between image capture and playback. Though this is straightforward enough, not having a dedicated button for playback means that when reviewing images the user can't immediately jump back into capture mode with a press of the shutter release button - the camera otherwise set to capture mode as its default - if a photo opportunity presents itself. The photographer instead wastes a couple of seconds switching back to shooting mode, by which time the parakeet has disappeared from the tree or the baby's smile has vanished. A small thing perhaps, but with prolonged use it can frustrate.
Attendant controls, though small and therefore requiring fingertip precision, are immediately responsive. These comprise the aforementioned collection of cross keys with menu/set button in their midst, sitting in a familiar arrangement just below a function indicator light. At points north are a means of adjusting exposure compensation (when not in iA mode) running +/- 2EV, a selection bar appearing on screen, east a means of selecting flash options - auto, auto with red eye reduction, forced on, slow sync with red eye reduction, forced off - south, manually selecting the macro/close up options, and at point west users can select the self timer for those group portraits (two or ten seconds).
A press of the central menu/set button and two folders appear on screen. If in a capture mode these are: a record folder spread over four successive screens with no more than five choices on each and large, legible type, plus a separate 'set up' folder, options spread across a further five screens. Obviously, if in review mode the capture menu switches to a playback one; and, n record mode there's the ability to adjust picture size and JPEG compression level, as well as swap the aspect ratio from 4:3 to a widescreen 16:9 if required. White balance can be manually adjusted - though full auto does a good job, even under tungsten light - as can settings such as face recognition, intelligent exposure and colour mode options. Here there's the choice of switching from the default of 'standard' to natural or vivid colours - the later working well for landscapes - along with black and white to sepia, cool or warm.
In set up mode meanwhile, you get offered pretty much what you'd expect; meaning the ability to set date or time, deactivate the operational sounds, adjust LCD brightness, as well as implementing a live histogram.
| | |
| --- | --- |
| | |
| Memory Card Slot | Battery Compartment |
A press of the separate 'display' button beneath the cross keys variously turns off the on-screen shooting info or, with a subsequent press, calls up a nine zone grid overlay to aid composition for those practicing the rule of thirds. Again, as with recent Lumix compacts, we get a button alongside 'display' marked 'Q.Menu' that also doubles up as the delete button when reviewing images. This is not, as might be expected a short cut to adjusting image quality in capture mode but rather a 'Quick Menu', which brings up a toolbar across the top of the screen with a basic overview of key functions. Using the cross keys these can be tabbed through and on-the-fly adjustments made and implemented with a press of the 'set' button. It's basically a time saver.
The selectable options presented on the toolbar in regular auto mode govern image stabilization, burst mode, AF mode, white balance, ISO sensitivity, intelligent exposure, picture size and LCD mode.
While that's it for the FX60's backplate, the curved edge of the left hand side of the camera - if viewed from the back - is devoid of controls, and at the right is a flap covering ports for AV/USB out and an optional component cable, which will allow users to hook the camera up to an HD TV set.
The base of the FX60 features the usual screw thread for fixing the camera onto a tripod - unusually here it's positioned over at one side rather than dead centre or directly beneath the lens - whilst over at the opposite end of the camera is a lockable slide-open door protecting a dual battery and memory card compartment.
With a 40MB internal capacity to allow users to start shooting out of the box, this can be supplemented with, predictably, removable SD or SDHC cards.
Due, it claims, to more efficient handling of energy, Panasonic has been able to squeeze 360 shots out of a full charge of its supplied lithium ion rechargeable battery, according to CIPA standards. We only had to recharge it once over our test period.
And so then to the pictures that the FX60 produces. Do they transcend what we'd usually expect of an 'auto everything' point and shoot, match our expectations, or fall short in a particular aspect?