Panasonic Lumix DMC-GF3 Review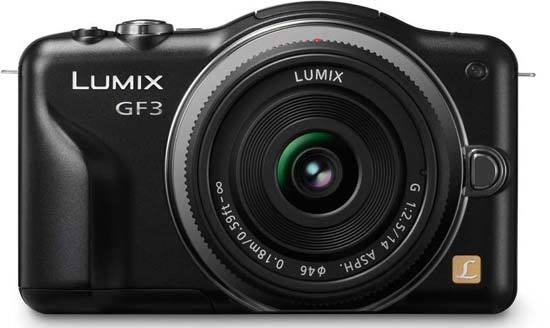 Specifications
TYPE

Type
Digital interchangeable lens system camera
Recording media
SD memory card, SDHC memory card, SDXC memory card
Image sensor size
17.3 x 13.0 mm (in 4:3 aspect ratio)
Lens Mount
Micro Four Thirds mount
IMAGE SENSOR

Type
Live MOS Sensor
Total pixels
13.06 Megapixels
Camera effective pixels
12.10 Megapixels
Colour filter
Primary colour filter
Dust reduction system
Supersonic wave filter
RECORDING SYSTEM

Recording file format
Still Image: JPEG(DCF, Exif 2.3), RAW, / MPO (When attaching 3D lens in Micro Four Thirds standard) / Motion Image: AVCHD / QuickTime Motion JPEG
Aspect ratio
4:3, 3:2, 16:9, 1:1
Image quality
RAW, RAW+Fine, RAW+Standard, Fine, Standard, / MPO+Fine, MPO+Standard (with 3D lens in Micro Four Thirds System standard)
Color Space
sRGB, Adobe RGB
File size(Pixels)
Still Image
[4:3] 4000x3000(L) / 2816x2112(M) / 2048x1536(S) / 1600x1200(When attaching 3D lens in Micro Four Third System standard) / [3:2] 4000x2672(L) / 2816x1880(M) / 2048x1360(S) / 1600x1064(When attaching 3D lens in Micro Four Third System standard) / [16:9] 4000x2248(L) / 2816x1584(M) / 1920x1080(S) / 1600x904(When attaching 3D lens in Micro Four Third System standard) / [1:1] 2992 x 2992 (L) / 2112 x 2112 (M) / 1504 x 1504 (S) / 1440x1440(When attaching 3D lens in Micro Four Third System standard)
Motion Image (Motion JPEG*1)
[4:3] QVGA : 320 x 240, 30fps / VGA : 640 x 480, 30fps / [HD] 1280 x 720, 30fps
Motion Image (AVCHD*2 : NTSC)
[Full HD] 1920×1080, 60i (sensor output is 30p) (FSH:17Mbps) / [HD] 1280 x 720, 60p (sensor output is 30p)?SH:17Mbps)
Motion Image (AVCHD*2 : PAL)
[Full HD] 1920×1080, 50i (sensor output is 25p) (FSH:17Mbps) / [HD] 1280 x 720, 50p (sensor output is 25p)?SH:17Mbps)
Continuous recordable time (Motion images)
AVCHD with picture quality set to [SH]: Approx. 160 min with H-FS014042 / Approx. 170 min with H-H014
Actual recordable time (Motion images)
AVCHD with picture quality set to [SH]: Approx. 130 min with H-FS014042 / Approx. 150 min with H-H014
FOCUS

Type
Contrast AF system
Focus mode
AFS/ AFC/ MF
AF mode
Face detection / AF Tracking / 23-area-focusing / 1-area-focusing/Pinpoint
AF detective range
EV 0 - 18 (ISO100 equivalent)
AF assist lamp
YES
AF lock
Set the Fn button in custom menu to AF lock
Others
Quick AF, Continuous AF (during motion image recording), AF+MF, Touch shutter, Touch MF Assist,
EXPOSURE CONTROL

Light metering system
144-zone multi-pattern sensing system
Light metering mode
Intelligent Multiple / Center Weighted / Spot
Metering range
EV 0 - 18 (F2.0 lens, ISO100 equivalent)
Exposure mode
Program AE, Aperture Priority AE, Shutter Priority AE, Manual,
ISO sensitivity (Standard Output Sensitivity)
Auto / Intelligent ISO / 160 / 200 / 400 / 800 / 1600 / 3200 / 6400
Exposure compensation
1/3EV Step ±3EV
AE lock
Set the Fn button in custom menu to AE lock
AE bracket
3,5 frame, in 1/3 or 2/3 EV Step, ±4/3 EV
WHITE BALANCE

White balance
Auto / Daylight / Cloudy / Shade / Halogen / Flash / White Set 1, 2 / Color temperature setting / Portrait / Beauty skin / Sport / Flower / Collection / Baby / Pet / defocus control
White balance adjustment
Blue/amber bias, Magenta/green bias
Color temperature setting
2500-10000K in 100K
White balance bracket
3 exposures in blue/ amber axis or in magenta/ green axis
SHUTTER

Type
Focal-plane shutter
Shutter speed
Still Images: 1/4000 ~ 60 / Motion image: 1/16000 ~ 1/30 (NTSC), 1/16000 ~ 1/25 (PAL)
Self timer
10sec, 3 images/ 2sec / 10sec
SCENE MODE

Still Image SCN mode
Portrait / Soft Skin / Scenery / Architecture / Sports / Peripheral Defocus / Flower / Food / Objects / /Night Portrait / Night Scenery / Illiminatioms / Baby 1, 2 / Pet / Party / Sunset
Movie SCN mode
Portrait / Soft Skin / Scenery / Architecture / Sports / Flower / Food / Objects / Low-light / Party / Sunset / (Activated by selecting Still Image SCN mode then pressing Movie Button. Still Image SCN modes without corresponding Movie SCN mode is recorded in mode suitable for the recording situation.)
Creative control

Creative control
(Still image & Motion image) Expressive / Retro / High key / Sepia / High Dyamic / Miniature
BURST SHOOTING

Burst speed
H: 3.8 frames/sec, M: 2.8 frames/sec (with Live View), L: 2 frames/sec (with Live View)
Number of recordable images
7 images (when there are RAW files with the particular speed) / Unlimited consecutive shooting (when there are no RAW files) / (depending on memory card size, battery power, picture size, and compression)
BUILT-IN-FLASH

Type
TTL Built-in-Flash, GN6.3 equivalent (ISO 160 ?m), Built-in Pop-up
Flash Mode
Auto, Auto/Red-eye Reduction, Forced On, Forced On/Red-eye Reduction, / Slow Sync., Slow Sync./Red-eye Reduction, Forced Off
Synchronization speed
Less than 1/160 second
Flash synchronization
1st. Curtain Sync
LCD MONITOR

Type
TFT LCD with Touch panel
Monitor size
3.0inch / 3:2 Aspect / Wide-viewing angle
Pixels
460K dots
Filed of view
Approx. 100%
Monitor adjustment
Brightness (7 levels), Cnotrast and Saturation (7 levels), Red tint (7 levels), Blue tint (7 levels)
LIVE VIEW

Digital zoom
2x, 4x
Extra Tele Conversion
Still image: Max.2x (Not effective with L size recording. Magnification ratio depends on the recording pixels and aspect ratio.) / Motion image: 3.1x (SH/H in AVCHD and HD/WVGA in Motion JPEG), 4.2x (VGA/QVGA in Motion JPEG)
Other functions
Guide Lines (3 patterns) / Real-time Histogram
PLAYBACK

Playback mode
Normal playback, 30-thumbnail display, 12-thumbnail display, Calendar display, Zoomed playback (16x Max.), Slideshow (duration & effect is selectable), Playback Mode (Normal/Picture/AVCHD/Motion JPEG/3D Play/Category/Favorite), Title Edit, / Text Stamp, Video Divide, Resize, Cropping, Aspect Conversion, Rotate, Rotate Display, Favorite, Print set, Protect, Face Recognition Edit
IMAGE PROTECTION / ERASE

Protection
Single / Multi, Single in Burst Group / Multi in Burst Group, Cancel
Erase
Single / Multi / All / Except Favorite
PRINT

Direct Print
PictBridge compatible?Print size, Layout, Date setting are selectable ?
INTERFACE

USB
USB 2.0 High Speed
HDMI
miniHDMI TypeC / Video: Auto / 1080i / 720p / 480p (576p in PAL system) / Audio: Linear PCM
Audio video output
Monaural Type, NTSC/PAL, NTSC only for North America / *Check the website of the Panasonic sales company in your country or region for details on the products that are available in your market.
Microphone
Monaural, Wind-cut: Off / Low / Standard / High / Microphone level adjustable: Lv1 / Lv2 / Lv3 / Lv4
Speaker
Monaural
LANGUAGE

OSD language
Japanese, English, German, French, Italian, Spanish
GENERAL

Power
Battery
Li-ion Battery Pack (7.2V, 940mAh) (Included) / Battery Charger
Battery life (CIPA standard)
Approx. 340 images with H-H014
Dimensions (W x H x D)
107.7 x 67.1 x 32.5 mm / 4.24 x 2.64 x 1.28 inch?(excluding protrusions)
Weight
Approx. 264g / 9.31 oz ?SD card, Battery, Body) / Approx. 222g / 7.83 oz ?Body only) / Approx. 319g / 11.25 oz ?SD card, Battery, H-H014 lens included?
Operating Environment
Operating temperature
0? to 40? (32°F to 104°F)
Operating humidity
10% to 80?
Standard Accessories
Software
PHOTOfunSTUDIO 6.2 HD Edition / SILKYPIX® Developer Studio 3.1 SE / Super LoiloScope (trial version) / USB Driver
Standard accessories
Battery Charger, AV Cable, USB Connection Cable, Shoulder Strap, Stylus pen, CD-ROM / * Body cap not included for DMC-GF3C kit and DMC-GF3W kit / ** Lens rear cap of H-H014 lens not included for DMC-GF3C kit and DMC-GF3W Kit
INTERCHANGEABLE LENS-1

Lens Name
LUMIX G 14mm/F2.5 ASPH.
Lens Construction
6 elements in 5 groups (3 aspherical lenses)
Mount
Micro Four Thirds mount
Optical Image Stabilizer
No
Focal Length
f=14mm (35mm camera equivalent 28mm)
Aperture Type
7 diaphragm blades / Circular aperture diaphragm
Aperture
F2.5
Minimum Aperture
F22
Closest Focusing Distance
0.18m / 0.59ft
Maximum magnification
Approx. 0.10x / 0.20x (35mm camera equivalent)
Diagonal Angle of View
75°
General
Filter Size
φ46mm / 1.81in
Max. Diameter
φ55.5mm / 2.19in
Overall Length
Approx. 20.5mm (from the tip of the lens to the base side of the lens mount) / 0.81in
Weight [g]
Approx. 55g
Weight [oz]
Approx. 1.94oz
Standard Accessories
Lens cap / Lens rear cap / Lens storage bag
Further Specifications

NOTE
*1 Use a card with SD Speed Class with "Class6" or higher / *2 Use a card with SD Speed Class with "Class4" or higher