Panasonic Lumix DMC-TZ6 Review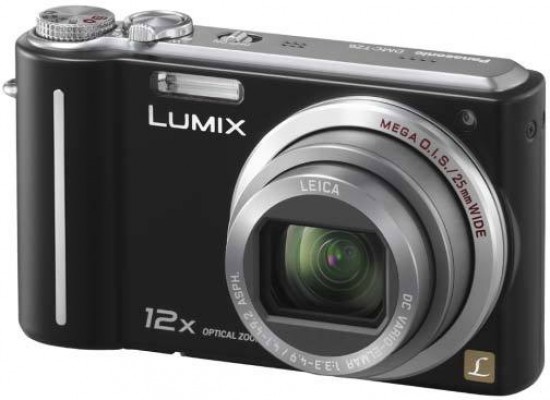 Image Quality
All of the sample images in this Review were taken using the 10 megapixel Fine JPEG setting, which gives an average image size of around 5.5Mb.
Thanks to some early spring sunshine in the UK we were able to test the Panasonic Lumix DMC-TZ6 under seemingly ideal photographic conditions. As we've found with previous generations of Lumix models, bright, colourful and moreover crisp images are delivered on a consistent basis. While a trained eye would find them inevitably benefiting from an application of Photoshop's Unsharp Mask on occasion – particularly those taken at the full extent of the zoom – most 'happy snappers' would be more than comfortable with the results straight out of the TZ6. A tweak in Levels is also beneficial, as, if faced with a particularly bright scene the camera will tend to underexpose to preserve highlight detail, which is just as you'd want. While there is slight barrel distortion when shooting at maximum (25mm equivalent) wide angle, this again is at a level we can live with.
I shot still images using a mixture of settings, alternating in the main between intelligent auto mode and 'normal' auto mode. The former seems to make a particularly accurate fist of it when presented with close ups – automatically selecting macro setting, which, as it allows the user to get as close as 3cm from the subject and still get a sharp result, proves one of the camera's most useful features. The fact that operation is pretty much point and shoot all the way lets the user also concentrate more on getting a decent composition rather than fiddling around with on-camera settings. Like our review of the DMC-FX150 model, we found that low light interior shots without flash still suffered from softness even with optical image stabilisation on board – though its performance was no better or worse than image stabilised rivals in this price bracket, and, in truth, you will still be left with a higher proportion of focused shots than fuzzy ones. Instances of pixel fringing are noticeable when zooming in on areas of contrast, but these again are subtler than such aberrations delivered by the likes of Sony's Cyber-shot range say.
As for light sensitivity settings, and by way of confirming its beginner friendly snapshot status, auto ISO gets it spot on. Though noise starts to creep in within shadow areas of an image from ISO 400 upwards, it's well controlled; the differences between results at that lower setting and (a softer) ISO 800 only noticeable with particular scrutiny. The gradual deterioration in sharpness from that up to ISO 1600 is more pronounced – detail is readily softer without the need to zoom in on your desktop and scrutinize closely, while noise levels resemble a portable TV set with weak reception. While it won't deliver keepers 100% of the time, there are in our experience no other digital compacts that will, and, if there's plenty of light around with the DMC-TZ6 the results you desire can be achieved.
Noise
There are 6 ISO settings available on the Panasonic Lumix DMC-TZ6. Here are some 100% crops which show the noise levels for each ISO setting.
| | |
| --- | --- |
| ISO 80 (100% Crop) | ISO 100 (100% Crop) |
| | |
|   |   |
| ISO 200 (100% Crop) | ISO 400 (100% Crop) |
| | |
|   |   |
| ISO 800 (100% Crop) | ISO 1600 (100% Crop) |
| | |
Sharpening
Here are two 100% Crops which have been Saved as Web - Quality 50 in Photoshop. The right-hand image has had some sharpening applied in Photoshop. The out-of-the camera images are a little soft at the default sharpening setting and benefit from some further sharpening in a program like Adobe Photoshop. Unfortunately you can't change the in-camera sharpening level.
| | |
| --- | --- |
| Original (100% Crop) | Sharpened (100% Crop) |
| | |
|   |   |
| | |
Chromatic Aberrations
The Panasonic Lumix DMC-TZ6 handled chromatic aberrations excellently during the review, with very limited purple fringing present around the edges of objects in certain high-contrast situations, as shown in the example below.
Example 1 (100% Crop)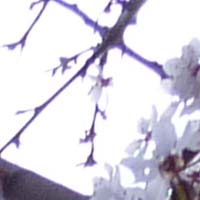 Macro
The Panasonic Lumix DMC-TZ6 offers a Macro setting that allows you to focus on a subject that is 3cms away from the camera when the lens is set to wide-angle. The first image shows how close you can get to the subject (in this case a compact flash card). The second image is a 100% crop.
| | |
| --- | --- |
| Macro Shot | 100% Crop |
| | |
Flash
The flash settings on the Panasonic Lumix DMC-TZ6 are Auto, Auto/Red-eye Reduction, Forced On, Slow Sync./Red-eye Reduction, Forced Off. These shots of a white coloured wall were taken at a distance of 1.5m.
| | |
| --- | --- |
| Forced Off - Wide Angle (25mm) | Forced On - Wide Angle (25mm) |
| | |
|   |   |
| Forced Off - Telephoto (300mm) | Forced On - Telephoto (300mm) |
| | |
And here are some portrait shots. As you can see, neither the Flash On or the Auto/Red-eye Reduction settings caused any red-eye.
| | |
| --- | --- |
| Forced On | Forced On (100% Crop) |
| | |
|   |   |
| Auto/Red-eye Reduction | Auto/Red-eye Reduction (100% Crop) |
| | |
Night
The Panasonic Lumix DMC-TZ6's maximum shutter speed is 60 seconds in the Starry Sky Mode scene mode (there are also 15 and 30 second options) and 8 seconds in the Night Scenery mode, which is good news if you're seriously interested in night photography. The shot below was taken using a shutter speed of 1/8th seconds at ISO 800. I've included a 100% crop of the image to show what the quality is like. The camera takes the same amount of time again to apply noise reduction, so for example at the 15 second setting the actual exposure takes 30 seconds.
| | |
| --- | --- |
| Night Shot | Night Shot (100% Crop) |
| | |