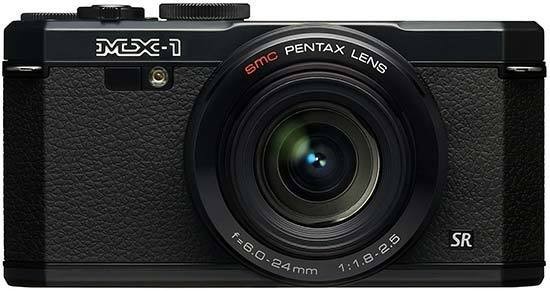 Conclusion
Pentax's first attempt at a serious compact camera for professionals is bravely very different to its main rivals, thanks largely to (in our opinion) its appealingly retro design. We can't think of any other digital camera that has actual brass top and bottom plates that are designed to show their true colours with time and wear! On the flip side, the MX-1 is quite big and bulky for this class of camera, and it also suffers from a major flaw that will drive pro-shooters mad - the seemingly inescapable "Data being recorded" message that's almost permanently displayed if you shoot in Raw mode as the camera struggles to process the image data. If you have enough patience, though, the Pentax MX-1 is a likeable camera that shares quite a lot of features with its DSLR cousins.

The MX1's image quality certainly can't rival a DSLR, or any of the new breed of compact system cameras either, but the relatively large 1/1.7" sensor helps to ensure that it keeps up with most of its premium-compact rivals. The ISO range runs from 100-25600, but we'd recommend sticking with 100-1600 for optimum results, with ISO 3200 as an emergency backup. That fast f/1.8-2.5 lens and effective image stabilisation also mean that the the MX-1 can cope with most lighting environments.

Quite apart from its obvious retro appeal, the MX-1 ticks a lot of the boxes that any experienced photographer is looking for in a serious compact - a "sensible" 12 megapixel count, a very fast lens, raw file support, a reliable 25 multi-point AF system, and a high-resolution, tilting LCD screen. It's a shame then that the excruciatingly slow Raw processing times would ultimately force us to shoot in JPEG format, especially since you can also edit the Raw files in-camera.

Despite this obvious flaw, Pentax have mostly hit the nail firmly on its head with the MX-1, especially when you factor in its £400 / $500 price-tag, which is quite a bit cheaper than the Olympus XZ-2, Sony Cyber-shot RX100, Panasonic Lumix DMC-LX7 and Samsung EX2F all were on launch, even without any drop in the actual street price. If you're looking for a good-looking, well-built, advanced compact camera, and you can afford to take a slightly more leisurely view of the world, then the new Pentax MX-1 is well worth considering.
Ratings (out of 5)
Design
4.5
Features
4
Ease-of-use
4.5
Image quality
4
Value for money
4