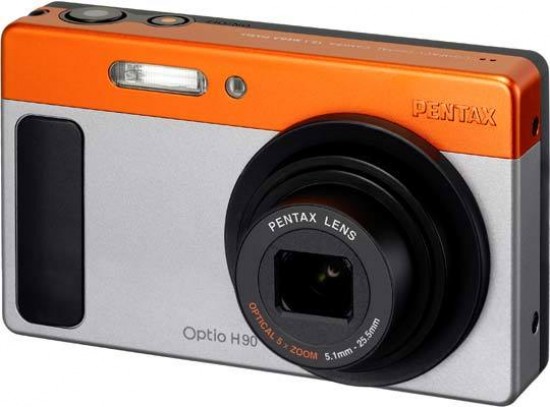 Image Quality
All of the sample images in this Review were taken using the 12 megapixel High JPEG setting, which gives an average image size of around 3.75Mb.
Generally we were pleasantly surprised - I'd even go so far as saying 'pleased' - with the snapshots (for this is very much a 'snapper') the Pentax Optio H90 delivered over the course of our test period. Certainly the image performance is better than other £100+ rivals; with attractive deeply saturated colours and reassuringly even exposures for the most part. The Auto Picture mode is reliable and there's the standard Program mode as well as the usual run of scene modes to switch to if you do want a bit more hands on control.
Of course there are caveats. When shooting at the extremities of the zoom handheld, shots are noticeably soft, even when shooting in bright, clear conditions. Interior shots without flash are also distinctly shaky in appearance. At maximum wideangle setting outdoors though, edge-to-edge sharpness is well maintained. The digital wide function (equivalent to 21mm in 35mm terms) also takes some getting used to - and it's very hard to get the two separate images married up when shooting in sunlight, as this obscures essential detail on the screen. The two separate images are stitched together in camera to create a slightly wider single image than the actual lens will allow. But, going against convention, these have to be shot portrait fashion - otherwise you just end up with one image pasted above the other, rather than alongside. We've included a couple of examples of what the quality is like among our presented test shots.
In terms of low light performance, the lack of mechanical or optical anti shake means that shooting handheld in more challenging conditions results in a fair share of soft shots when using the H90. With a steady surface or tripod however it is possible to get usable results with the flash disabled, as our nighttime images reveal. Otherwise it's a clean bill of health when shooting up to ISO 400, detail starting to soften at ISO 800. Even without enlarging portions of the image, at ISO 1600 the entire shot is soft, progressively worsening at ISO 3200 and results resembling an image viewed through frosted bathroom glass at ISO 6400. Despite this, noise is kept reasonably at bay - the compromise here is losing detail rather than revealing a gritty appearance - helped by the resolution drop in the highest two settings.
Noise
There are 8 ISO settings available on the Pentax Optio H90. Here are some 100% crops which show the noise levels for each ISO setting.
| | |
| --- | --- |
| ISO 80 (100% Crop) | ISO 100 (100% Crop) |
| | |
|   |   |
| ISO 200 (100% Crop) | ISO 400 (100% Crop) |
| | |
|   |   |
| ISO 800 (100% Crop) | ISO 1600 (100% Crop) |
| | |
|   |   |
| ISO 3200 (100% Crop) | ISO 6400 (100% Crop) |
| | |
Sharpening
Here are two 100% crops which have been Saved as Web - Quality 50 in Photoshop. The right-hand image has had some sharpening applied in Photoshop. The out-of-the camera images are a little soft at the default sharpening setting. You can change the in-camera sharpening level if you don't like the default look.
| | |
| --- | --- |
| Original (100% Crop) | Sharpened (100% Crop) |
| | |
|   |   |
| | |
Chromatic Aberrations
The Pentax Optio H90 handled chromatic aberrations very well during the review, with limited purple fringing present around the edges of objects in high-contrast situations, as shown in the example below.
Example 1 (100% Crop)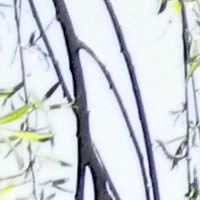 Macro
The Pentax Optio H90 allows you to focus on a subject that is 8cms away from the camera. The first image shows how close you can get to the subject (in this case a compact flash card). The second image is a 100% crop.
| | |
| --- | --- |
| Macro | 100% Crop |
| | |
Flash
The flash settings on the Pentax Optio H90 are Auto, Flash On, Flash Off, Auto + Red-eye reduction, Flash On + Red-eye and Soft Flash. These shots of a white coloured wall were taken at a distance of 1.5m.
| | |
| --- | --- |
| Flash Off - Wide Angle (28mm) | Flash On - Wide Angle (28mm) |
| | |
|   |   |
| Flash Off - Telephoto (140mm) | Flash On - Telephoto (140mm) |
| | |
And here are some portrait shots. As you can see, neither the Flash On or the Red-eye-Reduction settings caused any red-eye.
| | |
| --- | --- |
| Flash On | Flash On (100% Crop) |
| | |
|   |   |
| Red-eye Reduction | Red-eye Reduction (100% Crop) |
| | |
Night
The Pentax Optio H90's maximum shutter speed is 4 seconds in the Night Scene mode, which is not very good news if you're seriously interested in night photography. The shot below was taken using a shutter speed of 3 seconds at ISO 800. I've included a 100% crop of the image to show what the quality is like.
| | |
| --- | --- |
| Night | Night (100% Crop) |
| | |