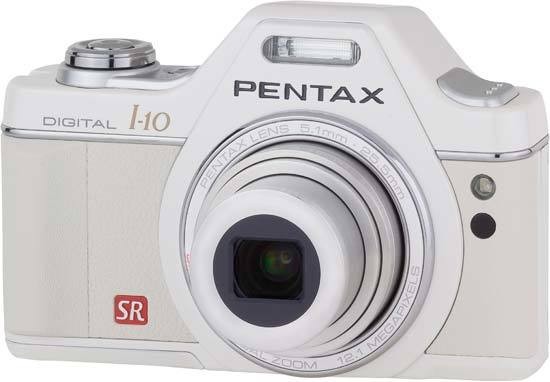 Introduction
The Pentax Optio I-10 is a very distinctive compact camera that looks just like a retro SLR from yesteryear. With a centrally located lens, textured grip and raised flash unit, the I-10 is quite unlike any other compact in its price range. In addition to its unique styling, the Pentax I10 also offers a 5x zoom lens with a focal range of 28-140mm, 12 megapixels, 2.7 inch LCD screen, triple anti-shake protection, 720p HD movie recording, and wireless remote shooting. The Pentax Optio I-10 is available in black and white for £199.99 / $249.95.
Ease of Use
It's difficult purely from photographs to get an accurate impression of just how small the new Optio I-10 from Pentax actually is. It does, in fact, deliver the sort of truly compact form factor that Micro Four Thirds cameras should have done - and insinuated from their own early press photographs. It sports a classic design that benefits from a Leica-like attention to detail and looks amazing because of it.
A rounded grip to the front and sumptuous retro-look leather effect padding ensures the camera feels as comfortable held in the palm as it easy on the eye. Further good news comes in the shape of its UK manufacturer's asking price. This resembles a premium product, but in fact is a very reasonable £199.
So while the white incarnation of the I-10 we had in for review certainly looks the part, and shape-wise echoes the Pentax Auto 110 Super film cameras of the 1980s in fact, does the attendant feature set measure up? Well, yes and no.
Whilst the DSLR-shaped exterior at first glance trumpets sophistication, this non-interchangeable lens model, like the more contemporary styled H90 model from Pentax we recently tested, is a point and shoot snapper pure and simple. As such it's a sheep in wolf's clothing.
It's as portable as you'd want. Weighing a portable 153g with battery and card, this Optio can be slipped readily into trouser, jacket or handbag; no specialist case required, though a nice leather-style strap and 'jacket' - as available for the Olympus Pens - is an obvious accessory suggestion for Pentax.
The compact camera's 'hero' features are a 12.1 effective megapixel resolution, plus a 5x wide optical zoom with a focal range of a 35mm equivalent 28-140mm, making it as suited to landscape snaps as portraiture. Also included are the latest must have of 1280x720 pixels HD movies, along with stills recording to regular-issue SD/SDHC card or the new wireless capable Eye-Fi cards. You don't get a memory card included in the box.
There are other tricks under the bonnet however. The basic 5x optical zoom capacity can be extended to a 31.3x equivalent courtesy of the camera's Intelligent Zoom function with 640x480 pixels images being the outcome, or a 6.5x equivalent at a slightly better 7 megapixels resolution.
| | |
| --- | --- |
| | |
| Front | Rear |
The lens in question is thankfully supported with CCD shift type image stabilization which according to Pentax itself provides compensation equivalent to 2.5 steps, plus, if the camera detects the user is attempting to shoot in low light, it will boost sensitivity up to an equivalent ISO6400, while the trade off is that resolution drops to five megapixels. Otherwise from ISO80 to ISO6400 is manually selectable, the resolution drop occurring above ISO1600.
Such point-and-shoot user friendliness finds its zenith in the camera's intelligent/smart auto-style 'Auto Picture' technology. This is the default shooting mode setting that sizes up potential subjects and automatically selects the most pertinent settings to deliver the (theoretically) best results. As such we found it did so reliably.
As on the Pentax H90, W90 et al, shooting mode options are presented as unthreateningly cartoon-ish icons on screen. These are intuitively tabbed through with a thumb press of the four-way control pad on the backplate, selections instigated with a press of the centrally located 'OK' button.
Smile Capture and Face Detection (now instantly recognising up to 32 faces in the frame) have their own joint access button on the camera back - denoted by a can't-miss-it smiley face icon.
A press of the on/off button on the camera's top plate, a light at the centre of which glows a soothing green when the device is active, and the I-10 powers up speedily in just over a second. The rear screen briefly displays the Pentax logo before revealing the scene itself, while the lens extends from storage flush to the body to its slightly proud wide angle setting ready for the first shot.
The I-10's top plate also houses the large and obvious shutter release button with just the right amount of 'give' to enable the user to accurately determine the halfway point for lining up a shot. This control is surrounded by a chunky lever for operating the zoom - the lip of which points backwards so falls neatly under the thumb, leaving the forefinger free to hover over the shutter release: convenience and comfort.
The zoom takes just two seconds to cover the entirety of its 28-140mm equivalent range, and if used in playback mode doubles up as means of enlarging images to check detail or, if the lever is nudged in the opposite (wide) direction, displaying shots as a collection of thumbnails. Take a shot and, at maximum JPEG resolution, writing time to card is likewise two seconds.
| | |
| --- | --- |
| | |
| Side | Top |
The raised ridge above the lens houses the bulb for the flash at the front - here integral rather than of the pop-up variety - meaning that there's no optical viewfinder here - plus a built-in speaker round the back.
In the absence of said viewfinder, all shot composition and review is obviously via the I-10's 2.7-inch 16:9 widescreen format LCD. In default stills shooting mode the screen's display is cropped to provide a standard 4:3 ratio image, with a thicker black band down one side rather than a narrower, less obviously noticeable one at each edge.
Said black band features overlaid icons revealing the selected shooting mode, a battery life indicator, flash mode, number of shots remaining - and if the user already has face detection/smile shutter modes selected, that option as well.
By changing the resolution/quality settings via the three-folder menu screen, there is the alternative option to shoot in 16:9 ratio and have the picture taking up the entire LCD screen, which looks more visually 'correct'. Yet since this is in effect a cropped image, resolution drops from the full 12 megapixels to nine megapixels. If you really want to squeeze as much as possible on the available memory, there's a further 16:9 option at 5.3 megapixels.
To the right of the screen at the camera's rear is control pad with central 'OK' button for effecting changes, top and tailed by two pairs of buttons. The top two are a dedicated playback button, and to its right the aforementioned Face/Smile Detection control to manually activate the function when shooting portraits.
Beneath this pairing is the main control pad, with designated functions accessible at each edge. At 12 o'clock we find the self-timer/drive mode control, to the right, at three o'clock, the macro/close up control (also where you'll find a manual focus option with adjustable slider from 0.8 metres to infinity), and at the bottom, at six o'clock, a 'mode' button in the absence of a possible alternative shooting dial/wheel control for the same. Press this and the user has access to 24 scene/shooting modes, with the option of the slightly more expansive Program as an alternative to Auto Picture.
This is also where the user selects video mode, in the absence of a dedicated record button for the movies feature. The other options selectable here include the usual run of pre-optimised settings for photographing night scenes, landscapes, pets and people as well as the Digital Wide - stitching together two images shot in the portrait format to provide one slightly wider 21mm equivalent landscape image than the lens itself will allow - plus panoramic modes found on the Pentax H90 and W90, and already touched on in those reviews.
| | |
| --- | --- |
| | |
| Battery Compartment | Memory Card Slot |
The final control on the pad - at nine o'clock - is for adjustment of the built-in flash. The user selectable options here include auto flash, flash off, forced flash, auto flash with red eye reduction, forced flash with red eye reduction and soft flash modes.
Keeping things simple still, below this pad the final two buttons on the backplate - and the I-10 itself - are menu and green mode/delete button. A press of the former in either image capture or playback modes brings up three record folders. If in Auto Picture mode some settings (governing the likes of white balance, metering and exposure compensation) are automatically deselected, so switch to Program instead to access the full gamut. It's here that one can adjust movie resolution and quality levels - as well as that of stills - plus access a D-Range setting so the camera automatically corrects for shadows, for highlights - or for both. This isn't an automatic default feature; it has to be selected by the user.
In 'menu' mode, by tabbing to the right of the record folders there's access to three further setting (set up) folders. This is where you'll find the normal date and time settings plus a slider for adjusting the brightness of the LCD. More unusually, this is where a pixel mapping function is also to be found hiding, as a means of correcting defective pixels. A press of the 'green' or easy mode button to the right of menu and the info display is immediately writ large for the myopic. Try pressing the menu button in this mode and all you'll have access to will be set up options rather than anything that could directly influence image capture. So the recording folders disappear entirely - meaning operation is point and shoot in its purest sense. In playback mode, as we've noted, this same button doubles up as a very useful delete key.
If the Pentax truly is missing something it's that there's no HDMI (High Definition Multimedia Interface) output at one flank for hooking the camera up directly to a flat panel TV - all there is, is a lug for attaching a wrist strap. In terms of connectivity with other devices there's merely standard AV/USB out via shared uncovered slot at the base, but then this is hardly a deal breaker. And you do also get compatibility with Eye-Fi cards should you want to transfer images wirelessly of course.
The camera bottom features a screw thread for attaching a tripod to one edge; whilst at the other is the shared rechargeable lithium ion battery and card compartment for optional media. Media cards are easily inserted and removed and battery life is good for 250 pictures from a full charge. That's par for the course for the camera's class, though not exactly exceptional.
In terms of operation then the Pentax Optio I-10 gives a perfectly adequate performance, what controls and buttons there are falling quickly to hand. There's little here that feels compromised or sacrificed to deliver a trendy design - which isn't often the case - and perhaps that is partly due to being based on an existing design that worked previously for the company.
However, good looks are for naught if picture quality isn't up to scratch. So does the Pentax perform as well on the desktop as in 'the field'?