Pentax Optio RS1500 Review
August 1, 2011
|
Matt Grayson
|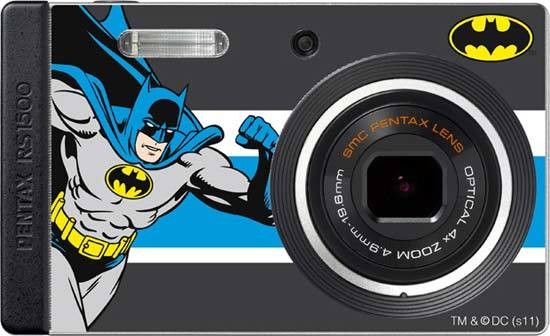 Conclusion
Kids of the 80's and comic fans will love the super hero collector's pack available with the Pentax Optio RS1500. It makes the camera a lot more fun to use and the interchangeability of the skins give it an interesting slant that can be a focal point for times out with friends. Like a mood ring, the RS1500 can reflect your personality of that day although we feel that it would be nice if the skins were made out of better material such as card or thin plastic. Paper will tear far too easily – especially if any kids get hold of them. Obviously the custom templates need to be paper so they can be printed on unless they made the template available to fit a CD print tray.

Build quality of the Pentax Optio RS1500 is low with a lot of plastic all over but we need to take into account the price point of the camera. The screen is also low quality, we took some good shots that we thought were bad when seen on the screen but showing them on the computer, they appear a lot better. Dynamic range isn't too hot but switching the shadow correction on in the main menu will sort that.

The Pentax Optio RS1500's sensor captures colours well and if it wasn't for the digital noise issue, the pictures would be great. As it happens, excellent pictures viewed at a normal distance look a lot worse viewed close up. Saying that the type of user for this camera is unlikely to blow the pictures up to anything beyond 5x7 when printing with the exception of the occasional enlargement for families or friends. With that in mind, it's actually OK, but why are Pentax risking customers not enlarging prints? It will boil down to cost: an inferior sensor will keep the production costs down meaning the RS1500 can be offered for less than £100.

If you're a newcomer to photography, you like quirky retro products or simply want to stand out then the Pentax Optio RS1500 digital compact camera will certainly fit into your lifestyle.
Ratings (out of 5)
Design
3.5
Features
4
Ease-of-use
3.5
Image quality
3
Value for money
4