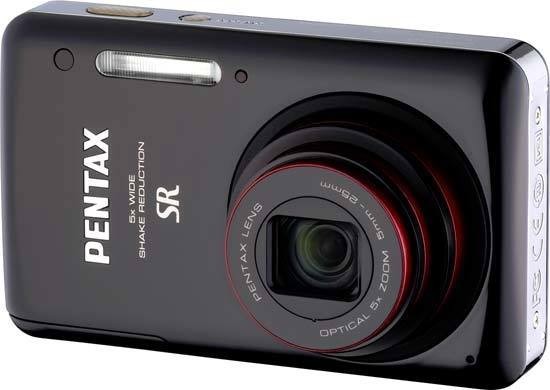 Introduction
The Pentax Optio S1 is a stylish new compact digital camera sporting a wide-angle 5x zoom lens. Offering a versatile focal range of 28-140mm, the Pentax S1 also features a 14 megapixel sensor, 2.7 inch LCD screen, 720p HD movie recording, 5cm macro mode, range of digital filters and an Auto Picture Mode. Available in three different colours - black, silver and turqouise - the Pentax Optio S1 officially retails for £119.99 / $199.95.
Ease of Use
The budget option doesn't automatically have to mean second best when it comes to camera design. At least if the new 14 megapixel, 5x optical zoom Pentax Optio S1 point and shoot compact is anything to go by. Reminding us of a Dualit classic toaster by virtue of featuring a laser engraved logo and a mirrored chrome finish front, back and sides, which means that you can see your face in it from just about any angle, the Pentax Optio S1 has the requisite wow factor as you separate it from its box.
This also lends the aluminium alloy housed camera more solidity than you'd expect from a pocket snapper with a manufacturer's suggested asking price of £119 and 'thickness' of 20mm, so about the width of a small packet of playing cards. Obviously plastic-y it ain't, though it does quickly become smudged with finger prints and we can't vouch for the attractiveness or otherwise of the alternative glossy black or aquamarine green S1 options. Overall dimensions are 54x90x20mm and the Optio S1 weighs 110g unloaded (or 126g loaded and ready), so though feeling sturdy in the palm it will slip fairly unobtrusively into pocket or bag.
Under the showy exterior lurk the S1's headline features of a 14 effective megapixel stills resolution from a 1/2.3-inch CCD sensor and 5x wide angle optical zoom, starting out at a 28mm equivalent in 35mm film terms, and winding up at an equivalent 140mm. Blurring is theoretically reduced courtesy of what Pentax refers to 'Shake Reduction' - by which it means CCD shift image stabilization. If such a respectably broad focal range isn't quite enough, there's the potential to extend the range to a 33.5x equivalent courtesy of the Pentax's 'intelligent zoom function', in effect a crop.
Pictures and widescreen 16:9 aspect ratio 720p HD video at 30fps are composed with the aid of the 2.7-inch, 230k dot 4:3 aspect ratio rear plate LCD with extra wide angle viewing in the expected absence of any optical viewfinder. Being a point and shoot model, these essentials are further bolstered by the hand holding 'auto everything' likes of face recognition, automatic smile capture, blink detection, and 22 scene/subject modes. ISO sensitivity is incrementally adjustable between ISO64 and ISO6400.
| | |
| --- | --- |
| | |
| Front | Rear |
There's no actual mode wheel but there is 'mode' printed clearly on the lower edge of a four-way control pad. Give this a press and the user is presented with an expansive array of options, displayed as non-threatening cartoon-ish icons, through which you tab left and right and press the central 'OK' button to select. Straightforward stuff indeed, with Auto Picture mode being the first and most prominent option. This is in effect a 'smart' auto mode, as it compares any given scene or subject with 14 different on-board settings and - hopefully - selects the best match for optimum results.
The front of the Pentax Optio S1 looks fairly textbook too. The largest feature is the lens, encircled here in black, just so you don't miss it, an automatic lens cover protecting it and the lens mechanism itself folded within the body when not in use. Top left of this is, at the outer edge, a small porthole housing the AF assist lamp, next to which is a narrow strip of the built in flash, and along from this again a separate self timer lamp, with tiny mono microphone located below the lens in a bottom corner.
The top of the Optio S1 continues the classy design ethic, with lozenge shaped shutter release button and smaller, circular on/off control partially sunk into the top plate and sporting a dapper chequered pattern.
Give the power button a press and the S1 is swift to respond, lens shooting outwards from the body and rear LCD blinking into life with a happy 'chirp' - a process taking just under two seconds. Give the shutter release a squeeze and with contrast detection AF deployed, there's a brief moment's wait whilst focus visibly adjusts and the AF point is highlighted in green almost anywhere on screen accompanied by another fruity chirp to indicate the shot is ready for the taking.
| | |
| --- | --- |
| | |
| Front | Top |
Depress the shutter release button fully and a maximum resolution picture is committed to removable SD, SDHC or SDXC card (or 42.7MB internal cache) in all of two seconds. We can't fault the S1 for response times at least.
With no zoom encircling said shutter release, this is instead implemented as a clear plastic rocker switch on the camera back. Give this a nudge and the zoom is quick to respond, buzzing through its 5x range in just under two seconds if you keep one edge depressed.
Sitting below this rocker switch, and above the four-way command pad like a pair of Mickey Mouse ears are: a playback button, and alongside it a dedicated video record button, indicated not by the universal red dot, but rather by a red movie camera icon. Press this and the LCD display narrows, black bands cropping the frame to ape a 16:9 widescreen format and video recording commencing after a second's pause. Disappointingly the optical zoom cannot be used when in video mode. Give it a press and we just get a progressive digital crop that is messily jerky.
Ranged around the Pentax Optio S1's four-way command pad meanwhile are self-timer, macro mode, main 'mode' option and flash options. The latter here are auto flash, flash off, forced flash, automatic with red eye reduction and forced flash with red eye reduction. Apart from Auto Picture mode, we have a further Program Auto mode and, following this, the usual assortment of landscape and portrait optimized settings - including miniature, tilt and shift lens apeing and high dynamic range options shoehorned onto the end of the list. Surprisingly the miniature option actually allows the user to decide which part of the frame to keep in focus - bottom, middle or top - and which to blur, which is slightly more than we expected from a £120 compact.
| | |
| --- | --- |
| | |
| Memory Card Slot | Battery Compartment |
Beneath this command pad are the standard 'menu' button and 'easy' mode button - a press of the latter enlarging on-screen icons - which also doubles up as a delete button when playing back pictures. The menu options are basic but clearly and legibly presented. It's here that the likes of white balance, focus area, metering, sensitivity (ISO64 to ISO6400) and exposure (+/- 2EV) are adjustable. Hidden among these options is a dynamic range setting that can be biased towards correcting for highlights or shadows - or both - as desired. Sharpness, saturation and contrast can also be individually tweaked in camera via sliding levers.
Whilst the left hand flank of the Pentax Optio S1 is devoid of features, the right hand side features an unprotected PC/AV output port, and a lug for attaching a wrist strap.
The bottom of the S1 features a slightly off-centre screw thread for the attachment of a tripod, next to which we find the built in speaker. Despite this teeny outlet the sound is actually fairly clear when a video clip is replayed. Also here at the base is the covered compartment for the removable media card and battery. Battery life is rather poor with just 180 shots provided by a full charge of the tiny rechargeable D-L178 lithium ion cell. Still, this can at least be partly excused by the low-ish price tag.
So, the Pentax Optio S1 is a fairly responsive if unassuming camera on which everything falls readily to hand, making for intuitive use and convenience. However, are its images a match for its outer beauty, or do they pale in comparison? Read on to discover more…