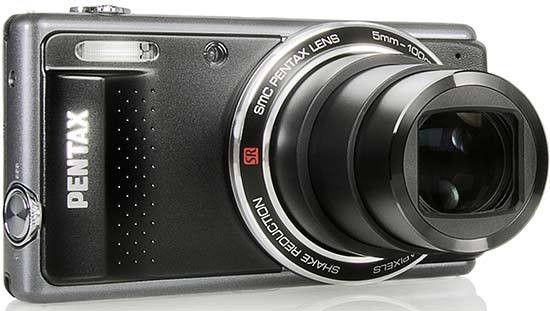 Introduction
The Pentax Optio VS20 is a travel-zoom camera with a difference - it has not one but two shutter release buttons for easier portrait oriented shooting. Featuring a 20x, 28-560mm lens with a sensor-shift Shake Reduction system, the VS20's focal range should cover most photographic bases. Also on offer are a 16 megapixel sensor, 720p HD movies, 3-inch LCD screen, a digital level gauge, Handheld Night Snap mode, a range of creative digital filters, and a 1cm macro mode. The Pentax Optio VS20 is available in black or silver and has a recommended retail price of £199.99 / $249.95.
Ease of Use
While ideally each new camera should have a special, unique feature that sells it on its own terms and distinguishes it from the pack, depressingly most don't. But, in the case of the Optio VS20 from Pentax we don't quite know whether to rejoice in or ridicule its points of difference.
A casual glance and impressions are positive enough; the headline features here are 16 megapixels and a 20x optical zoom supported by CCD sensor shift image stabilisation and a broad focal range the equivalent of 28mm to 560mm in 35mm film terms. Both lens and sensor are packed into a snapshot camera that will fit into your pocket and one that won't break the bank either. The Pentax VS20 retails for a very affordable suggested price of £199.99. This outlay places the Pentax in direct competition with Olympus' recently launched SZ-14 to take one example, 14 megapixels and a 24x zoom, while the basic spec matches up to Panasonic's mighty if pricier TZ zoom series.
Constructed from the usual mix of metal and plastic with more of the latter on show, the Pentax Optio VS20's body is a little wider than models costing £100 more. The rear of the camera looks distinctly utilitarian and frill free – accentuated by the gunmetal grey of our review sample. That said we do get the standard 3-inch, square-ish 4:3 aspect ratio LCD with anti reflective coating with which to compose and review stills and 1280x720 pixels video clips. Here it's a screen that offers a higher resolution than we'd expect of an entry-level snapper at 460k dots. Adding slightly more sophistication to our review sample is a black faceplate too – with white being the alternative choice. There's also a gentle curve to one end by way of a hand grip, plus a rubber pad at the opposite end for those preferring the two handed approach when lacking a tripod.
| | |
| --- | --- |
| | |
| Front | Rear |
But OK, we're teasing you. The real talking point with the Pentax Optio VS20 is the fact that it offers dual sets of the essential controls: namely the shutter release button and the zoom lever that encircles it, plus screw hole for attaching the compact to a tripod. We get shutter release and zoom controls up top, and screw thread at the bottom as usual, plus also a second set of these on the right and left hand flanks of the camera. As with a battery grip for a DSLR, the thinking is that it will make for more comfortable shooting whether the camera is held vertically or horizontally.
Such doubling up makes sense when the camera we're talking about is a bulky professional DSLR, whereby getting at all the controls can occasionally be a stretch for the fingers. But do we really need a second shutter release on a compact camera that will fit in the pocket of your trousers? The suspicion here is that the VS20 could be a display of needless gimmickry rather than necessary functionality. It's rather odd. Also, when we did try and shoot with the camera by turning it on its side, and holding the grip, we had to be careful to avoid fingers straying in front of the lens.
Other features worth flagging up on the 'all purpose' pocket camera are a dedicated one touch video record button top right of the backplate – albeit the camera lacks HDMI output, with joint standard AV and USB output port provided instead – plus a macro mode allowing us to get as close as 1cm from our subject. At the other end of the scale the VS20 also features what Pentax calls an Intelligent Zoom function that extends the core 20x range by 144x to provide a lens reach of a frankly preposterous 4032mm in terms of a 35mm film camera. This is basically the camera's digital zoom, which kicks in if you leave a finger resting on the zoom lever even though it's reached the end of its optical range. For low light shooting there is an ISO range extending up to ISO6400 too, though the resolution drops down to five megapixels at ISO3200 and above. All this sounds quite respectable from a camera costing under £200.
But as if that wasn't enough, alongside intelligent auto shooting that matches the scene or subject before the lens to one of 15 on-board presets, we have the option of slightly broader user control via program mode plus a choice of scene modes and the now ubiquitous digital filter special effects. Here we get the tilt and shift lens approximating miniature mode, which in our opinion blurs so much of the frame it looks like the lens is simply faulty, plus a slightly more successful Sketch mode for those who like their photos to resemble pencil drawings, or the alternative of the perspective warping fisheye.
| | |
| --- | --- |
| | |
| Front | Top |
While the front of the Pentax Optio VS20 in reality is boxier than the glossy press shots might suggest, it is not unattractive, with the lens unsurprisingly dominating proceedings and a suggestion of a lens ring given in the rigged edge above and below the lens barrel. Top left of the lens is a small round porthole containing the lamp for the self timer/AF assist light, while to the left of this again is a narrow lozenge shaped window for the built in flash, its positioning at the top of the curve of the handgrip meaning that occasionally one of our fingers strayed in front.
Top right of the lens is a small pinprick housing the integral mono microphone which is set into a rubber surround that wraps around the right hand flank of the camera, as viewed from the front. A means of support left and right of the faceplate along with the boxy build means that at least this isn't a travel zoom that feels as though it might slip from your grasp at any moment.
Moving up to the top plate and we encounter that first, standard set of controls; raised shutter release button surrounded by a lever for operating the zoom – ridged front lip slightly extended so it more readily falls under the pad of your forefinger. Along from this is a recessed button for turning the power on and off – and that's it. No shooting mode dial or other spurious accompaniments.
A press of the on/off button and the camera responds by readying itself for action in just over two seconds, lens extending from flush to the body accompanied by a whirr of mechanics. At the same time the rear LCD bursts into life with a musical flourish. Press down on the shutter release button to find the halfway point and prompt the camera to determine focus and exposure and it takes a noticeable second or so to do this. The adjustment is relayed on screen so that the user actually loses sight of the subject for a brief instant, which isn't ideal. Rather slow also is the camera's writing speed – taking a leisurely four seconds to commit a 16 megapixel JPEG to memory. Here that 'memory' is either an SD, SDHC or SDXC card inserted into the base of the camera's handgrip, located next to the battery compartment, or a 16MB on-board capacity.
| | |
| --- | --- |
| | |
| Double Shutter Buttons | Second Shutter Button |
On the backplate the Pentax Optio VS20's array of controls is similarly stripped back and straightforward. Here we find the dedicated video record button, a press of which will commerce recording no matter which other stills mode has been selected at the time. Plus we get a separate playback button, familiar four-direction control pad for tabbing through shooting icons and menu settings with a central 'OK' button at its midst for effecting changes. Last up, nearer the base are a menu and dual-use delete/easy mode buttons. A press of the latter enlarges the screen icons for instance, lending them an almost toy-like appearance.
Located at points north, east, south and west of the VS20's control pad are, respectively, a means of adjusting the self timer/drive mode (including a +/- 3EV auto bracketing option, and a remote option, though the actual remote is extra), switching to macro mode, selecting the shooting modes themselves – which appear on-screen in two rows of cartoon-ish icons – plus choosing which flash option to use. The latter offers up auto flash, auto with red eye reduction, forced flash with red eye reduction, forced flash without, or the ability to turn the flash off.
There is a combination of 20 shooting modes/scene modes on the Pentax Optio VS20, presented across two screens and tabbed through using the multi directional pad. The intelligent Auto Picture mode and Program Auto we've already mentioned. Joining these are a natural skin tone portrait mode, handheld night snap, night scene portrait, night scene, digital panorama (already covered), plus the self-explanatory landscape, blue sky, sunset, flower and digital shake reduction option. The second screen and second dozen options cover kids, pets, generic portraits, food (enhances saturation and contrast), fireworks, surf and snow, sport, plus the digital effects filters which comprise fish eye, sketch and miniature, along with text mode and frame composite mode – adding a border to your image but fixing the pixel count at 3MP at the same time. All pretty straightforward stuff that wouldn't trouble anyone picking up the Pentax for the first time.
A press of the menu button just below the control pad and we're presented with up to four 'record' screens governing stills shooting, a separate one for adjusting movie mode options, and finally three set up screens. In record mode is where resolution is changed if required, along with white balance and sensitivity, which here runs from ISO100 up to ISO6400. If you are going to be shooting on auto there is the opportunity to limit the ISO range the camera is working from to between ISO100-200, ISO100-400, or a more sensible ISO100-800 to get the best (noise free) results. There's also the ability to boost this to between ISO100-1600 – the latter being the last setting at which a full resolution image can be captured, with the camera defaulting to five megapixel shots if choosing ISO3200 or ISO6400.
| | |
| --- | --- |
| | |
| Memory Card Slot | Battery Compartment |
If you've chosen Auto Picture mode then half of the settings in menu aren't illuminated; switching to Program of course provides more hands on control – limited here though it is. In Program we can narrow or enlarge the focus area, as well as activate AF tracking. Exposure can also be tweaked between +/- 2EV, the camera's dynamic range can be adjusted for highlight correction, shadow correction or both, plus the likes of shake reduction, face detection, blink detection and the digital zoom implemented if desired. Furthermore, use of the green button can be customized to govern exposure compensation, ISO sensitivity or recorded pixels instead of just being an easy mode. Additionally, an electronic spirit level can be summoned up and sharpness, saturation and contrast adjusted in camera before the point of capture via three +/- sliders. Largely unnecessary for someone who just wants to point and shoot perhaps, but it's there.
In movie menu mode there's the ability to specify the recorded number of pixels, with 1280x720 at a smooth 30 frames per second being the maximum, but being able to drop this right down to an email friendly 240x320 pixels if you really want. Movie shake reduction and the ability to shoot with a limited number of effects filters is also provided here. We get black and white, fisheye, sepia, miniature and sketch.
Lastly the set up menu provides access to the likes of adjusting screen brightness, adjusting sound, time and date, plus reseting all the functions and, as usual, formatting the memory in use – whether removable card or very modest internal capacity.
With the right hand side of the Pentax Optio VS20 – if still viewing it from the back – featuring that second shutter release button and zoom lever, also present is a built in speaker alongside the AV/USB output port. With lugs for attaching a wrist strap presented top and bottom of the same side – the opposite end as we've noted offers up only a screw thread for a tripod. Another is provided as per normal dead centre at the base of the camera, slap bang next to the cover for the vacant ports housing the SD card and battery, the latter being good for a modest 200 shots – so we found ourselves recharging the battery every couple of days. Fine then for a weekend break, but a week or more away and you'll want to pack that charger too.
Despite the (we'd argue superfluous) doubling up of basic controls, this is a pretty standard issue run-of-the-mill point and shoot camera with its broad focal range being more of a selling point, especially at its sub-£200 suggested price. But of course, apparent good value on the shop shelf doesn't always make for the greatest of performances in the field. So will the VS20 transcend or confirm our modest expectations? Click forward to the next category to find out.