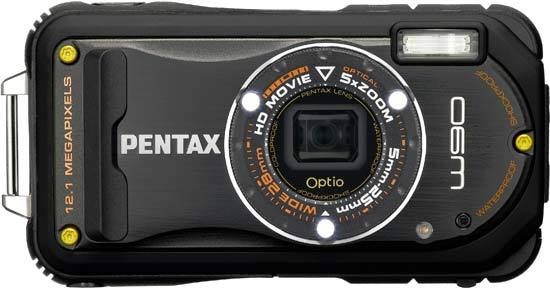 Introduction
The Pentax Optio W90 is a robust compact camera that can be submerged in up to 6 meters of water, dropped from a height of 1.2 meters, and used in temperatures as cold as -10°C. Pentax's most water-, shock-, dust- and cold-proof digital camera, the 12 megapixel W90 features a 5x zoom lens offering a focal range of 28-140mm, HD movie shooting at 1280x720 pixels at 30 frames per second, 2.7 inch LCD screen with anti-reflective coating, 1cm macro and digital microscope modes, upgraded face detection system, and triple anti-shake protection to help avoid unwanted camera shake. Available in green or black, the Pentax Optio W90 costs £269.99 / $299.95.
Ease of Use
Want to literally make a splash with your digital camera? Among designers of point and shoot compacts it appears at times that the current practical concerns govern how big a zoom can be crammed into how compact a chassis, and how many levels of indestructibility said compact can boast.
As indicated by its 'W' prefix, Pentax's Optio W90 falls into the latter category, being not only waterproof to a class-leading six metres and freezeproof to minus 10°c, but dustproof and shockproof (against a fall from 1.2 metres in height) too, according to its manufacturer's own test standards. Yes competitors offer something similar for the £269 UK asking price, including most notably Olympus' Mju Tough range, so the W90 has further come up with its own USP in the grandly named Digital Microscope mode.
Combining a 1cm macro mode with its digital zoom function and three illuminating LED lights placed around the lens, the camera purports to deliver crisp detailed views of miniscule subjects. So if you've ever wanted to catalogue your stag beetle, butterfly or rock collection, this could be the tool with which to do so. The only issue is that use of this Heath Robinson style combination results in a resolution drop to 2.1 megapixels, and, oddly, an image presented in 16:9 widescreen ratio rather than the usual default of 4:3.
Staying with the theme of non-human subjects, Pentax has also overhauled its face detection technology on this model, so that it now purportedly recognizes cats and dogs. As a result the shutter can be set to fire the moment Tiddles or Fido faces the camera, theoretically increasing the chances of achieving a usable animal portrait. In practice however we found local canines unwilling to keep their heads still enough for the camera to lock decisively on target.
Like the retro styled H90 pocket model we had for review in tandem, the elongated, chunkier W90 features a 12.1 megapixel effective resolution and larger than average (for a compact) 5x optical zoom again starting at 28mm at the wide end and reaching 140mm equivalent at the telephoto end. Pictures are composed and reviewed courtesy of a properly widescreen ratio 2.7-inch, 230k-dot resolution LCD monitor at the rear.
| | |
| --- | --- |
| | |
| Front | Rear |
What this iteration also adds is HDMI output for hooking the camera up to a flat panel TV - something we're increasingly finding is becoming standard in this sub £300 price bracket. Pentax's twist on use of a widescreen LCD is the inclusion of a function whereby a thumbnail of a previously captured image can be placed in the top left hand corner of the screen for visual reference whilst a subsequent image is taken. Useful perhaps if you're looking to achieve a consistency of framing but a rather niche add-on for what otherwise seems a beginner targeted product.
In terms of whether it delivers on its promised toughness, Pentax's W90 certainly looks and feels the part, chunky lens surround seemingly inspired by Casio's shock-proofed G-Shock watches. Its brushed metal faceplate with visible 'manly' screw heads suggests that the camera will feel equally at home on a building site as a beach. The elongated shape also ensures that the buffed up Pentax resembles a camera phone when turned on its end to shoot portrait fashion. So in terms of looking like a cool piece of kit to catch the eye of the casual browser this one has most of the boxes ticked.
As the W90 will be occasionally engaging in rough and tumble if it is to fulfill its brief, some form of anti shake is a must. Disappointingly Pentax hasn't opted for sensor shift or optical stabilization methods, preferring instead to process and patch up instances of blur rather than prevent them in the first place. To be fair, for attempted low light photography, it makes a stab at minimising softness by deploying software to automatically boost shutter speed, and, in High Sensitivity mode, ISO settings up to maximum ISO6400 equivalent. The trade off is a recorded image at a reduced five megapixels (to SD or 26.7MB internal memory) at these top options.
The Optio W90 sets itself apart from the crowd further by offering its own take on the digital filter in-camera effects that have gradually become a feature of Pentax's K series DSLRs, with 12 options, including a new ink rubbing effect, to choose from. Hand holding for beginners comes in the shape of its Auto Picture mode, which, like the Smart Auto and intelligent Auto options on rival compacts, automatically selects from one of eight on-board parameters to deliver optimum results for a given subject or scene. When it comes to downloading snaps the camera, like Canon's latest offerings and Pentax's H90, the W90 boasts compatibility with the interesting if pricey Eye-Fi memory cards alongside regular SD and SDHC. The former allows wireless and automatic image transfer whenever your camera comes close to your desktop PC or laptop and its adoption by several key manufacturers suggest the format will prove to be more than a gimmick.
With an internally stacked optical mechanism, at no point does the W90's lens protrude from its protective housing - thus it's kept out of harm's way. Despite the chunky G-Shock watch-style lens surround, there's no sliding mechanism keeping the glass protected against inevitable fluff and fingerprints however. So users who typically kart around their compacts in a pocket will be constantly cleaning it before use.
Apart from the unusual trio of lens surrounding lights deployed in its microscopic macro mode - selectable from among the other scene mode icons - the front of the camera incorporates a narrow window for the built in flash, and finds room for a eye-searingly bright self timer/AF assist lamp bottom right of the lens.
| | |
| --- | --- |
| | |
| Front | Top |
To the left of the optic there's a narrow, slightly raised protrusion acting as a concession to some form of grip. There's room for its manufacturer to have made this grip bigger and of greater practical use, but doubtless it wanted to maintain clean lines for the sake of fashion and catching the eye of the fickle punter.
The top plate features a large shutter release button that has a slightly rough surface to enable use with wet fingers, plus a smaller inset on/off button that lights up an attractive green when the camera is in use, next to which are the integral speaker and microphone. Press the power switch and the W90 powers up for action in just over a second - the lens automatically at its widest setting and the rear screen bursting instantly into life. This ensures that the user can be taking a shot within two to three seconds - even giving it a moment to determine focus and exposure - fast work for what's basically a point and shoot compact. Similarly swift is the fact that maximum 12.1 megapixel resolution images at the highest quality level are committed to memory with two seconds. Still, whether you're anticipating a jump in the pool or facing the rapids, you don't want a camera prone to lethargy.
Over at the camera's left hand side is a well-protected compartment housing separate ports for HDMI output plus multipurpose AV/PC cable. This is mirrored by the shared compartment for battery and SD/DHC card at the camera's base, also chunky in design, and accessible by sliding open a catch and then sliding open the compartment itself - the two tiered process ensuring neither flies open accidentally. Over at the other side of the camera is a larger than average lug for attaching a wrist strap/clamp - provided in the box and equally heavy duty in its design.
The back of the W90 is a fairly simplistic affair - nearly four fifths of its space given over to the LCD screen, the result being that it quickly becomes smeared in fingerprints when steadying the camera with both hands as there's not really anywhere else to place your fingers. Save that is for the smattering of standard issue controls to its right; at the top of which we have a rocker switch for operating the integral zoom. Press the telephoto end and the camera literally scurries through the range nigh silently to reach its 5x equivalent setting in just over two seconds. As on the H90 compact from the same manufacturer, continue to hold down the rocker switch and the camera will continue forward to a 31.3x equivalent if so desired. Impressive stuff, if the fuzzy pictures achievable at such a setting were actually worth taking, so, unfortunately, this option comes across as an unnecessary gimmick.
Beneath the zoom rocker is a self-explanatory playback button, and beneath that again a familiar pairing of controls - menu button to the right, face detection and smile capture on/off button to the right. By pressing menu meanwhile we get access to a more expansive range of controls than provided by the H90 model, with one whole extra screen of options. Here we get the D-range function to correct for shadows and highlights, as found on the H90, plus an interval shooting function, as not, plus the ability to activate the macro light and leave it turned on if desired. In the set up menu we also find the pixel mapping function found on the H90, which, when activated, checks the camera's sensor and purportedly corrects any defective pixels. As we remarked in our review of the H90, these are not functions you expect to find on a point and shoot model, but all help provide a more comprehensive package than usual.
| | |
| --- | --- |
| | |
| Battery Compartment | Memory Card Slot |
Underneath the menu and face detection controls is a standard issue four-way control pad, with an identical set up to that found on the H90. So at 12 o'clock we have a means of selecting a drive mode: standard single shot capture, self-timer option, continuous shooting or burst shooting, plus here interval shooting and an auto bracketing function make an appearance. At three o'clock we find, unusually on this class of point and shoot, a means of adjusting the focus mode, from regular auto to standard or 1cm macro, and then on through a pan focus, infinity focus and, finally, a manual focus option.
Select the latter and an enlarged central portion of the screen appears to aid the user's judgment, an adjustable distance slider appearing on the right of the LCD, with options of 0.1 metres to infinity. The user is also presented with a live histogram.
At six o'clock on the control pad we have access to the camera's shooting modes, via an on-screen toolbar of cartoon icon led options rather than a dedicated, physical, mode wheel. This is where users can either stick with the reliable auto everything default setting of 'auto picture', or tab to the right for program mode and an extensive 20+ range of scene modes, covering everything from underwater shooting to taking pictures of, er, business reports, via the aforementioned Digital Microscope mode.
At nine o'clock on the shooting mode dial meanwhile, is a means of adjusting settings governing the built-in flash. Here the user can tab through auto, off, forced on, auto with flash, forced flash with red eye, or 'soft' flash. The set up here is identical to that found on the cheaper, albeit physically weaker, H90.
As with that model, the last button on the W90's back plate is the green button, which is in effect Pentax's easy mode. Push this and the on-screen icons get fewer and larger in size, with the time, battery life and number of shots remaining left showing, as well as an icon for the mode itself. Press the menu button when this mode is selected and all the recording options are gone, only for the user to be left with the basic set up menu. In playback mode this green button doubles up as the delete button, which is handy as it saves otherwise tabbing through menu options to vanquish duff shots - and so quickens overall operation.
Like its cheaper sibling however the W90's battery life is not as robust as the camera's exterior, managing a fairly weedy maximum 205 shots from a full charge. So what of said images, do they better what we're used to seeing from such strengthened cameras, where image quality often comes second to outer muscle?