Pentax Optio WG-1 GPS Review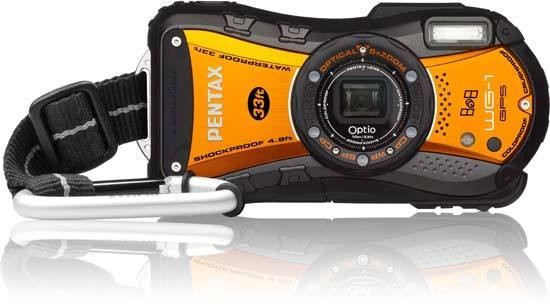 Image Quality
All of the sample images in this Review were taken using the 14 megapixel JPEG setting, which gives an average image size of around 4.5Mb.
The pictures from the Pentax Optio WG-1 GPS are actually pretty good. We found some flaws in the occasional mode such as the panoramic mode where we got a definite "crease" in the middle of the shot because it wasn't aligned properly and we simply couldn't sort it out. We also kept getting annoyed at the fact that the ISO would reset back to auto whenever the camera was switched off.

At low ISO image quality on the Pentax Optio WG-1 GPS is nice. It has decent enough colours and and the picture is sharp enough but does benefit from a little help in Photoshop. Pentax digital compact cameras always suffer from noise, though, and the WG1 has the same problem. Colour fringing isn't much of an issue although we found that it did appear in some instances where we wouldn't expect it.
We love the close focusing of the WG-1 and the addition of the macro lights is a great idea to bring light to photos that would otherwise be lost. It looks as though Pentax are hitting the nail on the head in terms of image quality. However other manufacturers are controlling digital noise a lot more effectively and Pentax could take a leaf out of their books and look at trying to get rid of it too. After all, it can ruin a picture.
Noise
If you were to zoom into the picture at ISO 80, you may be a little disappointed to see a very small amount of image breakdown. However, we're probably being overly critical because viewing the pictures at normal viewing size doesn't show the problems.
Noise control does its job adequately because the same image quality seen at ISO 80 remains through to ISO 400 which is pretty good. There's a definite colour shift at ISO 800 and edge definition starts to decline. Salt & pepper noise starts to appear more noticeably at ISO 1600 with green colouring in shadow areas. At ISO 3200, the Pentax Optio WG-1 GPS knocks the resolution down to 5 megapixels in a bid to combat invasive noise. Fine detail still suffers though with small lettering taking a beating in the definition stakes. ISO 6400 really needs to be used as a last resort. The reason being that blue and green blobs of colour take over low and mid range levels giving pictures a cast that looks unappealing.
| | |
| --- | --- |
| ISO 80 (100% Crop) | ISO 100 (100% Crop) |
| | |
|   |   |
| ISO 200 (100% Crop) | ISO 400 (100% Crop) |
| | |
|   |   |
| ISO 800 (100% Crop) | ISO 1600 (100% Crop) |
| | |
|   |   |
| ISO 3200 (100% Crop) | ISO 6400 (100% Crop) |
| | |
Focal Range
The Pentax Optio WG-1 GPS' 5x zoom lens provides a focal length of 28-140mm in 35mm terms, as demonstrated below.
| | |
| --- | --- |
| 28mm | 140mm |
| | |
Sharpening
For day to day shooting and looking at the pictures on a computer screen or as small to medium sized photograph, they look good enough. When the picture is enlarged or if if you were to zoom in on a certain part of the picture it does look a bit soft and certainly benefits from a standard boost of sharpening in Photoshop.
| | |
| --- | --- |
| Original (100% Crop) | Sharpened (100% Crop) |
| | |
Chromatic Aberrations
The most unusual thing about the chromatic aberration (CA) that the Pentax Optio WG-1 GPS suffers from is that in our tests, we found it in the weirdest places. CA appears in shots where there's high contrast and if you're shooting in the snow, that's where it's going to occur.
Example 1 (100% Crop)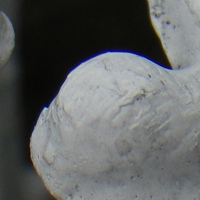 Macro
There are 6 options to focus with, they range from the usual autofocus, macro and infinity through to more unusual ones such as panning focus, manual focus and super macro. The super macro mode can get in as close as 1cm which is great for shooting high resolution fine detail pictures of small items or creatures. The problem with that is the lack of light available once the lens starts to get in really close. This is where the digital microscope comes in. However, the downside is that the camera drops the resolution to 2 megapixels. That sounds pretty rubbish but there is a way round it. Instead of putting the camera in digital microscope mode, keep it in program mode and switch on super macro. Then go into the menu and scroll to the fourth page of the recording tab. At the bottom is an option to switch on the macro light. Doing this gives you the best of both worlds.
| | |
| --- | --- |
| Macro | 100% Crop |
| | |
Flash
The Pentax Optio WG-1 GPS has 5 flash modes, two of which are for red-eye functions but the camera doesn't leave any red-eye even when it's switched off. There's also two options to over-ride the flash to turn it on or off permanently along with the usual auto flash. At wide-angle the flash gives mild vignetting at the corners of the frame which remains but softer when the camera is zoomed out.
| | |
| --- | --- |
| Flash Off - Wide Angle (28mm) | Flash On - Wide Angle (28mm) |
| | |
|   |   |
| Flash Off - Telephoto (140mm) | Flash On - Telephoto (140mm) |
| | |
And here are some portrait shots. As you can see, neither the Flash On or the Red-eye-Reduction settings caused any red-eye.
| | |
| --- | --- |
| Flash On | Flash On (100% Crop) |
| | |
|   |   |
| Red-eye Reduction | Red-eye Reduction (100% Crop) |
| | |
Night
The Pentax Optio WG-1 GPS has a night shot facility that is accessed and enabled by pressing the mode button. It uses a longer shutter speed to bring out detail in dark areas and the great thing is that even though it's a pre-set mode, the ISO can be adjusted to increase the shutter speed and reduce the chance of noise.
| | |
| --- | --- |
| Night | Night (100% Crop) |
| | |