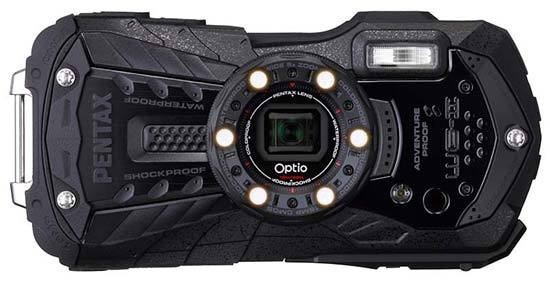 Image Quality
All of the sample images in this review were taken using the 16 megapixel JPEG setting, which gives an average image size of around 5Mb.
A top resolution of 16 megapixels from the now standard issue 1/2.3-inch backlit CMOS sensor suggests a performance on a par with just about any pocket snapshot camera these days. However there's also the inherent 'danger' with a toughened compact that image quality comes second to actually being able to take pictures at all in conditions that would have non-reinforced cameras crying digital tears. Plus the best picture quality generally isn't to be had from a small folded zoom lens that at no point actually protrudes from its reinforced casing. This also leaves it open to the 'threat' – and this is one we experienced – of fingertips occasionally straying into the edges of frame because the lens doesn't automatically extend clear of said digits.
Though generally pictures from this Pentax are well saturated and vivid straight out of the camera and for the most part had focused on the subject as intended, meaning that little if any adjustment of the JPEGs was needed, inevitably we encountered bugbears common to any snapshot camera. These included pixel fringing between areas of high contrast, and sloping verticals at maximum wide-angle setting. Although the unusual sloping edges, lumps and bumps ensure this isn't a camera that feels like it will slip from your grasp, and that holding it with both hands should provide wobble free results, we did occasionally encounter image softness at maximum telephoto setting as only digital image stabilization is provided here. Only occasional softness mind, as sharp candids are achievable and so the above to an extent does feel like nit picking.
For low light photography the Pentax WG-2 offers a top light sensitivity setting of ISO6400, plus in-camera trickery such as its Handheld Night Snap mode that combines four images captured with one squeeze of the shutter release to end up with a blur reducing result. While results, in terms of keeping noise at bay, are tolerable with the aid of a tripod up to and including ISO3200, which isn't bad at all, at top whack ISO6400 setting we're getting more of a watercolour like appearance. For best quality though, as usual it's a case of stick to ISO800 or below. In most regards though the WG-2 delivers a performance that left us pleasantly surprised.
Noise
There are 7 ISO settings available on the Pentax Optio WG-2. Here are some 100% crops which show the noise levels for each ISO setting.
| | |
| --- | --- |
| ISO 125 (100% Crop) | ISO 200 (100% Crop) |
| | |
|   |   |
| ISO 400 (100% Crop) | ISO 800 (100% Crop) |
| | |
|   |   |
| ISO 1600 (100% Crop) | ISO 3200 (100% Crop) |
| | |
|   |   |
| ISO 6400 (100% Crop) |   |
| |   |
Sharpening
Here are two 100% crops which have been Saved as Web - Quality 50 in Photoshop. The right-hand image has had some sharpening applied in Photoshop. The out-of-the camera images are just a little soft at the default sharpening setting. You can change the in-camera sharpening level if you don't like the default look.
| | |
| --- | --- |
| Original (100% Crop) | Sharpened (100% Crop) |
| | |
|   |   |
| Original (100% Crop) | Sharpened (100% Crop) |
| | |
Chromatic Aberrations
The Pentax Optio WG-2 handled chromatic aberrations excellently during the review, with very limited purple fringing present around the edges of objects in high-contrast situations, as shown in the example below.
Chromatic Aberrations 1 (100% Crop)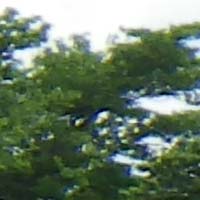 Macro
The Pentax Optio WG-2 allows you to focus on a subject that is just 1cm away from the camera. The first image shows how close you can get to the subject (in this case a compact flash card). The second image is a 100% crop.
| | |
| --- | --- |
| Macro | Macro (100% Crop) |
| | |
Flash
The flash settings on the Pentax Optio WG-2 are Flash-on, Flash-off and Red-eye reduction. These shots of a white coloured wall were taken at a distance of 1.5m.
| | |
| --- | --- |
| Flash Off - Wide Angle (28mm) | Flash On - Wide Angle (28mm) |
| | |
|   |   |
| Flash Off - Telephoto (140mm) | Flash On - Telephoto (140mm) |
| | |
And here are some portrait shots. As you can see, both the Flash On or the Red-eye-Reduction settings caused a tiny amount of red-eye.
| | |
| --- | --- |
| Flash On | Flash On (100% Crop) |
| | |
|   |   |
| Red-eye Reduction | Red-eye Reduction (100% Crop) |
| | |
Night
The Pentax Optio WG-2's maximum shutter speed is 4 seconds in the Night Scene mode, which is not very good news if you're seriously interested in night photography. The shot below was taken using a shutter speed of 1.3 seconds at ISO 1600.
| | |
| --- | --- |
| Night | Night (100% Crop) |
| | |