Pentax Optio WS80 Review
November 20, 2009
|
Mark Goldstein
|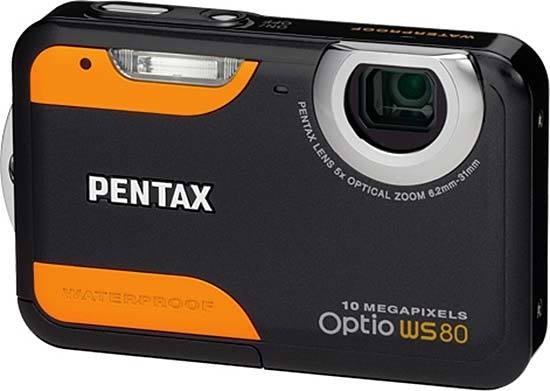 Conclusion
The Pentax Optio WS80 is essentially a cut-down version of the more expensive W80 model, losing the freeze and drop proof capabilities of the latter and also its wide-angle lens in order to hit a more aggressive price-point.

The WS80's 5x zoom with a maximum reach of 175mm is a real bonus in such a small camera, but the 35mm wide-angle setting literally restricts what the camera can achieve. The wealth of beginner-friendly options make the WS80 a great choice for use by every family member, and the HD movie mode is a real bonus, but it does quickly eat up memory card space and the inability to use the zoom whilst recording is very frustrating. The triple anti-shake system sounds good on paper, but in practice the Pixel SR mode just slows the camera down, and the Movie SR mode actually physically narrows the angle of view

As with the W80, the Pentax WS80's achilles heel is average image quality. Noise in particular is a real problem, with the relatively slow speed of ISO 100 suffering from easily visible noise. It gets progressively worse as you make your way up the ISO range, with the 1600-6400 settings proving wildly optimistic. The camera did handle chromatic aberrations well, but otherwise there's nothing to write home about in terms of this camera's photos.

The prime reason that you should consider the WS80 is its budget price - £230 / $250 is not too much to ask for an easy-to-use camera that should survive most family holidays, with even cheaper online bargains sweetening the deal. Image quality may not be that great, but the ability to use the Pentax Optio W80 in a range of different environments with the minimum of fuss make it worth considering none-the-less.
Ratings (out of 5)
Design
3.5
Features
3.5
Ease-of-use
4
Image quality
3
Value for money
4