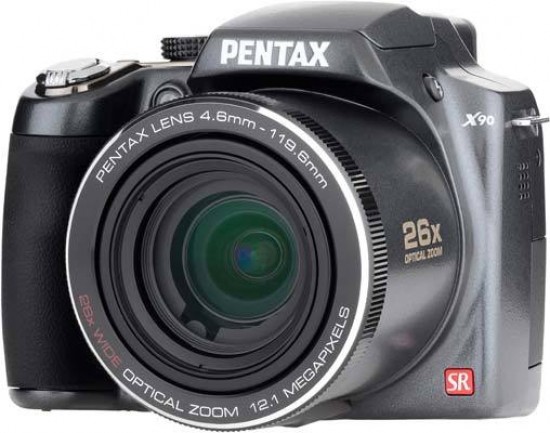 Introduction
The Pentax Optio X90 is a super-zoom digital camera that looks and feels like a DSLR. Featuring a 26x, 26-676mm lens with a sensor-shift Shake Reduction system, the X90 should cover most photographic bases. Also on offer are a 12 megapixel sensor, 720p HD movies with an HDMI port, electronic viewfinder and a 2.7 inch LCD screen, Aperture-Priority, Shutter-Priority and Manual shooting modes, and a 1cm macro mode. The Pentax Optio X90 has a recommended retail price of £329.99 / $399.95.
Ease of Use
Not to be confused with the waterproof W90 or standard H90 snapshots also from Pentax, this latest 12.1 effective megapixel X90 is a digital SLR-styled 26x optical zoom model, a step up from the 24x X70.
It is, in fact, the kind of semi-chunky bridge camera that was all the rage before Micro Four Thirds cameras and their ilk came along and introduced another meeting point between compact user-friendly snapshot and fully-featured DSLR.
So, while having such a broad focal range, equivalent to a wide-angle 26-676mm in 35mm terms, never fails to come in useful, do we still want another choice of camera that outwardly resembles an entry-level DSLR - yet isn't, in that among other things said lens cannot be swapped? Then there's also the fact that the X90's asking price at £329.99 comes very close to the cost of a budget DSLR and standard lens.
Sporting a dark gunmetal grey livery as an indicator of a more serious intent, Pentax would argue of course that its X90 provides the kind of reach that would cost a lot more were you to equip an actual DSLR with comparable lens - and it would be right.
As such it markets itself as an accessible all in one option for those looking for big zoom power in a single (relatively) affordable package; and to ram the point home its manufacturers own blurb trumpets the claim that it does everything 'except the ironing'.
We'd have been surprised then if the X90 didn't offer HD movie capture and HDMI output, and indeed it does, with video at not-quite-full HD 1280x720 pixels and smooth frame rate of 30 fps. There's no dedicated button for one touch capture though. The movies feature is instead selected via familiar top plate shooting mode dial, and recording commences and ends with a press of the main shutter release button.
Like assorted Panasonic compacts the X90 additionally features what Pentax is calling its own Intelligent Zoom function, extending coverage to a frankly ridiculous 162.5x (or 4225mm) equivalent if you don't mind shooting at a VGA resolution (otherwise it's 7 megapixels at 33.9x). All this and a macro mode that allows photographers to get as close as 1cm from their subject/s and still maintain sharpness. There's no RAW capture here though, despite its bridge model pretensions, merely three quality levels of JPEG: Good, better and best. Light sensitivity is however respectably broad, stretching from ISO80 through ISO6400 and incrementally selectable with it.
Marginally smaller than a budget DSLR with overall dimensions of 84.5x111x110mm, grip the X90 in your right hand, three fingers instinctively snaking around the provided grip while your forefinger hovers above the shutter release button and thumb rests on the rubberised pad at the rear, and the camera feels surprisingly lightweight given its dimensions. It's 400g unloaded, or 428g with battery and SD/SDHC or Eye-Fi card - yet reasonably sturdy with it.
The camera's build is obviously quite plastic-y though, something it also shares with starter DSLRs. The lens is protected by a slip-on plastic cap that can be attached to one of the side lugs for the shoulder strap via the thread provided in the box. Otherwise we can see this cap quickly getting mislaid.
Thankfully for those looking to eschew use of a tripod a zoom of this size is supported by anti shake or rather Pentax's proprietary Shake Reduction, here of the CCD sensor shift variety, built-in gyro sensors detecting external wobble and vibrating the sensor horizontally and vertically at high speed to compensate. Pentax claims this compensation is the equivalent of three stops.
Picture composition is via rear 2.7-inch, 230k-dot LCD monitor with anti reflective coating or 200k-dot resolution electronic viewfinder with DSLR-like dioptre adjustment dial situated directly above.
| | |
| --- | --- |
| | |
| Front | Rear |
The eye relief for said viewfinder juts out quite prominently from the camera back so your nose doesn't squash uncomfortably against the rear screen below. However this means that it does unfortunately clunk against your spectacles, should you happen to be a wearer. LCD visibility is adequate outside, but indoors in lower lighting relays a rather noisy image; we'd expected a slightly better quality, higher resolution display at this level.
As indicated, the main shooting options are located with a twist of the familiar bottle-top design mode dial located on the X90's top plate, next to the housing for the pop-up flash. Sufficiently stiff to avoid accidental jogging from one setting to the next and slotting into place at each option with a definitive click, the X90, like an entry class DSLR, mixes a choice of the fully automatic with the manually creative.
Suggesting family friendliness is that the most prominent setting is an Auto Picture mode. This, like other Smart Auto or intelligent Auto technology on rivals, compares the scene before the X90's lens with eight on board settings - including portrait, landscape, night-time and macro scene options - and theoretically selects the most appropriate for optimal results. In practice too it's reliable, though busy scenes do cause the camera to flutter between options.
Adjacent settings on the same dial include a separate scene mode option for non-automatic selection, plus Program, Shutter Priority, Aperture Priority and Manual shooting modes as you'd expect.
There's further a customizable User mode to which commonly used settings can be attributed (as a default this provides a short cut to the camera's pared-down green - read 'easy' - mode). Also featuring on the dial are a means of accessing movie recording, additional ISO-boosting digital shake reduction (wherein resolution drops to five megapixels) plus a sports mode.
Like Pentax's own K-x DSLR, beginners can, by using the above, feel their way gradually into using the camera by utilising it as a point and shoot first and foremost, and then moving onto experimenting with more manual settings as experience and so confidence grows. Also like its DSLRs, there are also a few fun digital effects filters on board, including Toy Camera and Retro options - but here applied in playback mode rather than at the point of capture.
Less helpfully, users only get a quick start pamphlet included in the box, the full manual being supplied on CD only. An additional disk supplies PC and Mac compatible ArcSoft MediaImpression 2.0 software, an image viewing, editing and cataloguing program.
So, as noted, from all angles the X90 looks and feels distinctly DSLR-like. Viewed lens on, the front is dominated by that whopper of a Pentax branded lens, the surround of which on first glance looks like it features a ridged manual adjustment ring; but sadly this transpires to be fixed rigidly and merely a detail of the design.
Directly above the lens sits the pop up flash, with dedicated flash button located on the ridge to its right. However a press of this won't prompt the flash to pop up ready for duty unless the camera is switched on first. Once it is, the Pentax will provide a text prompt to tell the user to raise the flash should a forced flash setting be selected.
| | |
| --- | --- |
| | |
| Pop-up Flash | Top |
Over at the left hand side of the flash housing is a large-ish window for AF assist lamp and self-timer indicator, and just below it a narrow slit housing the built in microphone. Adjacent to these on the forward sloping ridge above the comfortably moulded camera grip we find the large and sufficiently springy shutter release button and, surrounding it, a compact camera-like lever for adjusting the zoom.
Whilst that's it for the front of the X90, the top plate is slightly more interesting. The chief feature here is of course the aforementioned shooting mode dial - and the other two controls are a dedicated button for exposure compensation (a modest adjustment range of +/- 2EV) and the on/off switch, with cheerful green lamp inserted into its centre as a visual indicator that the camera is indeed active.
Press this button and with a brief audio flourish the back screen bursts into life, lens extending to maximum wideangle setting ready for the first shot in just over a second - an impressive response by any standards.
Wrap a finger around the zoom lever and that's also near instant in its response; in fact the zoom is so responsive and quick to race through the entirety of its range - just under three seconds from maximum wideangle to extreme telephoto, a timing more usually seen from humbler 10x zoom compacts - that precise control is tricky. With a gentle touch it is possible to progress in baby steps, but this obviously doesn't provide the same degree of control as a manual zoom ring.
A major disappointment is the fact that the optical zoom is disabled in video mode; that's to say the zoom remains at the same fixed position it was before the user pressed the shutter release button to begin recording. So if you've zoomed in before filming commenced, you can't then zoom out mid way through. The additional digital/ 'intelligent' zoom is however accessible should you want to go closer still in HD video mode, but as this progressively degrades the image, we'd argue it's best avoided.
The lack of optical zoom control is a real shame; especially considering the big zoom is literally the X90's big feature. And we'd further argue it's not as though the zoom itself is particularly noisy in operation - often the reason why manufacturers disable it in movie mode.
Still, once the user has alighted on framing that they're happy with, the camera in offering 9-point AF takes just over a second to determine focus and exposure with a half press of its shutter release button. Proceed to take the shot and a full 12 megapixel, best quality resolution photograph is committed to memory - here removable SD/SDHC plus wireless-enabled Eye-Fi media - in around two seconds. Again this timing is very respectable for this class of camera, and so in terms of overall responsiveness, zoom aside, we take no issue with the X90.
Returning momentarily to the shooting mode dial, it's here with a twist to scene mode and a further press of the 'mode' button that makes up part of the cross keys control pad on the camera's back, the user can call up the 20 pre-set options herein. These are displayed as a series of cartoon-ish icons that wouldn't look out of place on a point and shoot compact.
Along with the expected landscape, portrait, children and pets optimized options, the X90 user has a chance via 'digital wide' mode to shoot two shots which are then stitched together in camera along with a broader panorama option. Again, these are the sort of options to be found on Pentax's snapshot compacts, such as the numerically similar H90 and W90, recently reviewed on this site.
The rear LCD screen is positioned directly below alternative EVF on the backplate and a small button to its left allows one-touch swapping between the two, with a further self explanatory display button to the right of the EVF. A press of the latter turns off the basic functional information, calls up a nine zone compositional grid, or adds to the presented information courtesy of a live histogram.
The rest of the controls to the left of the X90's screen again are a mix of what you'd expect to find on a regular compact and an entry level DSLR. Thus we get a DSLR-style command dial top right of the camera back, a twist of which allows shutter speed and aperture adjustments if shooting in one of the camera's creative modes, the jumping between one function folder and the next if in 'menu' mode or usefully zooms in or out of an image if in playback/review mode.
Beneath this dial is the ubiquitous face detection/smile capture button - subsequent presses of which turn the former on or off and summon up the latter. The X90 can detect up to 32 faces in the frame, and in all of 0.03 seconds according to Pentax. For those who imagine they look a bit fat in the face, the camera deploys a 'small face filter' in playback mode that makes said visages appear smaller in camera than they are in reality. Rather bizarre. Face detection is coupled with blink detection - the camera prompting you if a subject's eyes appear closed, though this feature can be enabled or disabled via the main shooting menu, more on which in a minute.
| | |
| --- | --- |
| | |
| Battery Compartment | Memory Card Slot |
Beneath the face detection control is a familiar playback button. An additional press of the 'mode' button within this setting and the user has access to quite an extensive range of image slideshow and in-camera editing facilities - it's here you'll find the odd small face filter for example - as well as the toy camera and retro options mentioned earlier. Interestingly, and showing that this camera is aimed as much at beginners as anyone else, there is also an image recovery setting to try and retrieve images accidentally deleted.
Underneath the playback button is the set of operational cross keys, with a centrally-located 'OK' button in their midst for implementing any changes once menu items have been tabbed through and selected using said keys (fittingly, the main menu button sits just below).
Situated at 12 o'clock within this configuration is a dedicated button for calling up the X90's self timer options/drive modes (including impressive 11.1fps high speed capture at 5 megapixels), at three o'clock a manual means of selecting macro mode, at six o'clock the main 'mode' button, whereby for example the scene options are summoned up, and at nine o'clock we find a dedicated button for controlling the flash.
If shooting in program mode the flash options are auto flash, off, on, auto flash plus red eye reduction, forced flash plus red eye reduction, slow sync flash, and finally slow sync flash with red eye reduction. As we've already noted, if the flash hasn't been manually activated prior to selection, an on-screen prompt tells the use to 'please pop up the flash'; it won't do so automatically.
Just underneath the above keys we have a menu button, and alongside it the dedicated 'green' (easy) mode button, as found on Pentax point and shoots. This doubles up as a handy delete button when in playback mode, to save the user otherwise having to wade through menu screens.
While the right hand side of the X90, if viewed from the back, is devoid of any controls whatsoever - and features only a lug for attaching the shoulder/neck strap - a feature mirrored at the other side - the left hand flank is where we find a flap protecting a mini HDMI output port plus separate joint AV out/USB connection.
The bottom of the camera features a centrally located screw thread for attaching a tripod - though it is possible to shoot handheld in daylight and achieve sharp enough results at extreme telephoto - and to its right, and so within the base of the handgrip, we find a joint battery and card compartment protected by a plastic cover with sliding catch.
Battery life is good for an adequate 255 shots from a single charge of the X90's supplied lithium ion battery, mains charger and lead also included in the box.
In summary, everything on this Pentax falls readily beneath finger or thumb which makes for swifter overall operation; this is down to both sufficiently large controls, a smaller form factor than a DSLR proper and also the fact that Pentax has not overburdened the X90 with extraneous buttons.
While that's all well and good, what of the resulting pictures? Can Pentax deliver where (and when) it counts?