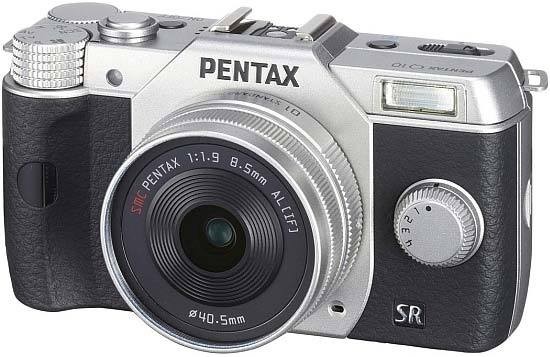 Conclusion
The Pentax Q10 is a minor improvement on last year's original Q model, most notably offering a slight improvement in image quality, snappier focusing and a more ergonomic handgrip. The biggest "upgrade", however, is undoubtedly the realistic price-tag - a whopping £220 / $200 less than the original Q on launch pits the Q10 more logically against higher-end compacts, rather than the compact system camera and entry-level DSLR competition that the Q faced.

The Pentax Q10 may look like a toy camera at first glance, but it actually proves to be a lot more full featured and intuitive to use in practice. Slightly bigger than the original Q, the new Q10 is still very much like a K-r or K-5 that's been shrunk in the wash. Despite its tiny dimensions, it's still straight-forward and fun to use, a real testament to the Pentax engineers, and it also offers a lot of functionality that's made its way down the food chain from the more sophisticated DSLRs. Sure, some of the controls are a little too small for our liking, but overall the Pentax Q10 is a lot easier to use than it size suggests, with the new handgrip a definite improvement.

Unfortunately, despite the introduction of a new image sensor, the Q's image quality still doesn't come anywhere near a DSLR, or the new breed of compact system cameras either. It may have DSLR pretensions and an ISO range to match, but in reality the tiny compact camera sensor at the heart of the Q seriously restricts its appeal. Prospective buyers of an interchangeable lens camera expect significant improvements in both features and image quality, and while the Q's photos are now respectable by compact camera standards, they can't match the results from rival models like the Nikon 1 series or even the Sony Cyber-shot DSC-RX100 compact.

Thankfully Pentax seem to have realised that the Q10 can't take on DSLRs or CSCs and priced it accordingly. While £379.99/$599.95 for the single-lens kit with the 5-15mm lens is still a big outlay, it does make the Q10 cheaper than some high-end compacts, against whom it more naturally competes. If you're looking for a camera that's small enough to slip inside a coat pocket, yet flexible enough to offer a DSLR-like take on the world, then the new, more affordable Pentax Q10 is at least worth taking for a test-drive.
Ratings (out of 5)
Design
4.5
Features
4
Ease-of-use
4.5
Image quality
4
Value for money
3.5