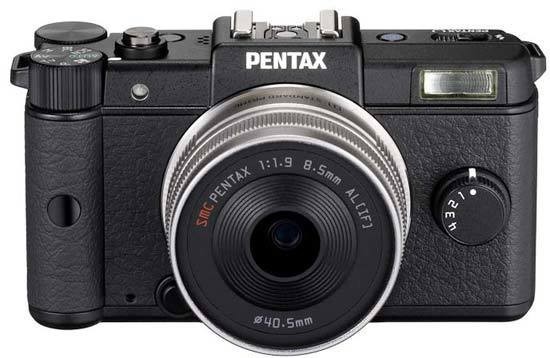 Introduction
The new Pentax Q is the world's smallest and lightest interchangeable lens camera. At its heart is a back illuminated 12.4 megapixel 1/2.3-inch CMOS image sensor and the brand new super-compact Q-mount lens system. The Pentax Q also features Full 1080p HD movie recording, sensor-shift Shake Reduction mechanism, dust removal system, cleverly designed built-in pop-up flash, external flash hotshoe, 5fps continuous shooting, a 3 inch LCD monitor, ISO range of 125-6400, full range of automatic and manual shooting modes, RAW support, in-camera High Dynamic Range and an extensive range of Digital Effects. Five lenses, an external optical viewfinder and a camera case have also been launched alongside the Pentax Q body. The Pentax Q is available in white or black at around £600 / $800 for the standard 40.5mm lens kit.
Ease of Use
The Pentax Q is an incredibly small interchangeable lens camera by current standards, measuring just 57.5 (H) x 98mm (W) x 31mm (D) and weighing only 180g body only. You really do need to see it in the flesh though to appreciate how tiny the Q actually is - at first glance it looks rather like one of the company's DSLRs that has been shrunk in the wash on too hot a cycle. When you actually pick the Q up for the first time, though, it actually feels quite impressive, despite its diminutive size. Very little about the Pentax Q build quality feels compromised - the magnesium-alloy body feels durable and it even has sturdy memory card and battery compartment doors, a metal lens mount and a metal tripod mount that's thoughtfully in-line with the centre of the lens. The Pentax Q might initially look like a toy, but further exploration reveals a camera that's very much in the mould of its bigger DSLR cousins.
The camera has a barrel-like handgrip on the right-hand side, coated in a rubberized compound to aid grip, that enabled me to just use three fingers to hold it and my right forefinger to operate the shutter button. The rest of the front of the Q's body is finished in the same textured rubber compound. On the rear there is a small plastic area where your right thumb sits that's embossed with three raised circles to aid grip, with the rest of the body finished in a textured matt black plastic.
The Q features the same IrSimple high-speed infrared data transmission system that's found on some Pentax DSLRs, the sensor for which is built-into the handgrip. This allows wireless image transfer from camera to camera, or from camera to a web page via a mobile phone, allowing easy sharing with other Q users and perhaps more usefully uploading downsized images to the web.
Also on the front of the Pentax Q are a small port for the AF Assist Lamp, a built-in flash unit (guide number 7 at ISO 200/m), and the so-called Quick Dial which provides quick access to four of your favorite Smart Effect modes. This dial can be customised to access either Smart Effect, Custom Images, Digital Filters, or Aspect Ratios. Cleverly the same flash unit can also be popped-up, accessed by a sliding switch on top of the camera, which widens the discharge angle to cover a 28mm angle of view. In practice having two different ways of activating the flash, either in situ or by popping it up, proves very adaptable.
Images are saved to SD / SDHC / SDXC cards, the most common media format currently available, with a slot accessed via the right hand side of the body, if viewed from the back. The supplied rechargeable Lithium-Ion battery which powers the camera is stored in a separate compartment on the left hand side of the body. On the base, along with the tripod mount, are the PC/AV and HDMI ports, the latter providing a direct connection to a HDTV set, both of which are protected by a rubber flap.
| | |
| --- | --- |
| | |
| Front | Rear |
Just like Pentax's DSLRs, the shutter release action on the Pentax Q is quite loud and mechanical, something that you will either love or hate. I liked it, although it isn't great for close-up candid photography as your subject will probably hear you if you get too close. Pentax claim a battery-life of around 230 shots with the lithium-ion, which means that you'll need to invest in a second battery for extended shooting.
The Q employs a contrast-detection autofocus system, with a face recognition function and 25 selectable focus points. Focusing is quick and consistent in good light with the standard 40.5mm kit lens, even with fast-moving subjects that travelled across the frame thanks to the Tracking AF mode. The 25-point AF system offers fairly generous scene coverage and the camera also happily achieves focus indoors and in low-light situations, helped by the AF Assist lamp.
The Q is also quick to get going. Press the on/off switch on top of the camera and you're up and shooting in around a second. When using a lens that has a lens shutter the Q provides a fast top shutter speed of 1/2000th second, and it also has an electronic shutter with a faster top speed of 1/6000th second.
It takes about 2 seconds to store a single JPEG image at the highest quality setting, with no discernible lockup between taking shots, allowing you to keep shooting as they are being recorded onto the memory card. For single RAW images the Pentax Q takes about 5 seconds to store the image, although there is a brief lockup between shots. In the fastest continuous shooting mode you can hold down the shutter button and take a speedy 5 frames per second for up to 5 JPEGS, or there's a slower 1.5fps mode available which allows you to shoot up to 100 JPEGs.
The same tried and trusted Dust Removal II dust removal system found on Pentax's DSLRs is also present on the Q, and works in three stages: first, an anti-static coating on the CCD helps repel dust and other nasties, while secondly, any that do settle are shaken free by a high speed, vibrating CCD-shift mechanism. Lastly, a sticky pad at the base of the CCD collects any stray particles to prevent them from attacking the sensor a second time round. Dust Removal can be set to activate whenever the camera is turned on or off.
| | |
| --- | --- |
| | |
| Pop-up Flash | Top |
The Pentax Q has a body-based shake-reduction system, moving the sensor to provide a 4-stop improvement, and meaning that any attached Pentax Q-mount lens immediately becomes stabilized. Turn it on in the main menu and the Q automatically compensates for camera shake, which is a slight blurring of the image that typically occurs at slow shutter speeds. In practice I found that it does make a noticeable difference, as shown in the examples on the Image Quality page. You don't notice that the camera is actually doing anything different when Shake Reduction is turned on, just that you can use slower shutter speeds than normal and still take sharp photos.
The Q's large 3 inch LCD screen is bright, clear and has a wide viewing angle of 170 degrees horizontally and vertically, and the high pixel count of 460,000 dots is very welcome too. The rear screen also doubles up as a comprehensive status display, which can be called up by pressing the Info button in record mode. You can also change all the settings right on the screen using a combination of the navigation pad and the rear e-dial. This ingenious solution spares you the pain of having to enter the menu, and makes most setting changes very simple.
The shooting mode dial on top of the Pentax Q offers dedicated modes for program, shutter priority, aperture priority and manual. These are backed up by full auto (the Auto Pict mode) and 21 different scene mode settings which are all indicated via the rear screen by unthreatening cartoon icons. The Auto Pict mode automatically detects scenes that require the Night Scene Portrait, Portrait, Landscape and Macro modes. The camera automatically sets the aperture, shutter speed, white balance, saturation, contrast and sharpness, leaving you to get on with composing the scene and taking the picture.
The Pentax Q shoots Full HD quality video, recording high-definition video at 1920 x 1280 pixel resolution at 30fps in the Quicktime MOV format. Video can also be recorded at 1280x720 pixels and 640 x 480 pixels at 30fps. The maximum size of a single video clip is either 4 gigabytes or 25 minutes. There's a built-in microphone for mono recording, but sadly no stereo sound or socket for connecting an external stereo microphone.
There are some notable drawbacks to the Pentax Q's video mode. It's quite difficult to actually start recording one. You have to set the Mode Dial to the Movie mode, then press the AF-On or half-press the shutter button to set the focus, then press the shutter button to begin recording (with the same button ending the movie). It's not on a par with the one-button system that some rivals offer, and you can't take a still shot during recording either. You also can't autofocus during movie recording - pre-focusing before beginning recording, then focusing manually during the take, is the only option. In addition you can't set the aperture from the camera during recording, only before, and the shutter speed cannot be set by the user in movie mode either, so you will have to rely on the camera's auto-exposure system while filming.
| | |
| --- | --- |
| | |
| Front | Front |
Completing the shooting modes is the BC mode, which stands for Blur Control. In this mode the camera automatically blurs the foreground and background to emphasise the main subject, with three strengths on offer to fine-tune the effect. It's essentially a dumbed-down but still useful mode for beginners, rather than a magic way of improving the bokeh at wide-open apertures.
To the left of the shooting mode dial is the raised and surprisingly tactile shutter release button and a hot shoe for additional illumination via an external flashgun, should it be desired. Holes for the microphone and a small blue Play button complete the Q's top-plate.
On the rear of the Pentax Q is a dedicated button for aperture and exposure compensation adjustment (+/- 2EV), performed in tandem with the command dial that falls under your thumb at the back of the camera. Underneath is the Green mode button, which has two uses - firstly, when shooting in Manual mode, a single push of the green button allows you to instantly set the correct exposure for the subject, as calculated by the camera, useful if you need a starting point for your own exposure. Secondly, the Q offers a Hyper Program function which instantly switches to either the Shutter-Priority or Aperture-Priority mode from the Program mode, simply by turning the rear control dial. Pressing the Green button then returns to the Program mode. Alternatively the Green button can be customised to access the Preview, One Push File format, AE Lock, or Enable AF settings.
Underneath is a four-way control pad with a central OK button, a similar set up to that found on most digital compacts that will be familiar to those trading up. It provides quick access to the ISO, Burst, White Balance and Flash settings. Underneath this control pad are the familiar Info and Menu buttons. The Menu button accesses the logical main menu system with the choice of five horizontal folders. Camera, movie and and playback settings are displayed next to each other so you can make decisions and adjustments on the fly. The fourth folder contains familiar set up options, with the fifth affording access to a wealth of custom settings. A nice touch is that each folder is split into a varying number of pages, with a maximum of 7 options per page so that you never have to scroll down past the bottom of the screen.
The Pentax Q's HDR Capture option (only available for JPEGs) takes three images with different exposures, and then records a single image that combines the properly exposed parts of each one, expanding its dynamic range. Although the Q can now microalign images before combining them, allowing hand-held HDR shots to be taken, for best results it's important to always use a tripod to prevent camera shake from blurring the HDR image, and it still doesn't work very well for moving subjects.
| | |
| --- | --- |
| | |
| Memory Card Slot | Battery Compartment |
Pentax's Custom Images, similar to Nikon's Picture Styles and Canon's Picture Controls, are 11 preset combinations of different sharpness, contrast, saturation and colour tone settings. You can change the saturation, hue, high/low key, contrast and sharpness for each of the nine options, which now include Bleach Bypass and Reversal Film?.
The Pentax Q additionally offers 11 different Digital Filters, which allow you to quickly apply an artistic effect to a photo before taking it (JPEG images only). Note that applying the Digital Filters slows the camera down somewhat, as it has to process the image for a few seconds after it's taken. The Q can also be set to automatically compensate for the distortion of its lenses.
The Multi-exposure mode can combine up to 9 exposures in a single image), with an auto exposure compensation function to help ensure that they blend together well. There's also an Interval shooting mode which can record up to 999 images at 1 second or slower intervals at a specific time, very useful for capturing time lapse sequences.
Once you have captured a photo, the Pentax Q has an above average range of options for playing, reviewing and managing your images. You can instantly scroll through the images that you have taken, view 9 thumbnails, zoom in and out up to a magnification of 16x, compare two images side-by-side, and see detailed information about each image by pressing the Info button. You can also delete single or multiple images, view a slideshow, rotate, resize and crop an image, protect images so that they cannot be deleted, and set various printing options, including creating an Index sheet of multiple thumbnails. There are also 17 Digital Filters that you can apply to an image after you have taken it, and you can develop RAW files and edit movies in-camera.
Importantly the Pentax Q can display a histogram both during and after taking a photo (just press the Info button) which is a great help in evaluating the exposure, plus any areas that are over-exposed can be set to flash on and off in the LCD preview to show you want you should be compensating for with your next attempt (you can turn this on or off). If you have never used a digital camera before, or you're upgrading from a more basic model, reading the comprehensive and easy-to-follow manual before you start is a good idea. Thankfully Pentax have chosen to supply it in printed format, rather than as a PDF on a CD, so you can also carry it with you.