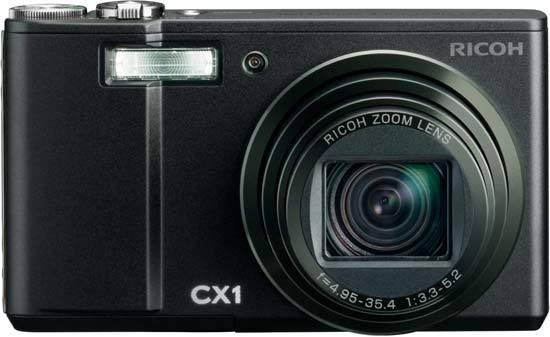 Conclusion
Ricoh have taken a big step forward with the CX1 in an area that has always been something of a thorn in their side - namely image quality. We criticized the R10 model for producing noisy images at relatively slow ISO speeds, commenting that we'd "hesitate to use ISO 400, never mind 800, making the Ricoh R10 a camera for sunny, outdoor days only". Thankfully the new 9 megapixel CMOS sensor has improved things here, with a now usable ISO range of 80-800, and even the fastest ISO 1600 setting OK for small prints and web images.

That's not the biggest story though, as Ricoh have also introduced the radical and very effective DR mode. This greatly expands the dynamic range of your images, increasing detail in the shadow and highlight areas so that the picture more accurately reflects what you can see. And unlike the pixel binning system that Fujifilm use on the F200EXR camera, the CX1 preserves its 9 megapixel resolution. There are a couple of notable downsides with the method that Ricoh use though. As the camera takes 2 photos consecutively, there is a risk of them being slightly mis-aligned and therefore appearing soft or out of of focus. In practice this only happened on a couple of occasions, but it's best to use a tripod or other camera support to be on the safe side. More worrying is the colour shift, or desaturation, that often occurs in DR mode - the CX1 may preserve more visible details, but it seems to do so at the expense of colour accuracy, with images having a slightly washed-out look when directly compared to shots taken in the Normal shooting mode.

As well as greatly improving image quality, the CX1 builds on the winning design of the R10 model by including some key new features that add up to make this the best Ricoh point-and-shoot yet. Multi-pattern auto white balance and Multi-target Auto Focusing are effective additions that join the likes of the electronic leveler, ability to change the flash intensity, customisable Function button and Easy mode for beginners in helping to make the CX1 a great camera to use. Even better is the 4fps continuous shooting speed, which is much faster than most compacts in the same price bracket, with even faster rates possible if you're happy to drop the image resolution, and the new high-res LCD screen is simply breath-taking. The 7x zoom lens is still an attraction, but less so now that competitors like the Panasonic DMC-TZ7, Canon PowerShot SX200 IS and Olympus Mju 9000 all offer 10x or even 12x zooms in a similarly sized body, and the CX1's bog-standard 640x480, 30fps video and rudimentary face detection modes are nothing to write home about either, feature that are seemingly becoming more and important in this market. Finally the CX1 is not exactly a bargain at £299 in the UK - it's a lot to ask for what is essentially a point-and-shoot camera.

Still, if image quality is of prime importance, then the Ricoh CX1 is well worth a look. It produces very good out-of-the-camera JPEG images, with excellent dynamic range as promised in the DR mode and improved noise performance. If you don't mind the lack of manual controls, the CX1 makes a great pocket camera for the keen photographer, although I'm sure we'll see the same technology appear in a future GR or GX model...
Ratings (out of 5)
Design
4.5
Features
4.5
Ease-of-use
4.5
Image quality
4.5
Value for money
4