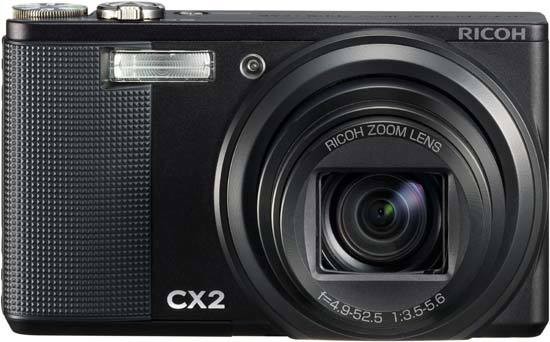 Conclusion
The Ricoh CX2 adds a couple of real improvements and a few additional frills to an already proven design. CX1 owners may feel aggrieved given the aggressively short timescale between releases, but for the rest of us the CX2 demands and deserves our full attention.

The new 10.7x, 28-300mm lens is the star of the show, remarkably housed inside the same compact body as the CX1's 7x zoom. This propels the CX2 into the same travel-zoom market as the excellent Panasonic TZ series, affordable Samsung WB-series, Canon PowerShot SX200 IS, Olympus Mju 9000 and numerous other competitors. While it doesn't offer the high-def video of most of those cameras, the CX2 does have a lot more "serious" photography features, despite being first and foremost a point-and-shoot camera. The very effective DR mode greatly expands the dynamic range of your full resolution images, increasing detail in the shadow and highlight areas so that the picture more accurately reflects what you can see, although images have a slightly washed-out look when directly compared to shots taken in the Normal shooting mode.

Multi-pattern auto white balance and Multi-target Auto Focusing are effective features that sit happily alongside the likes of the electronic leveler, ability to change the flash intensity, customisable Function button and Easy mode for beginners, all of which help to make the CX2 a great camera to use for beginners and prosumers alike. Even better is the 5fps continuous shooting speed, which is much faster than most compacts in the same price bracket, with faster rates possible if you're happy to drop the image resolution, and the high-res LCD screen is still simply breath-taking. Add the handy Pre-AF and Continuous AF focus modes, and new High-Contrast B&W, Discreet and Miniaturize scene modes, and the CX2 is simply a more capable camera than its predecessor.

Ricoh have also maintained the big step forward that they took with the CX1 in terms of image quality. We criticized earlier models for producing noisy images at relatively slow ISO speeds, but the 9 megapixel CMOS sensor has definitely improved things here, with a now usable ISO range of 80-800, and even the fastest ISO 1600 setting OK for small prints and web images. Chromatic aberrations are still thankfully only noticeable by their absence, the anti-shake and flash systems work effectively, and there's lots of scope to tweak the look of the CX2 photos to suit your particular needs.

Price is still something of an issue - £299 is a lot to ask for a 9 megapixel point-and-shoot camera - but Ricoh have at least frozen the price at the same level as the CX1, despite recent hikes in currency exchange rates. In essence the Ricoh CX2 remains a great pocket camera for the keen photographer, despite the continued lack of manual controls, and is still worthy of our coveted Highly Recommended award.
Ratings (out of 5)
Design
4.5
Features
4.5
Ease-of-use
4.5
Image quality
4.5
Value for money
4