Ricoh CX3 Review
February 12, 2010
|
Mark Goldstein
|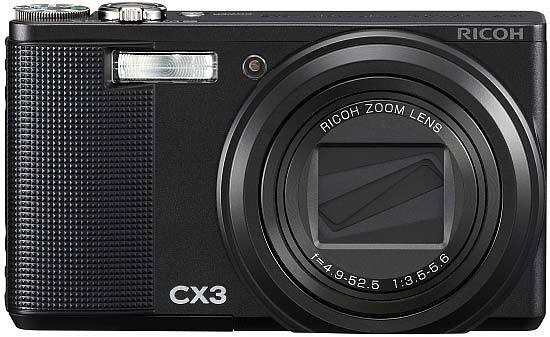 Conclusion
As with its predecessor, there's a certain sense of deja-vu about the CX3, coming so soon after the near-identical CX2 model. Current CX owners will feel somewhat aggrieved at Ricoh's aggressive release strategy, but would-be purchasers of a fast, easy-to-use compact camera that delivers excellent images should definitely consider the Ricoh CX3.

The CX3's new 10 megapixel back-illuminated sensor certainly sounds exotic and promises a lot, particularly in the area of low-light photography, but in reality it doesn't offer too many noticeable improvements on the CX2. It offers the same noise-free settings of ISO-80-200, usable settings of 400-800, and useful in an emergency ISO 1600. The improved noise reduction system from the GR Digital III does significantly reduce the noise on its maximum setting, but with the side-effect of smoothing out fine detail - you'll need to decide which is most important to you. Otherwise the CX3 images are as excellent as the CX2, with only slightly more noticeable chromatic aberration effects spoiling the move up to 10 megapixels.

High definition 720p video is a welcome addition to the CX3, bringing Ricoh up to speed with almost every other camera manufacturer worth their salt. Just like the new image sensor, though, it falls a little short of expectations, with the AVI format creating some large files sizes, and generally lacking the finesse of some rivals. We'd like to see stereo sound and an HDMI port, for example.

The Scene Auto mode is useful for beginners (Pets mode less so) and you have more control over the impressive Dynamic Range mode, but otherwise the CX3 is essentially the same as the CX2. There's the same 10.7x zoom lens offering a versatile focal range of 28-300mm, although several rivals now offer 12x and even 15x zooms, and the fantastic high-res 3 inch screen is still present and correct. Indeed, it would be virtually impossible to tell the CX2 and CX3 apart if you were to hide their name badges.

The price also remains unchanged, with £299 still a lot to ask for what is essentially a point and shoot camera, albeit one offering a multitude of advanced features. We'd have loved to see the addition of semi- or even full-manual controls, which would truly have made the CX3 an interesting proposition, and again which the likes of Panasonic's TZ series have now incorporated - maybe the CX4 will join that party. Just as with the CX2 though, the Ricoh CX3 remains a great pocket camera for the keen photographer and continues to be worthy of our coveted Highly Recommended award.
Ratings (out of 5)
Design
4
Features
4.5
Ease-of-use
4.5
Image quality
4.5
Value for money
4