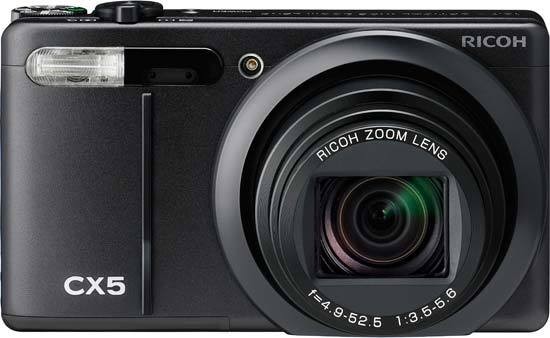 Conclusion
Improved auto-focus speed and slightly lower price aside, there's very little reason to choose the CX5 over the 6-month-old CX4. More seriously, Ricoh's travel-zoom camera is now starting to really lag behind the better-featured competition.

The 0.2 second AF speed is undoubtedly the CX5's main attraction, although we were never particularly concerned about the performance of the CX4. The hybrid system makes the CX5 one of the quicker-focusing compacts on the market, so if you're frustrated by missing the moment because your current camera takes too long to focus, then this model is well worth a look.

The CX5's other "improvements" are much less worthy of attention. The Super Resolution technology does boost the 10.7x zoom to a maximum of 21.7x, but only with an obvious drop in image quality, and both the Weak and Strong Super Resolution modes introduce unwanted artifacts. Eye-Fi card compatibility and three new scene modes are the only other new features that the CX5 has up its sleeve, with very little new to shout about when compared with its predecessor.

The same 10 megapixel back-illuminated sensor offers noise-free settings of ISO 100-200, usable settings of 400-800, and useful in an emergency ISO 1600, identical to the CX4 but now falling behind more recent and comparable cameras which offer better performance at ISO 400 and 800. The noise reduction system does significantly reduce the noise on its maximum setting, but with the side-effect of smoothing out fine detail - you'll need to decide which is most important to you. Meanwhile the High definition 720p video mode is unchanged and therefore suffers from the same major problems, most notably the AVI format creating large files sizes, the inability to zoom or focus during recording, and the lack of stereo sound.

The CX5 is virtually indistinguishable from the slightly older CX4 in terms of its design, image quality and feature set, with only the faster AF system to get truly excited about. As with the CX4, while the CX5 remains a good point and shoot camera and the price has commendably been reduced to £259 / $399, it simply doesn't offer enough to either justify the upgrade from the previous generation or to keep up with its main rivals. Recommended, but there are quite a few better options to consider...
Ratings (out of 5)
Design
4
Features
4
Ease-of-use
4
Image quality
4
Value for money
4