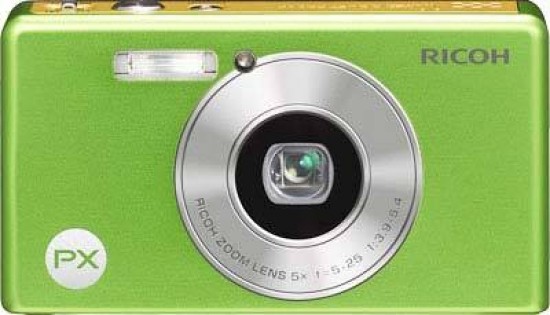 Introduction
The Ricoh PX is Ricoh's first ever dust, shock and waterproof digital camera. The Ricoh PX is waterproof to a depth of 3 metres for up to 60 minutes and can withstand being dropped from a height of 1.5 metres. Other key features of the 16 megapixel PX include a 5x, 28-140mm zoom lens, sensor-shift anti-shake mechanism, 720p HD video recording, Smooth Imaging IV image processing engine, 2.7 LCD screen, a handheld night scene mode, and a "Super-resolution" setting which improves the resolution and increases telephoto shooting at up to 280mm. Available in green, silver and black, the Ricoh PX costs £179.99 in the UK, $249 in the USA and €199 in Europe. For added peace of mind, a range of add-on protective covers are available in five different colours.
Ease of Use
Unlike most other all-action cameras that make a big hulabaloo about their tough credentials, the new Ricoh PX has an unassuming rectangular design that looks just like any other "standard" compact camera. Indeed, at first glance you'd be hard-pressed to tell it apart from Ricoh's CX range of point-and-shoots, being similar in size at 100 mm x 55 mm x 21.3 mm and weight at 156g. The PX is a compact digital camera that easily fits in the palm of your hand, and you certainly won't notice carrying it in a trouser/shirt pocket or a handbag, yet it can safely be dropped from quite a substantial height and used underwater to a family-friendly depth.
In addition, the LCD screen has a hard coating that resists scratches, which should further help the PX withstand the daily rigours of family life. You can also express your individuality by purchasing an optional color coordinated protective jacket, which are made from a non-slip material and help protect the camera from cosmetic bumps and scratches. Ricoh UK sent a blue cover with our black PX, which also helped the make the smooth shiny body easier to get a grip on. Conversely, the cover does make the camera look rather like a child's toy, rather than a sophisticated imaging device, and they are rather expensive at €20.
The Ricoh PX's 5x zoom lens offers a useful 28-140mm focal range. Importantly for a tough camera, the lens doesn't extend and is protected at all times by a cover. The maximum apertures are respectable enough at f/3.9 at wide-angle and f/5.4 at telephoto. Helpfully the zoom mechanism becomes quicker as you progress through the range, a neat feature that really cuts down on waiting for the camera to do your bidding.
The PX shares the same Super Resolution technology that we saw on the CX5 model, which is very similar to recent systems from Panasonic and Casio. It either makes a standard image look like a higher resolution one by processing the contour areas, texture areas and smooth areas individually, or it digitally boosts the zoom magnification from 5x to 10x with a claimed minimal loss of quality and no reduction in resolution. To achieve the former, you have to turn Super Resolution on in the main menu. To increase the Super Resolution zoom, you just zoom past the white part of the on-screen zoom bar into the green area, which offers up to a maximum of 10x zoom. Note that Super Resolution zoom isn't available in the movie, continuous or creative shooting modes.
As with the systems from Panasonic and Casio, it's easy to tell which image was taken with Super Resolution turned on and which ones with it turned off, particularly if viewing onscreen at 100% magnification, as our test shots on the Image Quality page show. The difference isn't quite so apparent on a print up to A3 in size, but I'm not convinced enough to recommend it except when you really need the extra reach - it undoubtedly improves on the digital zoom, but not so much that I'd regularly use it.
| | |
| --- | --- |
| | |
| Front | Rear |
The Ricoh PX features an anti-shake system called Camera Shake Correction - turn it on in the Main menu and the Ricoh PX automatically compensates for camera shake by the equivalent of about 3.7 shutter-speed stops. You don't notice that the camera is actually doing anything different when anti-shake is turned on, just that you can use slower shutter speeds than normal and still take sharp photos. Ricoh seem to have realised the importance of this system, as it is turned on by default, and thankfully leaving the anti-shake system on didn't negatively affect the battery-life, with the camera managing just under 300 shots before the battery needed to be recharged.
There are three controls on top of the PX - a small Power On/Off button which permanently glows green when the camera is activated, quite a large and tactile shutter button, and a rocker switch which activates the zoom. We've never been big fans of rocker switches for changing the focal length, and there's also an initial delay to the PX's zoom control which makes us dislike it further. It's also rather too small and fiddly for effective use underwater. Completing the PX's top panel are holes for the microphone and speaker.
The Ricoh PX only has 9 external controls in total, leaving plenty of room for the 2.7 inch LCD screen that dominates the back of the camera. The PX's screen has a rather average resolution of 270K dots, disappointing given that most of the company's other compacts have excellent high-resolution LCDs. To the right of the screen are the rest of the PX's external controls. There's a large switch for choosing the flash setting, a useful one-touch movie record button, and a circular navigation pad which accesses the Premium shooting mode menu and changes the Exposure Compensation. Underneath are standard buttons for Playback and Self-timer, which includes an innovative Group Portrait option which takes 2 consecutive shots 5 seconds after the shutter button is pressed. We missed having a dedicated control for the ISO speed, especially as it takes no less than 10 button presses to change this key setting.
The Normal shooting mode is aimed firmly at beginners. Much like similar systems on rival cameras, when the PX is set to S-Auto it automatically identifies the type of scene being photographed and selects the appropriate scene mode (portrait, sports, night portrait, landscape, nightscape, macro), useful if you're not sure which mode to pick yourself. Like most automatic systems, it's not infallible, but does reliably pick one of the above scenes most of the time.
There is also a Program mode which provides access to all of the camera's options, and 15 scene modes, all accessed via the Premium control on the rear navigation pad. The interesting Hand-held Night Scene mode takes up to 4 shots and combines them to help prevent blur and reduce noise. This mode can also be used hand-held without a tripod. Ricoh have added a range of creative filters to the PX that also sit in the Premium menu, including Miniaturize, High Contrast B&W, Soft Focus, Cross Process and Toy Camera. You can also configure your favourite modes for quicker access.
| | |
| --- | --- |
| | |
| Front | Top |
The PX offers exactly the HD video recording capabilities as the CX5, with three movie sizes available - 1280x720, 640x480 and 320x240 pixels - all at 30 frames per second. and all saved in the AVI file format, which unfortunately does result in some rather large file sizes. Sound recording is mono only, and there are no advanced features like Windcut or Pause / Restart as seen on other cameras, so Ricoh still have some work to do in this area.
The Subject Tracking AF mode automatically tracks moving subjects and ensures that they're in focus and also well-exposed when you decide to take the picture, making capturing unpredictable subjects like small children or animals much easier. In practice the PX performed very well in this mode, quickly locking onto the main subject and reliably following it around the frame.
Multi-pattern auto white balance is useful for scenes with mixed lighting - daylight and flash, or fluorescent and daylight, for example. Instead of just taking an average reading from the whole scene, which inevitably gets the white balance wrong for the secondary light source, the PX breaks the image down into small areas and analyzes and sets the white balance for each one. In practice it produces a subtle but noticeable effect that is particularly useful for capturing more natural portraits when using flash.
The Face Priority feature offered by the Ricoh PX recognises a maximum of 8 faces and locks focus quite quickly. Ricoh have wisely chosen to make it a general setting that applies to whichever shooting mode is currently selected, rather than a specific scene mode as on the CX5. The Pre-AF and Track Subject functions are more useful, helping you to quickly and accurately focus on the subject. As its name suggests, Pre-AF sets the focus before you've even half-pressed the shutter button, while Track Subject automatically adjusts the focus to match the subject movement while you half-press the shutter, making the PX well suited to action photography.
The main menu system on the Ricoh PX is fairly straight-forward to use and is accessed by pressing the Menu button on the rear of the camera. There are three main menus, Volume Settings, Picture Quality/Size, and the Advanced Shooting Options menu which contains the bulk of the camera's options split into Shooting and Setup sub-menus. If you have never used a digital camera before, or you're upgrading from a more basic model, reading the comprehensive and easy-to-follow manual before you start is a must. Thankfully Ricoh have chosen to supply it in printed format, rather than as a PDF on a CD, so you can also carry it with you.
| | |
| --- | --- |
| | |
| Memory Card Slot | Battery Compartment |
Once you have captured a photo, the Ricoh PX has an above average range of options when it comes to playing, reviewing and managing your images. You can instantly scroll through the images that you have taken, view thumbnails (81 onscreen at once!), zoom in and out up to 16x magnification, view slideshows with audio, set the print order, delete, trim, protect and resize an image. The Skew Correction function alters any photo that was taken at an angle so it appears as if it were taken directly in front of you.
You can assign a rating of 1-3 stars to your photos and then view them in order by their rating. You can also choose to hide your private images during playback. Images are automatically rotated to fit the current orientation of the camera, while the Photo Info Display menu option toggles detailed settings information about each picture on and off, such as the ISO rating and aperture / shutter speed, although there is no histogram available during either shooting or playback.
On the bottom of the Ricoh PX is a single, well-protected cover that houses the DB-10 battery, SD/SDHC/SDXC memory card, AV-Out/USB2 port, and a handy HDMI port for easy connection to a HDTV screen (although there's no cable supplied in the box). A camera strap eyelet in the bottom right corner of the camera completes the PX's external controls.
The start-up time from turning the Ricoh PX on to being ready to take a photo is quick at around 1.5 seconds, although it takes just around a rather pedestrian 3 seconds to zoom from the widest focal length to the longest. Focusing is quick in good light and the camera happily achieves focus most of the time indoors or in low-light situations, even at the tele-photo end of the lens, although it is noticeably slower to lock onto the subject. It takes about 0.5 second to store a JPEG image, allowing you to keep shooting as they are being recorded onto the memory card - there is no LCD blackout between each image.
In the default Continuous mode the camera takes 1 frame per second at the highest JPEG image quality, which isn't anything to write home about. In addition the S-Continuous mode takes 16 images when the shutter button is released, with the consecutively shot images recorded as a single MPO file (a file format with multiple still images in a single file), while the M-Continuous mode does the same thing but records the last 16 images, rather then the first 16.
That concludes our tour of the Ricoh PX's design and features - now let's take a look at its image quality.