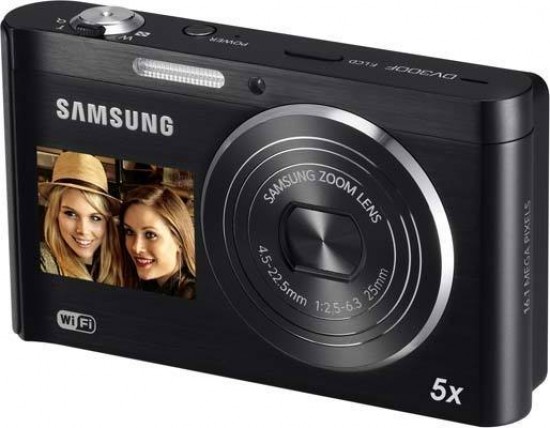 Introduction
The Samsung DV300F is a 16 megapixel compact camera featuring a 1.5-inch front LCD screen display for easier self-portaits and built-in Wi-fi connectivity. The DV300F also offers a 5x optical zoom lens with 25mm wide-angle setting and maximum aperture of F2.5, dual image stabilisation, 720p HD video recording at 30 frames-per-second, 3 inch rear LCD screen, a wide range of special effects, and the intelligent Smart Auto feature which automatically adjusts the camera's settings. The Samsung DV300F is available in black, dark grey with a red back or dark grey with a blue back, priced at £179.99 / $199.99.
Ease of Use
The Samsung DV300F is shorter than the height of a business card, with official 95.2 x 56.5 x 18.3 proportions and a mere 120g weight. Sitting well in the palm, this is a compact that truly is compact. No one will feel discomfort slipping the DV300F into a trouser pocket, and in fact it's almost too easy to forget it's there. We had the black matt model in for review, which has a totally smooth brushed metal faceplate and a more textured faux-leather rear. The DV300F has 16.1 effective megapixels from a 16.4MP 1/2.3-inch CCD.
Samsung has shoehorned in a 5x optical zoom with the DV300F, here supported by optical and digital stabilization and starting out a usefully wide angle 25mm equivalent (in 35mm terms) and running up to 125mm at the telephoto end. The lens boasts a maximum aperture of f/2.5, so specification is better than cheaper Samsung cameras like the ST96, although the maximum aperture of f/6.3 at full telephoto is actually slower. Instead of the more trendy touch-screen interface, the DV300F is navigated using a very familiar panel of physical controls ranged alongside the LCD screen on the right-hand quarter of the camera back.
Video resolution is rather mundane 1280x720 pixels at 30fps, rather than the more up-to-date 1080i/p, with the camera utilising H.264 compression. Strangely there's no dedicated record button either, another confusing oversight on a 2012 compact. The full extent of the optical zoom can thankfully be used when videoing, unlike on many cheaper-end models which usually suffer from quite noisy zoom mechanisms. By contrast the DV300F's zoom action, whilst not completely silent, is impressively quiet.
Another accessory that is 'missing' is a separate mains adapter. Instead we get a mains plug with a USB input, so the standard USB cable (provided) can ingeniously be used for recharging as well as image uploading/downloading. Also omitted is a HDMI connection, again something of an oversight on behalf of Samsung.
The DV300F is the first dual-screen Samsung to offer built-in Wi-Fi, with an array of options available. Users can email their images, upload them directly to Facebook, Picasa, Photobucket and YouTube, or instantly copy them to a home PC via Auto Backup. Samsung's AllShare Play and Microsoft's SkyDrive cloud services provide free storage space that's accessible by anyone with an account. MobileLink allows you to directly send images to a compatible smartphone or tablet, while Remote Viewfinder uutilises a smartphone as a live image previewer. Finally TV Link takes the place of a physical HDMI connection by playing back photos on any device that's connected to the same wireless access point as the camera.
| | |
| --- | --- |
| | |
| Front | Rear |
Though no unattractive by any means, from the outside there is precious little indication that the DV300F is trying to be ground breaking in any way. From the front the Samsung DV300F doesn't stray too far from any number of identikit pocket cameras. The retracted 5x zoom with automatically opening and shutting lens cover dominates proceedings at the front of the DV300F, with a familiar porthole containing the bulb for the self-timer/AF illuminator lamp located above.
Top left of the lens is a narrow window housing integral flash, its positioning meaning that it's easy for a stray finger to partly obscure it when simply shooting with the camera handheld. Having said that, there isn't really anywhere else on this diminutive camera Samsung could have alternatively squeezed the flash in. We did notice a longer wait than usual for the Samsung's flash to sufficiently charge to be able fire however - and the same 3-4 second wait again between flashes, even when the camera is warmed up. If you squeeze the shutter release button the camera merely pauses and then fires later when it's good and ready.
The usual buttons are all in place with the addition of the F. LCD button. This button is used to activate the 1.5 inch LCD screen on the front of the camera and pressing this button activates the screen. There are a few Scene modes that utilise this front screen. Self Shot uses face detection to take a self-portrait, Children brings up a cartoon sequence on the screen along with some funny sounds to make children smile and laugh, and Jump Shot counts down from 5 and then takes two photographs in succession. It's not a quick burst mode, it actually takes the pictures slowly. In fact, we struggled to think of an occasion when you would need to use it other than to make small two frame animations or simply to get a safe shot.
Keeping the design minimalist, there's no shooting mode dial or wheel anywhere here. Thankfully though, there is at least a Home button to be found on the back plate, a press of which calls up a phone app-like selection that we've witnessed on Samsung snapshots such as the MV800 or SH100.
Among the usual array of fully auto options is Samsung's self-stitching Live Panorama function. This helpfully allows the user to watch the end result gradually 'build' via a narrow strip displayed at the bottom of the screen. As with competing compacts, the photographer simply pans from left to right through the scene, with finger held down on the shutter release button all the while. The miniature display of the panorama being composited in real time reassures that the eventual image is working before the end result is actually displayed. The 'joins' are impressively seamless too.
| | |
| --- | --- |
| | |
| Front | Rear |
The rest of the shooting modes on the DV300F include both scene and subject recognizing Smart Auto capture and Program Auto, along with dual image stabilization mode, video mode, and finally a selection of icon-illustrated scene modes. Among the scene options are the regular shutter-slowing night shot mode, plus landscape, text, sunset and slightly more unusually a dawn mode. In addition we have scene options for shooting backlit subjects and beach and snow scenes. Samsung also strays into the arena of digital filters by including beauty shot, magic frame, exposure merging HDR, plus funnel effect zooming shot options, applicable to both stills and video. This is an array of scene modes that dare to be a bit different then, with the inclusion of slightly more inventive settings than we would have expected to find on an £170 point and shoot.
The DV300F's top plate houses the narrow lozenge shaped F.LCD button, a small power on/off button, plus the largest control here in the shape of a shutter release, encircled by a lever for operating the 5x optical zoom. Press the power button and within 2-3 seconds the user is ready to start framing up the first shot, lens having emerged from the body to arrive at maximum wideangle position with a low mechanical buzz and the rear 3-inch, 460k dot LCD blinking into life. Keep a forefinger on the zoom lever and the camera powers through its core 5x range in all of three seconds. Whilst not lightning fast, the Samsung is certainly sufficiently comparable with the rest of its point and shoot classmates.
The modes and settings that the DV300F has 'in play' at any one time are conveniently displayed along the right hand side of the screen and across the bottom. These are most expansively illustrated if shooting in Program Auto mode, and when the latter has been selected include the current shot resolution, capture mode, metering mode, flash option chosen, focus mode, as well as shutter speed and aperture, plus indication of battery life and number of possible shots remaining.
Adjacent to the DV300F's shooting 'Home' button on the camera back we find the self explanatory Menu button, which again shows a wider array of shooting options in the Program setting. In Smart Auto mode with a press of Menu we're able to adjust stills and video resolution, and alter sound settings and screen display modes, as well as drill into the Setup menu and alter the likes of time and date, swap video out from PAL to NTSC or format the memory in use. Standard stuff in other words.
A press of the Menu button in capture mode however calls up all the aforementioned shooting options listed in the Program mode menu, this time as a toolbar that runs down the left of the DV300F's screen. What we get here then is a useful short cut to those self same selections. On the whole though this Samsung might be unexpectedly packed with options, it remains easy to use.
| | |
| --- | --- |
| | |
| Memory Card Slot | Battery Compartment |
Switch to Program however and the photographer has access to a whole lot more via the Menu button, including being able to manually adjust ISO light sensitivity, here running from a modest ISO 100 to a still modest ISO 3200. As well as the ability to select photo size we're also offered photo quality adjustment, with Super Fine, Fine or Normal JPEG compression levels offered. Exposure compensation can also be adjusted between +/- 2EV, white balance tweaked, the ubiquitous face detection switched on or off, focus area adjusted between centre weighted, multi zone or tracking AF options, metering swapped between multi, spot or centre weighted, plus images adjusted in-camera for contrast, sharpness and colour saturation.
The DV300F has an extensive range of Photo Filters. The default option upon powering the camera up is the Miniature setting for that now commonly provided diorama effect. Spaced along a horizontal toolbar that reminded us of the Quick Menu toolbar to be found on Panasonic Lumix compacts, we also have a corner shading vignetting lens effect, soft focus effect, grainy film effect (resembling a scratched and beaten up negative), a printed comic book-like half tone dot effect, a charcoal pencil-type sketch effect, a fisheye lens effect, a 'classic' black and white filter, a retro filter with old Polaroid film style colours, a fuzzy edge 'oil painting' option, plus a cartoon, ink painting and sparkly cross filter option. Again a more exhaustive array of creative choices than you'd find incorporated into your average budget snapshot.
The remaining controls at the back of the camera are rather more straightforward and expected. A round control pad that immediately falls under the thumb has a familiar 'OK' button at its centre for effecting any changes, with a display adjusting option set at 12 'o' clock on the dial (which can summon up a live histogram), a self timer (two seconds or 10 seconds) or continuous capture option at three 'o' clock, miniature/macro setting at six 'o' clock, and flash settings at nine 'o' clock on the dial (here comprising off, automatic, forced flash, red eye reduction, slow sync and red eye correction).
At the very bottom of the DV300F's backplate are another two identically sized function buttons. On the left we have a dedicated playback button, and on the right a a delete button when in image review mode.
While the left hand side of the Samsung DV300F is devoid of any controls whatever, the only features being two positional screws, over on the other flank of the camera are located a combined USB / AV port , hidden beneath a plastic flap. On the bottom of the camera we find a plastic screw thread for attaching a tripod and next to this a cover with slide open mechanism protecting both the battery compartment and microSD card slot. Battery life doesn't appear to be any great shakes. Indeed it's distinctly average in that a recharge was needed after a day's shooting and reviewing.