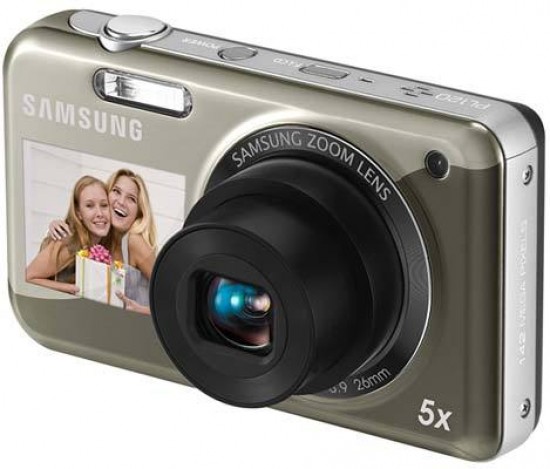 Conclusion
For such a small camera, there's a lot going on with the Samsung PL120. In fact it could be argued that there's too much going on, especially on the back. It only has a tiny body and to have all those buttons on the back, especially three menu buttons, is a little too much.

The main feature of the Pl120 is the front screen for easy self portraits and to help get better children shots. It works brilliantly for self portraits, the flash test was one of the easiest we've done because we could frame it without any help. We tried the animation on our children and while it attracted their attention, it didn't make them smile which is unfortunate. Saying that, there are more animations that can be downloaded from the Samsung website.

Build quality is nice and the Samsung PL120 feels solid which is great considering they're selling for around the £100 mark at the moment. We expected to see more plastic at this level but even the plastic bits such as the battery door don't feel weak.

The Samsung PL120 takes good enough pictures. Don't expect to be blown away but the pictures are sharp enough, the colours are realistic and the sensor has a decent dynamic range. For the average happy snapper that has a family and regular holidays, the Samsung PL120 is a great option. The 5x optical zoom is good enough for most situations that you'll find yourself in.

Be under no illusion that the PL120 is only for families, though. The young, tech-savvy social networker will also enjoy the self-portrait screen and the face recognition system for pictures of family and friends before uploading onto the internet. The only downside is that it doesn't have a direct upload to popular network sites that some other cameras use.

The Samsung PL120 is a camera that can be taken out and about and if it gets damaged then because of the reasonable price it doesn't matter as much. The simple design, while not breaking any new ground, won't make you ashamed to take it out in a crowd. If you're one of these people then you need to take a look at the Samsung PL120.
Ratings (out of 5)
Design
3.5
Features
4.5
Ease-of-use
4
Image quality
3.5
Value for money
4.5