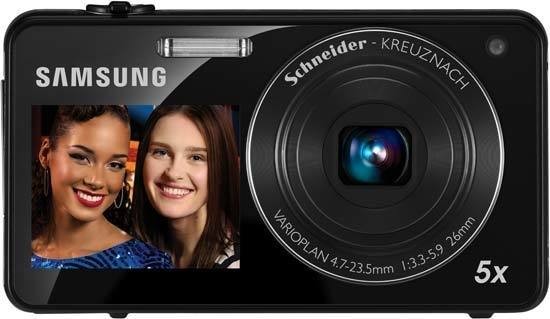 Introduction
The Samsung PL170 is a new 16 megapixel point and shoot camera with a twist - it has a second 1.5 inch LCD screen on the front which makes it much easier to take self-portrait pictures and videos. As part of this DualView system the PL170 also offers a large 3 inch rear LCD screen, plus there's a 5x, 26-130mm lens, 720p high-definition video recording, Smart Filter with various creative effects, and a clever Smart Auto mode which automatically chooses from 16 different scene settings. The Samsung PL170 is available in black, silver, purple or pink, priced at £179.99 / $229.99.
Ease of Use
Since 2009 Samsung has uniquely pioneered what it terms the 'dual view design' - back and front LCD screens on its digital compacts - and the latest affordable example is to be found in the PL170. Enabling easier self-portraits, or the playing of an animation to mesmerize the kids long enough to snatch a decent portrait, it's one of those glaringly obvious yet inspired ideas. Thus, in being one of three such enabled models for 2011 (the other two being the ST700 and PL120) the response the PL170 immediately prompts is 'why didn't anyone think of this before?'
With a manufacturer's asking price of £179.99, we get a front screen 1.5-inches in size that is noticeably small by current standards, and in that respect is an echo of the similarly teeny backscreens of consumer digital compacts of a decade ago. An 'Easy Self Shot' feature here allows only the front screen to be activated (the back turned off) when taking self-portraits. The rear LCD display is, fortunately, the regulation 3-inches in size in 4:3 aspect ratio and with 230k-dot resolution, the front panel being a low-ish 61k dots only. It really is just for compositional purposes therefore.
Linking mobile phone and camera phone is the PL170's use of the unloved (at least by us) microSD card, the fiddly fingernail sized removable storage media, with a 30MB internal memory to fall back on, good for around five or six Fine resolution shots. There's no option to use the larger and more common regular SD/SDHC/SDXC card, although there was surely space for such a slot. Dimensions are 95.3x57.3x19mm, so just a tad larger than credit card sized. The camera feels a little plastic-y when held in the palm, but not insubstantial at 153.3g without battery and card. Indeed it feels like it could withstand the occasional accidental knock or drop that we're all guilty of.
As with the SH100 model we were reviewing alongside this, the PL170 has a backwards slant to the body, meaning that when gripped in the palm or simply placed on the desktop in front of you the lens is pointing slightly upwards rather than dead-level forwards. Samsung would contend that this makes for a more comfortable and firmer hold, and certainly the way the PL170 sits in the palm, body nudging into the base of the thumb, makes the fact that it doesn't otherwise sport a proper handgrip less of an issue.
| | |
| --- | --- |
| | |
| Front | Rear |
The lens and focal range here is also the same as that of the SH100, namely it offers a optically image stabilized 5x zoom starting out at a wideangle 26mm and reaching 130mm at the telephoto end, quoting 35mm equivalent film terms. At the PL170's heart beats a 16.1-megapixel 1/2.33-inch CCD sensor (a higher pixel count than the SH100), with the offer of 720p HD video recording and manually adjustable light sensitivity stretching up to ISO3200 at full resolution. HDMI and joint AV/USB output port is to be found lurking under a side flap, so in other words all the essentials are here that one might reasonably expect from a sub £200 compact camera.
The front of our black PL170 sample looks fairly conventional, rounded edges disguising what would otherwise be the usual rectangular box. Just left of centre is the lens, folded optical zoom retracted within the body when inactive. Top right of this is a small porthole for the standard self timer/AF assist lamp, mirrored for height on the opposite side of the lens with a narrow lozenge shaped window for the built-in flash. Due to the compact proportions it's possible this could be part obscured by a stray finger when using the flash.
The top of the camera is similarly straightforward, the largest control being the shutter release button, surrounded by a rocker switch with forward facing lip for operating the zoom. This is set into an attractively mirrored chrome strip which continues down one side, as are the adjacent power button and separate front LCD activation button. At the end of the same strip are a built in mono microphone and speaker.
Press the 'power' button and in just under two seconds the camera is ready for action, lens extending from flush to the body to maximum wide angle setting with a low audible whirr and back screen blinking into life a fraction of a second later. With total reliance on the screen for composition and review, we found visibility is adequate as long as you stay out of direct sunlight.
Half press the shutter release button and after a brief pause in which the screen visibly adjusts focus, you're ready to take the shot, AF point/s highlighted in green with a loud beep of confirmation to indicate we're good to go. Pres down fully and without noticeable shutter delay the screen blanks out before very briefly displaying the captured image - an image writing process taking approximately two seconds, which is as swift as we could hope for at full resolution from a pocket point and shoot.
| | |
| --- | --- |
| | |
| Top | Rear |
Top right hand side of the camera back is a small, dime-sized shooting mode wheel - a traditional short cut to key settings that seems to be becoming something of a rarity in these touch screen times. With no dedicated video record button provided on the PL170, this is where we 'dial in' movie functionality, one of the eight presented options, the others being scene and subject recognizing Smart Auto, regular auto and Program modes, plus dual image stabilisation, beauty shot (a Samsung regular) and night shooing modes, and finally a collection of scene modes. By turning the dial to the latter, users have the option of accessing 'Magic Frame' effects, highlighting a subject by blurring the background, along with the usual suspects of landscape, text, sunset, dawn, backlight and beach and snow scenarios. No underwater options or toy camera effects here then.
We found Smart Auto very reliable - as it should be, given that this is the setting 99% of the PL170's happy snapper audience is going to be reaching for - the camera switching to macro mode if pointed at a flower, or landscape mode if directed at a general scene. Thus the Sl170's operation is simplicity itself and shouldn't tax any beginner.
Just below this mode wheel is an equally self explanatory 'menu' button, and beneath this again a four-way command pad with central 'OK' button for effecting any operational or functional changes. Set around this pad are a means of adjusting the display, self timer, switching from standard focus to macro/close up focus, and, finally, calling up the PL170's flash settings.
How expansive the latter selection is obviously depends on which mode you have selected. In Smart Auto for example there is the option to fire the flash automatically or simply deactivate it. Twist the dial to Program mode however and there is an expanded line up of user options including red eye reduction and red eye fix, along with slow sync and forced flash.
The last two buttons, which like the one for menu are quite tiny and require fingernail precision to operate, are playback and 'Fn' (function) buttons, the latter also doubling up as the delete button when in review rather than capture mode. Always useful to have a dedicated delete button rather than having to wade through function screens to alternatively find out how to rid yourself of undesirables. Convenience is the keyword here - an essential asset for any snapshot model. Thus a press of the 'Fn' key calls up a panel on the left hand side of the screen providing access to a toolbar of frequently used functions - similar to 'Quick Menu' on Panasonic point and shoots in that regard.
| | |
| --- | --- |
| | |
| Memory Card Slot | Battery Compartment |
Place the camera in Program mode and from the top working down we have the ability to alter photo size, and JPEG image quality/compression level, moving from Normal to Fine and on to Super Fine. Next up is exposure compensation (+/- 2EV), ISO (stretching from a lower than most ISO80 up to ISO3200), white balance, and even select some digital effects filters. These include the increasingly ubiquitous miniature effect mode, vintage style lens/vignetting effect (corner shading), self explanatory soft focus, two old-style film effects modes, an American comic book-style half tone dot effect, sketch effect, fisheye, defog, classic, retro and negative - a bit more than you might at first expect to find here then.
Next down the toolbar are the ability to switch on face detection, alter the focus area from default centre AF to multi zone or tracking AF, adjust metering from spot to multi or centre weighted, and finally change the drive mode - from single shot capture to continuous 6fps if wanted.
While the left hand side is devoid of any features expect for a pair of screws, the right hand side of the Samsung, if viewed from the rear, betters its SH100 brethren by featuring separate HDMI output for hooking the camera up directly to a flat panel TV, alongside combined standard AV output and USB output under a metal side flap.
The base of the camera meanwhile features an off-centre screw thread for the attachment of a tripod, and to one side a push open cover hiding the joint microSD and battery compartment.
So far, so straightforward then. Which brings us on to image quality. Is this Samsung a pocket rocket or damp squib in that respect? Read on to discover more…