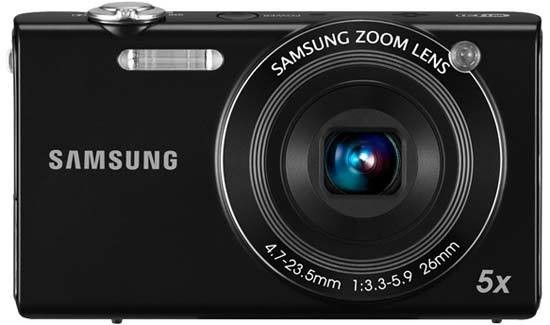 Introduction
The Samsung SH100 is a new 14 megapixel compact camera with built-in Wi-Fi, allowing you to wirelessly connect the camera to other devices, automatically back up your shots to your PC, or playback on your HDTV. The Wi-Fi capability on the Samsung SH100 also allows you to use your Android smartphone as a remote control and viewing device. Other more standard features include a 5x optical zoom lens, 3 inch LCD with Smart Touch 3 user interface that responds to finger commands, 720p HD video recording at 30 frames-per-second in the H.264 format, and the intelligent Smart Auto feature which automatically adjusts the camera's settings. The Samsung SH100 is available in black, red or silver priced at £199.99 / $199.99.
Ease of Use
Appearing very much the twin of Samsung's equally new PL170 compact from the front, complete with the same 26mm equivalent wideangle 5x optical zoom lens, the SH100 differs by virtue of its built-in Wi-Fi wireless capabilities. Offering automatic back up of photos to your PC plus the ability to upload to social networking sites such as Facebook and YouTube or the sending of images via a specified email address - as long as it can find a local network to connect to - the SH100 further ups its future proofing ante by being what Samsung claims is the first camera to be able to connect live to an Android smart phone.
While there have been Wi-Fi and Bluetooth enabled compact cameras for quite some time that have been equipped to beam and receive pre-captured pictures between similarly enabled gadgets, Samsung's offering enables the phone to be used to view the shot about to be taken by the camera in real time; in other words to be used as a remote device. Whether you'd actually find that facility useful or not, Samsung further suggests a smartphone (such as its own Galaxy S) could be used to view GPS information about where each photo was taken. Gimmicky perhaps, but since Samsung has a vested interested in both digital cameras and mobile phones, it's hardly a big surprise that it would seek to connect them in some way; and hopefully without ownership of one canceling out the other.
In terms of feel and handling, place the SH100 on your desk top and you'll notice a subtly backward leaning body design that is supposed to make for an easier, more comfortable hold. By the same degree, it also means that the lens is pointing slightly upwards all the time, if only subtly so. However this also places the thumb within touching distance of the 3-inch, 230k dot resolution back screen, which is also naturally a touch screen.
In terms of the control layout of said screen, Samsung claims it has overhauled its user interface on the SH100 to be closer to that of a smartphone, so making for theoretically a smoother transition between the two. We get a 16:9 aspect widescreen ratio and a 'Smart Access' user interface allowing photographers to drag, click and control 'app' style icons and flip through photos with a finger swipe - second nature to any touch screen phone user. Overall dimensions are 93x53.9x18.9mm, and the camera weighs 110.2g without battery or card.
Speaking of which, and linking mobile phone and camera further, is the SH100's use of the unloved (at least by us) microSD card, the fiddly fingernail sized removable storage media that is always in danger of getting lost when dropped. We also get a paltry 6.9MB internal memory, allowing for the saving of just one full resolution image. There's no option to use the larger and more common regular SD card here as an alternative, although there was surely space for Samsung to shoehorn a wider slot next to the rechargeable battery at the camera's base - incidentally like Sony's competing touch screen Cyber-shot DSC-TX10 charged within the SH100. Still, as the Samsung camera currently retails for a very reasonable manufacturer's suggested £199 (against the Sony's £319), with street prices lower still, it would be churlish of us to grumble too loudly here.
In terms of its networking capabilities the SH100 seems to work without too much palaver; by picking out our similarly Wi-Fi enabled desktop computer from a range of options, we were able to email ourselves (or in theory anybody else) one of the camera's image files within seconds. There's also the options for specifying a Facebook or Picasa account to upload to should you happen to be a member. No need for USB cables which saves on wires snaking around your desktop, though you can of course use the one provided in the box for dragging and dropping files onto your computer's hard drive in lieu of a card reader. Moreover the SH100 includes an account with mobile hotspot provider Boingo, claimed to provide access to over 200,000 Wi-Fi hotspots worldwide.
With all of the above helping earmark the SH100 as more than 'just another' point and shoot snapshot for under £200, it's almost easy to overlook its core spec of a 14.2 megapixel stills resolution and 1/2.33-inch CCD sensor, with 26mm to 130mm focal range (in 35mm film terms).
Given everything else that's going on and the SH100's obvious 'youth' appeal, it's no surprise to find that this is an auto everything model, with Smart Auto scene and subject recognition and enhancement mode being chief among the on-screen options. We also get the ubiquitous face detection and the Samsung regular of Beauty Shot mode for easier portrait taking.
| | |
| --- | --- |
| | |
| Front | Rear |
Despite the budget price tag, from the front the Samsung SH100 very much looks the part, if not a great departure from how anyone would picture a compact camera to look. The black version we had in for review adds a further layer of sophistication one would perhaps not expect. With the retracted zoom lens dominating proceedings, marked out by concentric circles, top right of this, as viewed lens-on, is a small port housing the bulb for the self timer and AF assist lamp, and over at the other side we have a narrow lozenge type window housing the internal flash. Notably missing is any attempt at providing a handgrip or rest of any sort, though there is a very subtly roughened feel to the front surface, only noticeable to the touch in contrast to the smooth feel of the plastic at the back.
What few physical controls there are on the SH100 are to be found on the top plate and backplate. In contrast to the backward sloping body design, top plate controls are angled subtly forward. Falling readily under the forefinger when gripping the camera one handed is the shutter release button, which is conveniently encircled by a lever for operating the zoom. This has a raised forward-pointing lip for easier purchase.  To the left of this and marginally recessed into the top plate itself is a power button, adjacent to which is a built-in mono microphone and speaker.
Press the power button and in approximately two second the camera is ready for the first shot, lens extending from flush to the body to its extreme wide angle setting and the rear LCD flicking into life a mere moment later. As expected the default display setting is 4:3 despite the widescreen ratio dimensions, which means black bands crop the image left and right, unless video is being captured.
If the user has Smart Auto pre-selected the user is provided with a very clean looking interface - the 4:3 still ratio image, a battery life indicator top right of screen and just one app-like visual icon top left. This latter icon changes when the camera is pointed at a particular subject - switching to the familiar tulip-like icon for macro mode if pointed at a close subject, or alternatively a mountain range-type icon if pointed at a faraway one. Operation in this mode really is just purely point and shoot, and the Samsung is reliably quick to respond to each new subject framed, automatically adjusting the likes of focus and exposure as the user pans with the camera, switching modes without the shutter release button having to first be squeezed halfway.
At first it's a bit of a mystery how the camera's other shooting modes, features and functions are accessed. Pressing said shooting mode icon merely solicits a text prompt informing you you're in Smart Auto mode. This means that the user is prompted to give an exploratory press of the only physical control on the camera back; a button marked with a house/home icon. Sure enough this provides function access, calling up the first screen full of eight mobile phone-like 'app' icons.
The initial screen shows the Smart Auto icon witnessed on power up, along with Program mode, Smart Movie, Web, Email, Auto back up, Album and Settings (set up) mode. Delve into any one of these in search of features and, if you don't find what you're expecting to, a subsequent press of the 'Home' button acts as a way to return to the main screen.
Though there isn't a dedicated video record button on the SH100, a now expected feature on even the humblest of compacts, a virtual one has been provided instead. Tap the Smart Video icon and one unexpectedly appears centre bottom of screen, the red button in the midst of a white square subconsciously recalling the Japanese flag, though Samsung is of course Korean.
Alternatively tap the program mode and what could loosely be termed a function toolbar appears on the left hand side of the screen, allowing the control of flash settings - which summons up a virtual 'roll bar' with red eye and slow sync featuring alongside fill in, auto, and automatic red eye fix. Focus mode can also be switched in the same manner - though between auto and macro, with no manual option provided here - as can the self timer options be accessed.
| | |
| --- | --- |
| | |
| Side | Top |
At the bottom of the left hand bar is a menu button. Give this a tap with a finger and this is where you'll find the ability to control ISO, incrementally adjust exposure +/- 2EV, control white balance, flash (again), focus area (centre AF, multi zone AF, smart touch AF or one-touch shooting - the latter as it sounds being the Panasonic-like ability to fire the shutter release by tapping a finger on the screen. Additionally we get the ability to turn face detection on or off.
Incidentally, we noticed that with prolonged use the right hand side of the camera - if viewed from the back - started to get quite warm. Of course this is also where the camera is gripped, so some heat is unavoidable. In any event it didn't cause any malfunctions or issues for us over our test period.
The second screen of settings on the Samsung is where you'll find the remote viewfinder option for hooking up with a smartphone, though evidently a piece of software ('Remote Viewfinder') needs to be added to said phone to enable a hook up. Unexpectedly the second setting icon on the second screen allows images to be sent and received from a similarly Wi-Fi enabled camera, while the very next icon allows files to be sent to you (again suitably enabled) PC desktop or device. As well a Smart Movie we also here get a standalone Movie option, that provides a similar side panel toolbar (leaving out flash) to that found when selecting Program mode. Maximum movie size is a not quite full HD 1280x720 pixels at 30 frames per second, with the ability to drop down to 320x240 pixels for web sharing if wanted. Frame rate can similarly be dropped down to 15fps.
The next virtual button is for scene modes, which provides access to some brief yet attractively illustrated photo-led buttons for the usual suspects - landscape, sunset, dawn, backlight, beach and snow and text. Interestingly, and more unexpectedly, next to this we get button to provide a corner shading vignetting effect to both stills and video - with the ability to further adjust brightness, contrast and the degree/strength of the vignetting via three slider bars.
Next to this we find the self explanatory Beauty - allowing a degree of retouching and skin tone alteration - and Photo Editor modes, in which brightness, contrast and saturation can further be altered.
Getting slightly more esoteric as we progress, the third screen of eight icons features Magic Frame - a plethora of rather wild 'n' wacky options for the kids - plus Photo Filter, Movie Filter, Night, Palette Effect, Close Up, Simple Shot (allowing manual brightness and colour adjustment) and Object Highlight modes (manual adjustment of blur and tone)s. Photo Filter is where not only do we once again find a vignetting option, we also get an increasingly ubiquitous miniature mode, soft focus mode and two old film modes, one black and white the other sepia tinted, and both complete with authentic scratches and blemishes like a damaged negative or old movie reel. With a swipe of the finger we get further access to half tone, sketch, fisheye, defog, classic, retro and negative digital filter effects. Again more than we expected from this point and shoot option - and again one so keenly priced.
A similar albeit reduced selection of filters can be applied in movie mode, namely miniature, vignetting, fish eye, half tone and sketch - which is still pretty cool.
| | |
| --- | --- |
| | |
| Memory Card Slot | Battery Compartment |
The fourth screen tops this off with 3D Album Slide Show (allowing images to be dragged around the screen and flicked though with a finger jab), Voice Recorder and Magazine options - the latter providing slightly tacky frames for your subjects to make them look as if they're part of a layout on travel, weddings or parties, dependant on which you choose is the best 'fit'.
Although each of the above options varies in usefulness, it's no doubt the SH100 provides a very extensive collection of creative choices for those who, although they may want to point and shoot in the main, may enjoy occasionally experimenting with weird and wacky effects.
In playback mode meanwhile, accessed with a press of the familiar playback button located top right of the LCD screen on the backplate, the user is presented with a simple array of options at the left hand side of the screen, with the ability first and foremost to delete duff shots, followed by the ability to transmit stored images in some way. We alternatively then get the ability to display the shots as a series of thumbnails. At any time a press of the Home button takes us back to those phone app like shooting options.
So far, so intuitive, though occasionally a couple of finger taps were required before the screen realized what we wanted to do, and likewise it can take two or three swipes with a finger to find the setting you want. So, not really quicker than tabbing with an 'old fashioned' command pad to achieve the same - although it looks a lot cooler and allows for the Samsung's progressively minimalist appearance overall.
While the left hand flank of the camera - if viewing from the rear - is devoid of any feature whatsoever, the right hand side features a tiny loop for attaching a wrist strap and covered port for USB/AV output and connecting up the camera to its mains plug (again via USB lead).
The base of the SH100 meanwhile features a slightly off-centre screw thread for attaching a tripod, and a covered compartment that houses both battery and microSD card as highlighted earlier, which is opened by flicking a catch.
Overall then, we were very impressed with how much functionality - albeit largely auto functionality - Samsung has packed into the SH100, and how relatively seamless and streamlined such implementation is. But how does it perform when it comes to picture quality. Does it display a lightness of touch, or is its approach distinctly heavy handed?