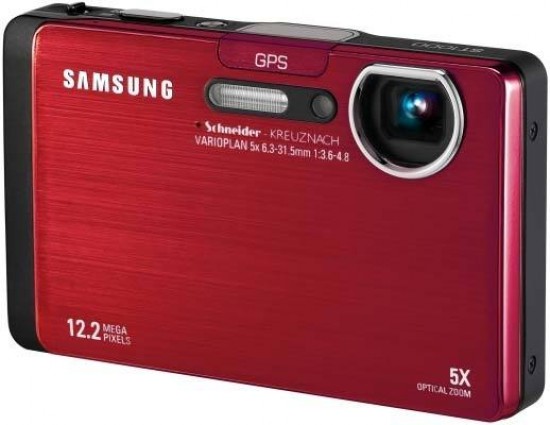 Introduction
The Samsung ST1000 (also known as the CL65) is a 12 megapixel point-and-shoot compact camera complete with built-in geo-tagging, Bluetooth 2.0 and Wi-Fi connectivity. You can send and post pictures almost as quickly as you take them, whilst the GPS capabilities will keep track of exactly where each picture was shot. The ST1000 also offers a clever 3.5 inch, 1,152k touch-screen LCD, a Smart Gesture user interface with built-in Acceleration Sensor that responds to finger commands, and a One Touch Auto Focus feature that allows you to focus on a specific part of the frame simply by touching the desired area. A 5x 35-175mm lens, Smart Auto shooting mode which automatically chooses from 16 different settings ranging from landscape to portrait, and 720p video recording at 30fps complete the headline specs. The Samsung ST1000 / CL65 comes in silver/red, black/black, red/black, black/gold and blue/grey colours priced at £349.99 / $399.99.
Ease of Use
The Samsung ST1000 is constructed out of robust plastic with a glossy finish on the front and matt on the back, resulting in quite a stylish and slim compact camera. The 5x optical lens extends to provide a 35-175mm focal length, versatile enough for anything from moderately wide landscapes to candid head and shoulder portraits, although there are other similarly-sized models that offer a bigger zoom and/or wider-angle focal length.
A non-extending folded-optics lens is employed by the ST1000, tucked away in the top-right corner of the front of the camera and protected by a plastic cover when not in use. On the left of the lens is a small porthole-style window for the AF assist/self timer lamp and the built-in flash bulb. There's no hand-grip at all on the glossy front of the ST1000 or on the rear, which makes the camera more difficult to hold steady when shooting handheld at the extremities of the zoom.
Looking down on the ST1000's top plate we find 7 controls. Starting at the left when viewed from the rear, there are the very prominent GPS module, a Power button that's a little too small and recessed for easy operation, a tactile shutter button, and a rather plasticky but responsive rocker switch for operating the zoom. Controlled by a protruding lip that falls naturally under the forefinger, the zoom takes around three seconds to travel from maximum wide angle to full telephoto - which is pretty much par for the course for its focal range. We did find on occasion that the zoom took a moment or two to 'wake up' - and that its transitions are sound-tracked by a low mechanical blur - but it's low enough to avoid being off-putting. A small activity LED for the built-in WiFi, holes for the microphone and the self-explanatory Play button complete the top of the ST1000.
The ST1000 joins the small but growing number of compact cameras to offer built-in WiFi connectivity. This lets you transfer your photos to a computer or website such as Facebook, Picasa, or YouTube via any accessible Wi-Fi network or to another camera with similar functionality. You can't setup the camera to automatically transfer your photos whenever you're in range of a trusted network, instead having to go through the menu options every time, but it worked well in practice without affecting the battery life too badly. Alternatively the ST1000 also offers Bluetooth 2.0 technology, making it easy to send images to compatible mobile phones at an automatically reduced size that they can accept and display. Completing the ST1000's extensive range of connection options is its DNLA compliance (Digital Living Network Alliance), allowing wireless connection to other DNLA-certified devices like HDTVs and digital picture frames.
| | |
| --- | --- |
| | |
| Front | Rear |
GPS is another feature that has slowly but surely been finding its way into digital cameras as the technology has got smaller and cheaper to implement. This potentially allows you to seamlessly geo-tag your photos (co-ordinates are stored in the EXIF data) and then sort and display them using the Intelli-Studio software that is embedded in the camera itself and which cleverly installs onto your computer when you connect your camera to it via the supplied USB cable. You can then use this software to view your photos on geo-friendly websites such as Google Earth and Google Maps.
The GPS is turned on by default (although it doesn't work for movies), with no requirement to manually switch it on as on other cameras. Unfortunately the ST1000 seems to have a weak receiver, with less than half of our test shots having any GPS info saved with them. Admittedly we used the ST1000 almost exclusively in central London, presumably causing the ST1000 to lose the position entirely when moving between high-rise buildings, or simply stepping indoors. It only consistently worked in areas of clear space - not great for all the urban photographers out there, which is arguably when it's most useful. On the upside it didn't seem to drain the battery too severely when enabled, with the camera still capable of a full-day's shooting, so it's safe to leave it enabled - just don't expect all of your shots to magically appear in the right location on Google Earth.
Once you've zoomed in and got your composition how you want, with a half press of the shutter button the Samsung ST1000 is commendably swift to determine focus and exposure, the AF point highlighted in green and an operational 'beep' confirming you're good to go on and take the shot. There's the traditional central AF point and Multi AF lotions, plus One Touch Shooting, which as mentioned in the introduction allows you to interactively set the focus point by tapping the touchscreen LCD (more on that below), and Smart Touch AF, which both focuses and takes the shot simply by holding down on the LCD screen. With little noticeable shutter lag, at highest resolution setting an image is committed to memory in just under two seconds, the screen blanking out briefly, which isn't bad at all.
The rear of the ST1000 is dominated by the very large 3.5-inch LCD screen, which in the absence of an optical viewfinder is the only way of composing your images. The excellent LCD has a very high resolution of 1,152k dots, a real treat for the eyes during both image composition and playback. We didn't have too many problems viewing the ST1000's screen in all but the brightest sunlight conditions. The ST1000 incorporates some clever touch-screen technology, with virtually all of the camera's functions activated and controlled via its LCD. It offers one of the best interactive experience of any digital camera that we've reviewed, thanks to a winning combination of high-resolution, intuitive menu layout, and quick responses.
| | |
| --- | --- |
| | |
| Front | Front |
In addition, you can do certain things, like scroll through your images or delete a picture, simply by performing a specific gesture, although often it proved quicker just to press the appropriate on-screen icon. If you're especially lazy, the ST1000's Smart Gesture feature goes even further by using the camera's built-in acceleration sensor to allow you to use gestures to perform certain actions. Flick the camera left or right to scroll through images, for example, or draw a cross to delete an image - although again it's usually quicker just to use the icons.
An ever-present icon in the top-left of the screen provides quick access to the shooting modes. On offer are the expected Auto and Program settings, plus Samsung's own 'Smart Auto' mode. As it sounds, this is the manufacturer's equivalent of the intelligent auto modes on competitors from Panasonic (its Lumix range), Sony (the latest T-series Cyber-shots) and Canon (Digital IXUS family). Namely you point the ST1000 at a scene or subject that hopefully the camera recognizes, automatically adjusting its settings to deliver optimum results. This means that it's not necessary for the user to manually delve into scene modes to call up the likes of 'landscape' or 'flower'; the ST1000's operation is merely a case of point and shoot.
There's also a 'Dual IS' mode, which offers both optical image stabilization and the ISO boosting digital variety. In terms of light sensitivity the Samsung ST1000 offers a very respectable range, stretching from ISO 80 up to ISO 3200. We'll of course be examining how well it does at its higher settings in the 'Image Quality' section of our review. Samsung's 'Beauty Shot' mode, useful for both acne-d adolescents and those of us who have over-indulged by automatically retouching out spots and blemishes, is the first Scene mode. Spotlighting the ST1000's intended audience as the family, Samsung clearly wants its users to have to spend as little time post-processing images as possible - if any. In addition to Beauty Shot, there are 12 other scene modes on offer.
Also useful is the omnipresent Function menu which can be quickly accessed by pressing the bottom of the LCD screen, which allows quick access to some of the ST1000's key settings. As expected the amount of information and options accessed via a press of 'Fn' varies dependant on which shooting mode is selected. For example in regular auto mode the user merely has the ability to adjust image size and resolution. Choose program mode however and there's the ability to change the EV, choose metering modes, change from single shot to continuous capture, choose from the range of ISO settings, adjust white balance, set the photo style or turn the ubiquitous face detection mode on or off. Like its rivals, Samsung also allows user access to blink detection and smile shot in this mode.
| | |
| --- | --- |
| | |
| Front | Battery Compartment |
Finally, the full menu of options can be opened via the Menu icon in the bottom-right corner. Depending on the particular mode that the user is in, an icon illustrated vertical list provides access to four menus - Functions, Sound, Display and Settings. These include the ability to tweak operational sounds, LCD display, plus access to a setting menu, enabling memory to be formatted or previously selected functions reset. The ST1000 also has its very own Recycle Bin, with every deleted shot automatically stored in a temporary folder just in case you change your mind.
Although it hasn't got an 'HD' suffix in the model name, the Samsung ST1000 nevertheless offers High Definition video clips, though at 1280x720 pixels rather than the Full HD 1920x1080. In what Samsung is claiming as a first for digital compacts in its class, these can be paused mid-recording then re-started. The user can therefore perform rudimentary 'editing' as they shoot, a clever idea that hasn't yet been picked-up by other manufacturers. Fortunately the full extent of the optical zoom is also accessible when shooting movies. The video mode provides the opportunity to either shoot at top resolution, a less memory hungry 640x480 pixels, or 320x240 pixels; choice dependant on intended use (whether playing back on an HDTV or merely posting on the Internet). Maximum frame rate at 1280x720 resolution is 30fps, with a reduced 15fps rate also selectable. Should users however plump for the very lowest picture quality, a faster frame rate of 60fps is selectable.
There is a very small camera strap eyelet on the right side of the ST1000, with no controls positioned on the left side of the camera. On the bottom we find an included HDMI port for hooking the camera up to an HDTV. Increasingly common for DSLRs that also shoot movies, it's still a comparative rarity to find such on a digital compact, even if it does shoot HD video. The required HDMI cable is an optional extra though, so bear in mind if you're on a budget. The HDMI port also doubles up as the means of re-charging the camera, with the battery left in the camera itself, either from an electrical socket or or alternatively straight from a USB port connected to your computer. Also in the box is a quick-start guide as a hard copy, the full manual on CD ROM, plus a wrist strap.
Completing the bottom of the ST1000 is a plastic screw thread for attaching a tripod and a sliding cover for protecting the compartment that jointly houses the removable SD Micro media plus the provided battery. Battery life is good for approximately 200 shots from a full charge, so you'll definitely need a second battery for longer trips. More annoying is the tiny SD Micro format, which makes sense in Samsung's extensive range of mobile phones, but not in a larger camera. It's much too easy to lose in a pocket or bag, requires investment in yet another format, doesn't offer as much capacity or speed as SD / SDHC, and also needs the supplied adapter to be used in most external memory card readers. There's also 100Mb of built-in storage, enough for about 18 photos.