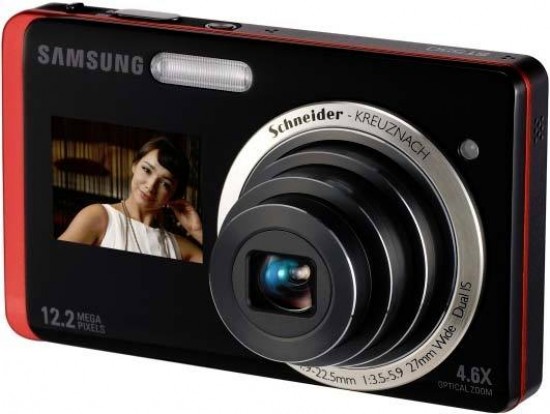 Conclusion
With the best touchscreen interface of any current camera and a useful secondary LCD for easy self-portraits, the Samsung ST550 is a real crowd-pleaser. The resulting poor battery life and so-so image quality unfortunately ultimately detract from the great first impressions.

The ST550 is a real joy to use, with the combination of the clever haptic control system and the high-resolution screen finally producing a touchscreen system that doesn't send us rushing back to a button-based interface. Only the gesture-based controls, which have you wildly waving the camera in all directions, feel like an unnecessary extra. The self-portrait LCD is the icing on the cake, making the ST550 ideally suited for use by all members of the family.

When you've got over that initial rush of excitement, however, two main problems raise their ugly heads. The main one is the incredibly poor battery life - just over 100 shots if make extensive use of the touchscreen, playback and the self-portrait screen - making a second battery a compulsory purchase. And as with the PL70 model that we reviewed earlier this week, still image quality is not that great, with noise at low ISO speeds blighting what are otherwise acceptable pictures.

Unlike the PL70, the ST550 doesn't have price on its side, with Samsung charging a rather high £299.99 / $349.99 for all that cutting-edge technology. There are plenty of better-specced cameras with more impressive image quality available for less money than the ST550, albeit without the clever bells and whistles.

And that's really the point. The Samsung ST550 is ultimately a very fun camera to use, despite its short-comings, thanks to its genuinely useful technological innovations. If you can't literally buy into that, then you should look elsewhere - try the ST550 out for yourself, though, and we'll bet that you'll be converted.
Ratings (out of 5)
Design
4
Features
4
Ease-of-use
4.5
Image quality
3.5
Value for money
3.5