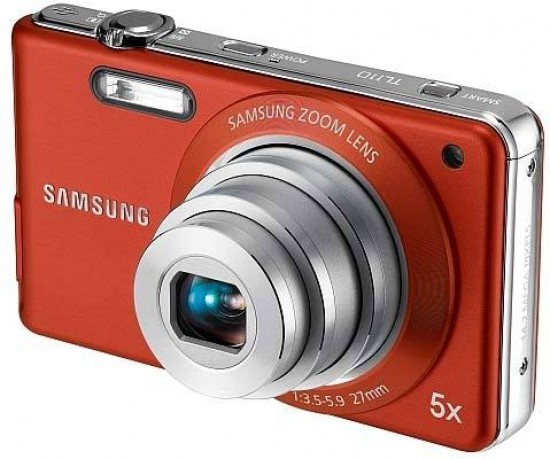 Introduction
The Samsung ST70 (also known as the TL110) is a new ultra-thin 14 megapixel digital compact camera. Equipped with a 2.7 inch LCD screen and a 5x optical zoom (27-135mm), the ST70 also offers 720p HD video recording capabilities, Smart Auto advanced scene recognition technology, Dual Image Stabilization and a stainless steel body. The Samsung ST70 / TL110 is available in silver, black, blue and red priced at £179.99 / $199.99.
Ease of Use
Samsung's primary exercise when it comes to the business-card sized 14.2 effective megapixel, 5x optical zoom ST70, appears to have been to make a camera and attendant kit as simple to use and compact as possible. And, assuming that was its true intent, the innovative Korean manufacturer has been largely successful.
In terms of convenience it doesn't quite feature a flip out USB arm, but might as well do, a very short lead provided in the box doubling up as a USB and mains cable, slotting into a provided mains adapter plug for re-charging the battery in-camera. The other end slips into a covered slot at the ST70's side. It's altogether a very neat solution, the camera itself weighing 120g without provided battery, and its diminutive size meaning that it almost disappears within your palm as you close your fingers around it.
This pairing down of accessories to the merest of essentials extends to the camera's choice of storage media: here it's the fingernail-sized microSD, as utilized by camera phones, rather than the SD/SDHC/SDXC more commonly found in digital cameras of its class. Such a media choice seems slightly perverse, as there is surely room for a larger SD format card more widely used in the photography market, even within a camera as slender as 1.6cm (or 16.6mm) as this is (overall dimensions being 96.3x55.8x16.6mm). But then Samsung does have a large existing stake in the mobile handset market, the ST70 providing arguably a step up for those who want a slightly broader range of features than their phone might provide - but within a similarly cool looking and compact package.
No microSD card is bundled with the camera however, just a flimsy 27MB to get started with out of the box that holds approximately six highest quality JPEGs. Thanks Samsung.
The front of the camera - especially with the sophisticated black finish of our review sample - is not unattractive however in its display of steely minimalism. The lens, concertinaed within the body when inactive, here swallows up most of the faceplate, small porthole housing the AF assist/self timer lamp top right while a lozenge shaped window for the flash flanks it on the left.
| | |
| --- | --- |
| | |
| Front | Rear |
Unsurprisingly, the ST70 is aimed at those 'on-the-go' with a price tag that at £150 is as modest as its dimensions. Likewise not coming as a shock is the fact that there's not much of this camera to get a firm grip on; perhaps that's why the default flash setting is rather bright. Also, the user has to wait a few moments (four seconds, officially) while the flash charges before firing a shot - not uncommon on such budget priced models - but while it is doing this all other functionality is frozen. Though it's easy for your middle finger to drift in front of the flash, by being positioned away from the edge and fairly close to the lens - but thankfully not too close - such instances of blocking the bulb are not as frequent as on other budget-priced models.
More positively, with tracking AF on offer the lens reach here is a broad for its size 27-135mm in 35mm film terms, and is supported by dual anti shake technology in the form of both optical image stabilization proper and shutter speed/ISO boosting digital image stabilisation. Here manually selectable light sensitivity options range from ISO80 to ISO3200, though you have to delve into the menu options to make your choice. One of the other promises Samsung is making with this model is HD movies in the palm of your hand, here at 720p resolution and a respectable frame rate of 30fps and mono sound - footage recorded in H.264 format, thankfully more readily accessible by older computers than the AVCHD alternative utilized by the latest generation digital camcorders. Movie mode is selected, like the other options, with a press of the dedicated 'mode' button top right of the camera's backplate.
As this is a point and shoot camera pure and simple, among the other selectable shooting modes - five in total - Samsung rolls out its own version of an intelligent auto mode in, fittingly, Smart Auto, which oversees both stills and movie capture. Like its competitor's technology this identifies scenes and subjects and automatically chooses from a plethora of still and movie modes to - in theory - achieve the best possible result with almost zero user input. Like other versions, a busy scene can confuse the camera as to which aspect it should be biasing - a heap of flowers or the brick wall just behind - but the majority of the time Smart Auto proves reliable. The closest possible focus distance is 10cm in macro mode.
Apart from separate Smart Auto and video capture, users get access to Program mode plus Dual IS (image stabilization) mode - both optical and digital varieties activated - along with dedicated scene mode option. This being a Samsung camera, among the latter choices is a zit-busting Beauty mode, as well as the regular night, portrait and landscape options. Less usually, as well as an optimized setting here for capturing sunsets, there's a separate 'dawn' mode; the first we've encountered within memory.
Unexpectedly, given the relatively inexpensive cost, the ST70 offers its users a degree of creativity in the shape of several Smart Filter digital effects, accessed following a press of the 'menu' button opposite the mode button at the ST70's rear. Included among them and selected from a provided toolbar are a Miniature and not one but two fisheye filters - the likes of which we've seen on much more expensive models from rivals, such as the Olympus Pen E-P2, E-PL1 and Canon PowerShot SX210 IS. Samsung adds to these a vignetting filter and, within its Photo Style Selector options further sketch, film negative, retro, 'calm' and defog filters. Perhaps most of the camera's target audience will never dig out such features as they're slightly hidden away amidst the more run-of-the-mill camera menu options, but their inclusion means there's indeed more to the ST70 than meets the eye.
| | |
| --- | --- |
| | |
| Side | Top |
While that much may be user friendly, its maker could have extended that ethos to its back up literature. Sadly you only get a quick start pamphlet out of the box, with the full manual on CD only.
Lucky then that the ST70's general operation is a simple process, Smart Auto even getting its own quick access top plate button - like intelligent Auto on the recently reviewed Panasonic FS33 - in addition to being accessed along with a press of the backplate mode button. The largest button here is naturally the shutter release button, encircled by a lever for operating the zoom, which likewise falls under the forefinger, a raised lip at the front providing added purchase. A press of the slender, recessed power button next to it and the ST70 powers up for action in just over a second - impressive in itself - zoom lens racing out from its storage position to maximum wideangle and rear 2.7-inch, 230k dot resolution LCD bursting into life. A half press of the shutter release button and the camera determines focus and exposure nigh-on instantly, AF point illuminated in green - or red if it's (rarely) failed to determine focus, as the surroundings are too dark or you're too close to the subject. Go on to take a shot and with any shutter delay being blink-and-you'll miss it, full resolution images are committed to memory in approximately two seconds. Overall, taking timings into account a good showing for its class.
Toggle the zoom lever and the lens glides from max wideangle to extreme telephoto setting in all of two seconds; it's commendably smooth and quick, but is accompanied by a low mechanical noise that bizarrely sounds like a small child gargling. Incidentally, both built in mono microphone and speaker are located on the same chrome strip set into the ST70's top plate.
With the back of the camera meanwhile dominated by the clear and crisp standard ratio LCD screen in the predictable absence of any optical viewfinder, and menu and mode buttons already touched on, the other controls at the rear are a navigational control pad with central 'OK' button for selecting and effecting any functional changes. At points north, south, east and west around this are - in that order - a means of adjusting the LCD display to show only basic info rather than its default full complement of resolution, picture quality and the like, plus a means of switching between normal AF and macro/close up mode, selecting from a quintet of self timer options (including one that detects motion and waits for it to stop before firing the shutter), and, finally, choosing from six flash modes. Along with fill-in, off, and slow sync, users get auto flash and red eye reduction, along with a separate red eye recognition and automatic correction feature.
| | |
| --- | --- |
| | |
| Battery Compartment | Battery Compartment |
The final two control buttons on the back plate are a straightforward enough playback control to activate the review of captured images, plus the 'Fn' (or 'function' button) which in effect is a shortcut to key settings otherwise less obviously visible with a press of the menu button. With a press of 'FN' a toolbar appears down the left hand side of the screen, Canon compact style. It's here that, if in Program mode for example, that users can select pixel count and image quality, adjust exposure (+/- 2EV), select from ISO80-3200, tweak white balance if necessary (generally it's not), turn face detection on/off, and select from centre, multi segment or tracking AF, as well as centre weighted spot or multi zone metering. With Photo Style Selector and Smart Filter settings also present here, maters are concluded with the ability to turn optical image stabilization on or off. The default option appears to be on.
With the right hand side of the camera - if viewed from the back - incorporating combined USB/AV/power terminal under a small flap, the left hand flank is devoid of features entirely, but is nonetheless attractive, the chrome strip running along the centre of the top plate continuing down this side too.
Finally the base of the ST70 features a centrally located screw thread for attaching to a tripod, and, to one side, a siding catch for a hatch protecting the combined battery and card compartment - rigid enough not to come loose easily, not so much so to cause any user problems.
As you can probably tell from the above, what seems a simplistic snapper from the outside appears an Aladdin's cave within - up to a point. After all, does the ST70 deliver an image quality that's bordering on the magical, or is the Samsung more about smoke and mirrors than a solid performance? Read on to find out…