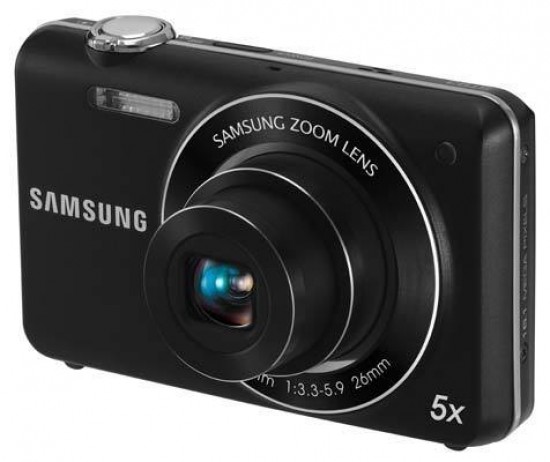 Introduction
Despite the apparent end, or at least slowing down, of the megapixel war, there are still some manufacturers who are producing cameras that have little difference to their predecessors except for higher resolution. On the surface, the Samsung ST93 looks like it fits into this category. It's a digital compact camera with a 16 megapixel sensor, 5x optical zoom, 2.7 inch screen and multiple digital effects to make photography more fun. There's not a great deal of difference between this and other ST9x models, but we've put it to the test to see if the new image sensor is as good as Samsung say it is. The Samsung ST93 retails in the UK for around £89.99.
Ease of Use
The ST93 is part of Samsung's Style range so it's a tiny, slick unit with an oversized lens bezel and small lens at the centre. The curved edges fan round to the rear of the camera to reveal a modest 2.7 inch LCD screen taking over the left side of the body and a select few command buttons on the right. There are buttons to access the main menu, modes, flash macro and self-timer functions as well as a playback button and function menu. The function menu brings up a translucent quick menu with most used features available for adjustment such as resolution, ISO, white-balance and digital effects. We're also pleased to see metering and focusing options are available.
Powering on the ST93 is done by pressing the power button located on top of the camera next to the shutter release button. What really took us by surprise was how fast it is. Start up times are impressive and we managed to switch the camera on, focus and take a picture in under 2 seconds. The rear control layout is the standard four buttons around a navigation pad which is a tried and tested design. There's a small point just above the buttons to rest your thumb when you're not pressing buttons.
What first stands out about the build of the Samsung ST93 is that it appears to have even more of a lean than the previous versions when sat on a flat surface. This lean is particularly useful for self portraits because the camera looks up slightly, however, it gives it a look like it'll fall over at any moment. Should this happen or if it's dropped, the camera doesn't feel like it will cope with too much of a bashing. The casing is coated in that paint that feels rough to the touch and makes plastic feel like metal. It means we're unsure of the materials that the casing is made of. Tapping the case, it sounds plastic but even at this price, cameras are normally metal these days.
| | |
| --- | --- |
| | |
| Front | Rear |
There are some nice touches to the build such as a lock on the battery door which also covers where the MicroSD card goes. Samsung have opted for this miniscule card format for two reasons: it allows smaller camera bodies and it's compliant with other Samsung products such as their mobile phones.
The 2.7 inch screen is a reasonable quality, it's bright enough and clear. We managed to see a picture on the back even in direct sunlight. There's no motion blur but we felt that the image stabiliser was delaying the picture to smooth it out. One thing you don't see everyday on a small digital compact camera like this is a decent cover for the USB port. Usually, they're either covered by a flimsy rubber lid or not even covered at all. The ST93 has a nice, plastic flip out lid that protects much better and is easier to use than its rubber counterparts.
There are a couple of menus on the Samsung ST93. The function menu is likely to see the most use and is laid out in an easy to use array. The options are listed down the left side with the sub-options spreading out over the screen to the right. The menu is translucent so an image can still be seen behind. This is especially useful when selecting the white-balance because it will show you how the white-balance is affecting the picture before you select it. The same can be said about the digital filters because - frankly - they don't suit every situation.
| | |
| --- | --- |
| | |
| Front | Top |
The main menu is more in-depth and really only needs to be used to set major functions of the camera such as language, time & date, power functions and other rarely used features. There are 4 separate tabs to use in the main menu and the shooting menu is simply a replica of the function menu.
Pressing the mode button will allow you to change the shooting set up of the ST93 to cope with particular situations that you may find yourself in. For example, there's a panorama mode if you're faced with something wider than what the lens can see, such as the Grand Canyon. There's also a number of scene modes (10 in total) that will set the camera up to give the optimal image for that scene such as landscape, night, portraits (called beauty because it smooths skin and generally improves the picture), text, beach & snow and backlight.
Should you want to take more control over the camera, you need to put it in program mode but if you're the type that simply wants to switch the camera on and take pictures then you should put it in smart auto. This mode will analyse the scene and set the scene mode automatically for you depending on what it sees. For instance if it notices you're getting close to a subject it will put it in macro mode. If it sees a person, it will put it in portrait mode and switch on face detection.
| | |
| --- | --- |
| | |
| Memory Card Slot | Battery Compartment |
As we mentioned before, the ST93's start up time is great. However, the shutter lag certainly pours water over any fire we had going. We got consistent readings of 0.13 seconds, when we expect in this day and age to get around 0.08 seconds as is typical on a digital compact camera. Focusing isn't too bad and we didn't notice too much hunting unless it was struggling with a subject that was too close for it.
In the box there's the minimal amount of accessories provided. There's the camera obviously and you also get a lithium ion battery. It doesn't come with a memory card but the ST93 has a small internal memory. The charge cable doubles up as the USB cable and plugs into a mains adapter to charge from there. The useful part is that you can also charge from the USB port of a computer making it an ideal camera for travellers who need a cheap camera to take on holiday or on gap years. That way pictures can be uploaded to email or social network sites in an internet cafe while the camera charges which minimises the bulk needed to take away. Hard copies of paperwork include a warranty booklet and a thin quick start guide. On the enclosed CD is a full manual and Intelli-Studio software as well as Adobe Reader.