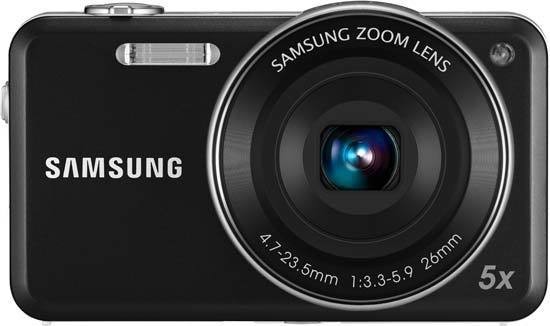 Introduction
The Samsung ST95 is an ultra-slim 16.1 megapixel digital camera with a unique rounded design. Measuring just 16.5mm in depth, the ST95 also offers a 5x optical zoom lens with 26mm wide-angle setting and dual image stabilisation, 720p HD video recording at 30 frames-per-second, 3 inch touch-screen LCD, wide range of special effects, and the intelligent Smart Auto feature which automatically adjusts the camera's settings. The Samsung ST95 is available in black, red, pink, purple or silver priced at £179.99 / $199.99.
Ease of Use
Looking for an inexpensive snapshot around the £100 mark with obvious gifting potential that still manages to offer a reasonable amount of style, decent build quality and up-to-the-minute technology with it? From a glance at its faceplate, Samsung's ST95 (Small and Thin) pocket point-and-shoot is a close cousin of the regulation-issue black rectangle ST95 we reviewed in summer 2010. The new ST95 tops the current 'ST' range that also comprises the 14MP ST65 and ST90.
However, where the ST95 most notably differs from predecessors is at the back: a 16:9 ratio 3-inch 'Smart Touch' touch screen now occupies the entirety of the rear plate, recalling Samsung's wireless, smartphone-inspired SH100 compact in that respect. Height wise at least it's actually smaller than your average business card too. So much so that the curved surround to its lens now forms a raised hump on the top plate, where it almost seems to be escaping the confines of the body. The ST95 is just 17mm 'thick' at its slimmest point, slender dimensions accentuated by the sleek black finish of our review sample. The price isn't big either: the Samsung ST95 retails for £129.99 via the Dixons group in the UK, with silver, pink, purple or orange offered as alternative body colours. Overall proportions are a manageable 91.9X53.1X17.0mm, and it weighs just under 107g without card/battery. That's enough to feel reasonably substantive whilst not uncomfortable if transported in the back pocket of your jeans.
Like the ST95, the ST95 has shoehorned in a 5x optical zoom, here starting out a usefully wide angle 26mm (in 35m terms) and running up to 126mm at the telephoto end, with a maximum aperture of f/3.3. Resolution has leapt a couple of million little squares too to offer 16.1 effective megapixels in total from a 16.4MP 1/2.3-inch CCD sensor, while video resolution is fixed at 1280x720 pixels. Whilst that falls short of Full HD, the spec feels par for the course for compacts around the £100 mark. Unsurprisingly there's no HDMI output, just USB/AV output by way of a shared port hidden under a plastic side panel.
The Samsung is surprisingly well constructed for the price however, thanks to overall a higher degree of metal in the build than plastic. The body has a slight backwards slant, a regular feature among Samsung compacts, which means that when you place it on a flat surface the lens is pointing upwards by a corresponding degree. Samsung suggests this feature makes the camera easier to hold, and without anything approaching a handgrip supplied, we did feel like it could slip from our grasp easily if we were too casual with it. A supportive wrist strap and a plastic stylus for navigating the touch screen icons are helpfully provided in the box. Also included is a cursory quick start pamphlet, with the main instructional 'meat' provided via the full manual on CD ROM only.
Also omitted from the box is a traditional mains charger as such. Instead, as is now becoming more commonplace, a dual-use short USB lead is provided: one end of which slots into the vacant port on the camera, the other end connecting up to a mains adapter plug. Thus the battery is charged in-camera, meaning that even if you were to invest in a spare cell, the ST95 remains out of action each time you want to recharge it.
As with recent Samsung pocket models, the ST95 shoots still and video to microSD card, as favoured by mobile phones. We're not big fans when it comes to microSD's use in cameras due to its very small and fiddly dimensions, meaning it's not only very easy to drop but also to lose when removing it to use in a card reader. The SH100's wireless capabilities made this less of an issue, but the ST95 isn't wireless. Doubtless Samsung is trying to make the transition easier for anyone upgrading from one of its smartphone handsets who conceivably might already own such a miniscule card, but there is certainly space here for a full sized SD/SDHC/SDXC slot to have been provided alongside the battery at the camera's base instead. A paltry 10MB internal capacity is however included.
| | |
| --- | --- |
| | |
| Front | Rear |
Belying its budget price tag the front of the ST95 is smart in appearance, with zoom lens dominating proceedings. To its top right is a small self-timer lamp/AF illuminator lamp, and over at the other side of the lens, a very narrow lozenge shaped strip housing the built-in flash. The matt surface of our black sample is business-like, and, as noted, there's no handgrip of any sorts to get a purchase at the front, though there are three diagonal raised slashes at the back to stop the thumb of the right hand sliding about and straying onto the LCD touch screen. Inevitably perhaps we still managed to get occasional instances of visible camera shake when shooting handheld at maximum telephoto setting.
A press of the small top plate power button and the ST95 powers up ready for the first shot in just under two seconds, which isn't bad at all. The camera's top plate is unfussy, with slots for both a built-in mono speaker and separate mono microphone, plus - the largest control here - the shutter release button, which is encircled by a manual zoom lever. A separate playback button is also provided, located just above the LCD screen on a slope where the back of the camera runs into the top.
The upshot is that the Samsung ST95's essential physical controls are all within reach of the forefinger or thumb of the right hand; without a second thought just about anyone will be able to pick the ST95 up, take a picture and more or less instantly review it, the camera taking just over a second to commit a full resolution JPEG to memory before the screen clears ready for your next composition. And all without approaching the touch screen if you're not bothered about altering the capture mode, or have previously selected your preferred setting. Novices really don't have to, as Samsung's default Smart Auto setting automatically compares subjects with 16 on-board settings and selects the most appropriate. The only thing that slows down proceedings is a wait of a moment or two while the flash charges if you select that option.
Whilst the left hand flank (viewing the camera from the back) is devoid of any features entirely - apart from two fixing screws - the right hand side of the camera features a small lug for attaching the provided strap plus, just beneath, a covered slot protecting a means of attaching the supplied USB image transfer/battery recharging cable provided. The base of the camera meanwhile features a slightly off-centre screw thread for affixing the ST95 to a tripod, plus alongside this, a sliding catch opening a compartment that houses the battery and aforementioned microSD card. So far, so straightforward.
So now we come to the ST95's wow factor; the 16:9 aspect ratio touch screen that swallows up all the backplate real estate. It's the customary 3-inches in size, and like Samsung's SH100 model has taken inspiration from the smartphone market in the way it presents menu settings as fingertip selectable app-like icons. Its manufacturer has christened this the Smart Touch 3.0 User interface.
In review mode the captured image also rotates to display the 'right' way up, whether you're holding the camera on its side, phone style, or horizontally to review or share your pictures. When you're capturing stills the screen image is presented in 4:3 aspect ratio, which means that black bands crop the image left and right. When filming video however, or using a finger to swipe through the app-like icons, the full widescreen can be used.
| | |
| --- | --- |
| | |
| Front | Top |
Unsurprisingly, even considering the pocket friendly price tag, the ST95 includes a selection of 'Smart Filter' digital effects among its app-style iconography, including the familiar pinhole camera-like vignetting feature and perspective warping fisheye. A Smart Album feature can also organize pictures by faces as well as by date.
While in normal shooting mode the screen is blank apart from an icon showing the current selected shooting mode, the other icons are summoned up with the press of a 'home' button located in the bottom right hand corner of the backplate, where it's easily overlooked. Press this and the user is given access to three screen's worth of function icons, with eight on the first two screens and six on the third - so 22 in all.
What's presented here is very similar to the array of shooting and set up options found on the Samsung SH100, so our findings will inevitably be similar also. The initial screen shows the Smart Auto icon witnessed on power up, along with Program mode, six option Scene mode (landscape, sunset, dawn, backlight, beach and snow and text), Smart Movie, Movie, Photo Editor (in which brightness, contrast and saturation can be altered), Album and Settings (set up) mode. Delve into any one of these in search of features and, if you don't find what's required, a subsequent press of the 'Home' button acts as a way to return to the main screen.
Again, as with the SH100, there isn't a dedicated video record button on the ST95, a now expected feature on even the humblest of compacts, a virtual one has been provided instead. Tap the Smart Video icon and one unexpectedly appears centre bottom of screen, the red button in the midst of a white square subconsciously recalling the Japanese flag, despite Samsung's Korean heritage.
Tap the program mode icon and what could loosely be termed a function toolbar appears on the left hand side of the screen, allowing the control of flash settings - which summons up a virtual but slightly fiddly 'roll bar' with red eye and slow sync featuring alongside fill in, auto, and automatic red eye fix. Focus mode can also be switched in the same manner - though between auto and macro, with no manual option provided here - as can the self timer options be accessed.
At the bottom of the left hand bar is a menu button. Give this a tap with a finger when you're in program mode and this is where you'll find the ability to control ISO (here ISO80 through ISO3200), incrementally adjust exposure +/- 2EV, control white balance, focus area (centre AF, multi zone AF, smart touch AF or one-touch shooting - the latter as it sounds being the Panasonic-like ability to fire the shutter release by tapping a finger on the screen). Additionally we get the ability to turn face detection on or off, adjust photo size and quality, metering (multi, spot or centre weighted), tweak brightness, contrast and saturation in-camera, digital image stabilizer and 'My screen' mode, which displays all your commonly used settings as on-screen icons, all in one place. For a camera just over the £100 mark it feels like Samsung is giving us a surfeit of riches that most of the point and shoot brigade the camera is obviously aimed at will never use. Still, it makes the camera as future proof as possible and staves off any chance of boredom.
| | |
| --- | --- |
| | |
| Memory Card Slot | Battery Compartment |
The second screen of settings continues the almost exhaustive array of options. The first icon offers a corner shading vignetting effect to both stills and video - with the ability to further adjust brightness, contrast and the degree/strength of the vignetting via three slider bars.
Next to this we find the self explanatory Beauty mode - a long term feature of the Samsung range and allowing for a degree of retouching and skin tone alteration. As with the SH100, matters get slightly more esoteric as we progress, the icon adjacent to this on the ST95 is for Magic Frame - a plethora of rather wild 'n' wacky options for the kids - plus adjacent to this again we get Photo Filter, Movie Filter, dedicated Night mode, Palette Effect, and dedicated Close Up macro mode. Back tracking a minute, Photo Filter is where not only do we once again find a vignetting option, we also get an increasingly ubiquitous miniature mode, soft focus mode and two old film modes, one black and white the other sepia tinted, and both complete with authentic scratches and blemishes like a damaged negative or old movie reel. With a swipe of the finger we get further access to half tone, sketch, fisheye, defog, classic, retro and negative digital filter effects. Again more than we expected from this point and shoot option - and again one so keenly priced.
A similar albeit reduced (to 9) selection of filters can be applied in movie mode, to include miniature, vignetting, fish eye, half tone and sketch options - which is still pretty cool.
A press of the 'home' button to return to the main screen and with a finger swipe and we're at the third screen of the ST95's app-like options, which kicks off with Simple Shot (allowing manual brightness and colour adjustment) and Object Highlight modes (manual adjustment of blur and tone). Next to these two we have adjacent icons for 3D Album (allowing images to be dragged around the screen and flicked though with a finger jab) plus self-explanatory Slide Show, Voice Recorder and Magazine options. This last 'app' provides slightly tacky frames for your subjects to make them look as if they're part of a layout on travel, weddings or parties, dependant on which you choose is the best 'fit'.
In playback mode meanwhile, accessed with a press of the familiar playback button located above the LCD screen on the backplate, the user is presented with a simple array of options at the left hand side of the screen, with the ability first and foremost to delete unwanted images, followed by the ability to display the shots as a series of thumbnails. At any time a press of the Home button takes us back to those phone app like shooting options, which makes for straightforward and intuitive operation. Though, as we noted at the outset, the camera can merely be left on its default settings and used as a point and shoot compact pure and simple, without engaging with the touch screen at all.
So what of the images the ST95 produces? Is it a case of a touch and go when it comes to performance, or one that belies its inexpensive price tag and actually delivers more than we were expecting? Read on to find out.