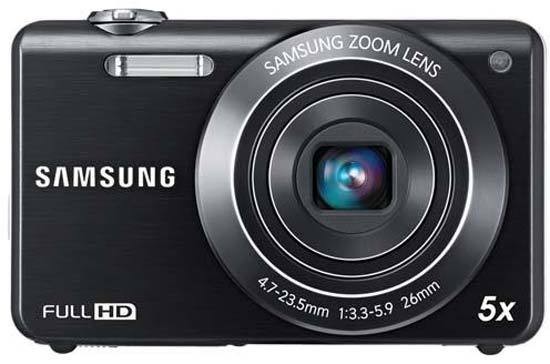 Image Quality
All of the sample images in this Review were taken using the 14 megapixel SuperFine JPEG setting, which gives an average image size of around 4.5Mb.
Of course the performance of the ST96 has to be judged in context; the context here being that this Samsung is a budget point and shoot, not a DSLR or interchangeable lens compact, so those with more expert eyes will inevitably find some areas lacking. For example JPEGs straight from the ST96 when it is left on its factory default settings are lacking in contrast and punch, and appear rather soft when viewed properly on your desktop. On the back of the camera they appear sharp and colouful, so looking at the end results is, by contrast, something of a let down.
Familiar bugbears such as occasional pixel fringing and burnt out highlight detail common to most pocket cameras are also present within the images of the ST96. As is barrel distortion when shooting at maximum wideangle setting, most obvious on our white brick wall images.
Having outlined the above grumbles, when conditions are favourable with plenty of available light and clear skies, colours are on the warm side, with red, green and blue particularly flatteringly rendered. So anyone using the camera for holiday snaps and/or portraits should find it an able companion.
For anyone looking to engage in low light photography without the aid of the ST96's built in flash, there is the light sensitivity range selectable from ISO100 up to maximum ISO3200. Perhaps inevitably softness creeps in at ISO800 and noise is more readily apparent at the next step up, ISO1600. That said, when selecting the 'night' option from among its pre-optimised selection of scene modes, we were pretty pleased with the end results – which is, as our test shots show, as good, if not better than the results from long-standing photographic brands in its class. ISO3200 meanwhile delivers a more gritty appearance, but not one that it so horrible that it is best avoided.
On the whole then, and taken within the context of an affordable point and shoot, the Samsung ST96 is far from a disgrace when it comes to delivering usable if amateur grade JPEG images.
Noise
There are 7 ISO settings available on the Samsung ST96. Here are some 100% crops which show the noise levels for each ISO setting:
| | |
| --- | --- |
| ISO 100 (100% Crop) | ISO 200 (100% Crop) |
| | |
|   |   |
| ISO 400 (100% Crop) | ISO 800 (100% Crop) |
| | |
|   |   |
| ISO 1600 (100% Crop) | ISO 3200 (100% Crop) |
| | |
Sharpening
Here are two 100% crops which have been Saved as Web - Quality 50 in Photoshop. The right-hand image has had some sharpening applied in Photoshop. The out-of-the camera images are a little soft at the default sharpening setting. You can change the in-camera sharpening level if you don't like the default look.
| | |
| --- | --- |
| Original (100% Crop) | Sharpened (100% Crop) |
| | |
|   |   |
| | |
Chromatic Aberrations
The Samsung ST96 handled chromatic aberrations very well during the review, with limited purple fringing mainly present around the edges of objects in high-contrast situations, as shown in the example below.
Example 1 (100% Crop)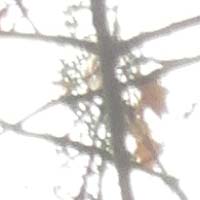 Macro
The Samsung ST96 offers a Macro setting that allows you to focus on a subject that is 5cms away from the camera when the lens is set to wide-angle. The first image shows how close you can get to the subject (in this case a compact flash card). The second image is a 100% crop.
| | |
| --- | --- |
| Macro Shot | 100% Crop |
| | |
Flash
The flash settings on the Samsung ST96 are Auto, Auto & Red-eye reduction, Fill-in flash, Slow sync, Flash off, and Red eye fix.
| | |
| --- | --- |
| Forced Off - Wide Angle (26mm) | Forced On - Wide Angle (26mm) |
| | |
|   |   |
| Forced Off - Telephoto (130mm) | Forced On - Telephoto (130mm) |
| | |
Here are a couple of portrait shots. As you can see, neither the Auto setting or the Red Eye Fix option caused any amount of red-eye.
| | |
| --- | --- |
| Auto | Auto (100% Crop) |
| | |
|   |   |
| Red eye fix | Red eye fix (100% Crop) |
| | |
Night
The Samsung ST96's maximum shutter speed is 8 seconds in the Night Scene mode, which is good news if you're seriously interested in night photography. The shot below was taken using a shutter speed of 4 seconds at ISO 100.
| | |
| --- | --- |
| Night Shot | Night Shot (100% Crop) |
| | |