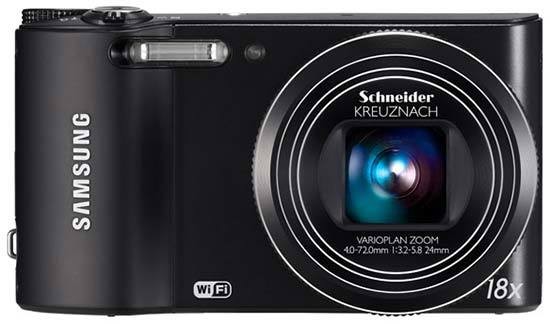 Introduction
The Samsung WB150F is a 14.2 megapixel compact camera with the company's own BSI CMOS sensor, a 18x, 24-432mm optically-stabilized lens, 720p HD video recording and a 3 inch LCD screen. The WB150F travel-zoom also offers wi-fi capability that allows users to email photos from any hotspot or share them on social networks such as Facebook and Picasa, simultaneous stills and video capture and an HDMI port, advanced A/S/M shooting modes for the more experienced user, auto modes for the beginner, Live Panorama mode and a range of creative filters and effects. The Samsung WB150F is available now in black or white for £199 / $229.
Ease of Use
Apart from compact system cameras and to a lesser extent DSLRs, one area of the digital camera market still on the upward curve, according to industry data, is that of the travel zoom. And just in the nick of time for the summer holidays, Samsung has let rip with the latest entrant in its 'wide and big' WB series.
Looking slick at first glance without outwardly appearing revolutionary, the 18x optical zoom WB150F offers a focal range running from an extra wide 24mm to 432mm in 35mm terms, and is very much the point and shoot camera all the way.
Having said that, this tough-feel, metal construction and in many ways 'traditionalist' camera does find room to cram in program, aperture priority, shutter priority and manual shooting options on its dime-sized top plate dial. Such hands-on settings, along with the lens reach, go some way to distancing the WB150F point-and-shoot from the camera you already own within your mobile phone. There's the option here to adjust your frame and shoehorn in a wide variety of subjects without the need to actually take a step from your vantage point.
What is omitted from this budget-priced £199 travel zoom however is a GPS antenna and touch screen operation, both now becoming standard features on pricier rivals. In fact, touch panel operation has allowed other recent Samsung models to deliver app-like, screen icon-led handling that we don't get here and which more blatantly bridges the gap between smartphone and, um, 'smart' camera. The latter is an epithet Samsung is trotting out to signal the 'auto everything' technology on offer here.
Apart from the obvious selling point of an expansive zoom range from a camera that will sit in your pocket or purse, the flashiest feature on the WB150F, and perhaps less expected at this price, is Wi-Fi connectivity. Here this addition theoretically saves users the need to pack the USB lead when traveling abroad - though in practice, as the same lead doubles up as a means of charging the battery in-camera, you might want to include it in that suitcase after all.
| | |
| --- | --- |
| | |
| Front | Side |
The WB150F offers an effective resolution of 14.2 megapixels from a standard-issue 1/2.3-inch CCD sensor with a total of 16.4MP, packed into a body measuring 106.5x59.9x23.4mm. That latter depth measurement indicates the Samsung is not a great deal wider than your average 5x zoom snapshot, for all its additional zoom firepower. In terms of helping achieve blur-free results toward the telephoto end of the zoom, a subtly curved edge to one side of the chassis, and a roughened lens surround to the other, provide a means of getting a decent hands-on purchase, making sure the camera is theoretically held steady enough in the process.
With a matt black finish the WB150F appears functional rather than flashy. The camera's front plate is dominated by a lens with automatic sliding cover by way of protection, alongside a small round porthole housing the AF illuminator/self timer lamp. Adjacent to this again is a lozenge-shaped window for the integral flash, which is partly set into the top edge of the handgrip. Such positioning throws up an obvious issue - that of a finger accidentally getting in the way of said flash when the camera is gripped in the right hand. But this is the case to a greater or lesser extent with many such marvels of miniaturization, which have to find somewhere to squeeze all the essentials.
On the WB150F's top plate the control positioning makes more sense. The stiff-feel shooting mode dial is situated over to the far right-hand edge, which means it's easily rotated left or right with a flick of the thumb. Aside from the creative settings touched on at the outset, the eight-option shooting mode dial adds the usual smattering of auto options. Here these include Smart Auto alongside Program, plus eight scene modes, a smattering of funky effects filters for both video and stills, comprehensive Wi-Fi mode options - including the ability to link up with a mobile phone and use it as a remote viewfinder if downloading the necessary application, or automatically back up files to your PC - plus a dedicated video mode.
Additionally located on the top plate are a raised shutter release surrounded by a zoom lever, the front lip of which juts outwards for easier operation, yet keeps within the boundaries of the curve of the handgrip. The lens takes around four seconds to glide between the extremities of its settings. There is a very low mechanical buzz as it does this, but it's quiet enough not to be a problem. Separate slits for mono microphone and speaker also feature on the top plate, as does, logically, a main power button, which is recessed into the brushed metalwork so just the top sits level.
Give this a press with a fingertip and the camera readies itself for the first shot in around two seconds, folded lens optics extending from flush with the body to arrive at maximum wide angle setting and stand proud by a couple of centimeters. Squeeze the shutter release button gently, and, after a brief adjustment, focus and exposure are determined, central AF square highlighted in customary green. If the camera can't find focus, which happens if you are zoomed in towards the telephoto end and are simply standing too close, this same lack-of-focus point is highlighted in red.
Take a shot, with the camera pre-set to a maximum 14.2 megapixel resolution and Super Fine (best) compression level, and a JPEG is committed to memory in just under two seconds, screen momentarily frozen to display the captured image. In all the WB150F is satisfactorily swift for this class of point and shoot.
| | |
| --- | --- |
| | |
| Rear | Top |
The camera's rear layout continues the straightforward ethos, and again all the essentials are here. Top right of the backplate and prevented from accidental activation by a protective metal surround is a camcorder style record button for recording video. The Samsung offers the not quite full HD 1280x720 pixels and mono sound, boasted by budget models, but at least here footage at 30fps is recorded to full size SD card, instead of the unloved (by us) microSD that other Samsung point and shoots patronise. There's also a small internal capacity to fall back on out of the box. Press record for video and the screen display narrows to 16:9 ratio, black bands cropping the LCD top and bottom. Happily though the zoom can be used and adjusted during the process of filming. We did find auto focus a bit slower to catch up than we'd have liked if adjusting framing whilst recording however.
The contents of the WB150F's box are here rather sparse as - like most budget models these days - the WB150F's rechargeable lithium ion battery is replenished within the camera, courtesy of the dual-use USB lead provided. This slots compliantly into a suitably enabled mains plug, also provided. There's no separate mains charger, so the camera is tied up each time you want to recharge.
Returning to the WB150F's back plate, and the largest feature here is, unsurprisingly, the LCD screen, presented in standard 4:3 aspect ratio. It's 3-inches in size, though somehow looks smaller - perhaps for not being widescreen. Its 460k-dot resolution is however an improvement on the standard 230k dots granted to models lower down any manufacturer's range.
On the right of the screen is where the Samsung's lion's share of buttons feature. We get a familiar multi-directional control pad - the largest control of all - with which to tab up, or tab down a right-of-screen toolbar, or progress left and right when reviewing previously captured images. At the centre of the pad is a familiar 'OK' button for effecting settings changes, while at points north, east, south and west are a means of controlling the display (including calling up a live histogram), selecting self-timer, switching from standard auto focus to macro focus or even, somewhat surprisingly on a £199 point-and-shoot, manual focus.
Here the focusing is undertaken by tabbing along a sliding scale, with macro icon at one end and infinity at the other. Because Samsung provides us with an enlarged view - basically an image crop - on screen in manual mode, detail isn't really sufficient to make focusing a precise art, so its inclusion here feels less than ideal. Finally, at the west most point of the control pad we find the flash settings. On the WB150F these comprise flash off, auto flash, red eye reduction, fill-in flash, slow sync and red eye fix options - so the full gamut of what we'd expect to find on a decent snapshot camera.
While bottom left and right of the control pad are a playback button and a delete button respectively, mirroring the layout of these controls and ranged directly above the control pad are the last two backplate buttons - a 'menu' and a 'back/return' button, indicated by a 'u' turn type arrow icon.
| | |
| --- | --- |
| | |
| Memory Card Slot | Battery Compartment |
A press of menu and the array of shooting options presented in list form extends from left of screen across two thirds of it, a dark but still transparent background allowing the user to still 'peek' at the image relayed behind it. If the camera is set to Smart Auto rather than program, these options are far fewer in number. But at its most expansive, the list includes the ability to adjust exposure compensation by +/- 2EV, tweak white balance and ISO speed between ISO80 and ISO3200, alter the focus area between Centre AF, Multi AF, Selection AF and Tracking AF, plus activate a host of face detection technologies, including smile shot, 'smart' face recognition and blink detection options. The same menu list also allows the option to adjust photo size in terms of pixel count and image quality in terms of JPEG compression level, with Super Fine denoting the optimum level, along with metering - the choices here being between the familiar multi zone, spot, or centre weighted. Images can also be adjusted in camera for the likes of sharpness, contrast and saturation. We'd offer that shots straight out of the WB150F are fine is terms of being visually punchy, but a little sharper may not go amiss on occasion. The same menu list further offers the chance to activate the camera's built-in optical image stabilization to boost performance when using the camera handheld towards the extremity of the zoom. Movie size can also be downgraded from 1280x720 pixels to an email friendly 240x320 if really desired.
We don't get a set up menu or folder on this list - instead this is adjusted with a twist of the top plate scroll wheel to the cog icon; and it's here where sound, display, connectivity and 'general' (time, date, formatting of images) options are tweaked. Photo filters and more creative effects are also applied at the point of capture via the top dial, when it's set to the camera icon that displays an inset star motif. It's here we find artistic effects by the dozen for both stills and movies, including the familiar soft focus, fisheye, old film, half tone dot, 'classic' monochrome, retro, miniature, vignetting, ink painting, oil painting, cartoon, cross filter and sketch options - so a lot to play with! Filters can also be applied to pre-captured shots, which can also be retouched for the likes of red eye and have their brightness, contrast and colour saturation adjusted in camera. An editing suite at the fingertips of those who would rather not mess around later in an image editor, but would like some limited post-capture creative control nonetheless.
While the left hand flank of the WB150F, when viewed from the back, is devoid of any controls at all, the right hand side hosts a loop for attaching the provided wrist strap, plus above this a door protecting a port for joint audio/video and USB output. There's no HDMI output here.
The base of the Samsung features the familiar centrally located screw thread for attaching a tripod, and, at the base of its subtly curved handgrip, a sliding catch and door protecting the joint shared compartment for the camera's rechargeable battery and optional SD/SDHC/SDXC card (with 18MB internal memory as back up). As mentioned earlier, said battery is replenished in camera, rather than with the aid of standalone charger. Battery life is good for 270 pictures or 110 minutes of video when fully charged.
While the above would suggest the Samsung WB150F is shaping up to be rather more than your average point and shoot camera, its small sensor size and relatively small lens - we're talking in terms of physical proportions for both - would indicate that its performance in terms of image quality may not exceed expectations. But we're prepared to be pleasantly surprised...