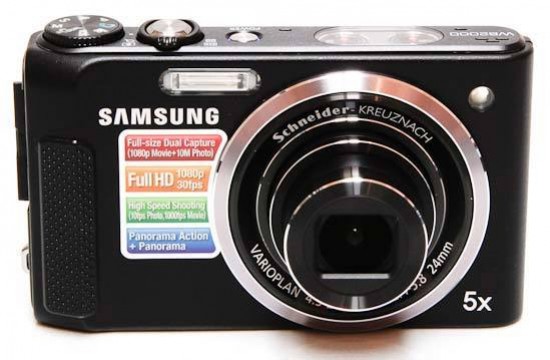 Introduction
The Samsung WB2000 (also known as the Samsung TL350) is a new 10 megapixel compact camera aimed at serious photographers. The pocketable WB2000 features a 1/2.4-inch high-speed Back Side Illuminated CMOS sensor that provides 1,000fps shooting for videos and 10fps for still photos. In addition the Samsung WB2000 offers a 5x, 24-120mm ultra wide-angle lens, 3 inch AMOLED screen, manual control over exposure, ISO 80-3200, Dual Image Stabilization technology, Smart Range (High Dynamic Range), and even a RAW shooting mode. The Samsung TL350 is available in black for $349.99 / £319.99.
Ease of Use
The WB2000 sits just below the bigger, more complex and more expensive EX1 / TL500 model in Samsung's now extensive range of compacts, sharing many of its bigger brother's features and design cues, while increasing the zoom range and overall speed.
First impressions are of a well-constructed, durable camera with a high-quality plastic body. Measuring 99.5x59x21.7mm and weighing 155g, the WB2000 can be easily stored in a trouser pocket. The WB2000 has a 5x lens which provides a focal range of 24-120mm in 35mm terms. The 24mm wide-angle lens makes this one of the more versatile compacts in terms of focal range. If you're used to a "standard" 3x zoom lens which usually starts at around 35mm wide, then you will find that the lens on the WB2000 provides an entirely new angle of view that can only increase your creativity. The telephoto end is also fairly versatile, with the 120mm setting providing enough reach for head and shoulder portraits, although more extreme close-ups are out of the question.
The maximum aperture at wide-angle is a bright f/2.4, better than most other cameras in this category, although it quickly increases to a fairly standard f/5.8 at full telephoto. The f/2.4 lens means that the WB2000 can be used to shoot at higher shutter speeds or in lower-light conditions and still achieve comparable results to cameras with slower lenses. It also helps to blur the background more and concentrate the focus on the main subject of the photograph. Also located on the front of the camera are an AF-assist light/Timer lamp and the built-in flash with a range of 0.2m ~ 4.4m, recycle time of 4 seconds, and the ability to alter the flash power output.
Moving to the top of the camera, the WB2000 inherits the curiously retro dual-dials of several earlier models which display the battery level and memory card capacity. They're a love or hate feature which feel a little out of place on such a photographer-focused camera. Holes for the stereo speaker and microphone are on either side of the dials, and to the right is a Power button and a responsive push/pull zoom lever that surrounds a large, tactile shutter button.
| | |
| --- | --- |
| | |
| Front | Rear |
Once you've zoomed in and got your composition how you want, with a half press of the shutter button the Samsung WB2000 is commendably swift to determine focus and exposure, the AF point highlighted in green and an operational 'beep' confirming you're good to go on and take the shot. With very little noticeable shutter lag, at highest resolution setting an image is committed to memory in just under two seconds, the screen blanking out briefly, which isn't bad at all.
The start-up time from turning the WB2000 on to being ready to take a photo is fairly quick at around 2 seconds. Zooming from the widest focal length to the longest is a little slower at over 3 seconds. Focusing is quick in good light and the camera achieves focus most of the time indoors or in low-light situations, helped by the focus-assist lamp. The camera doesn't have any problems locking onto the subject in low-light situations. It takes about 1 second to store a JPEG image, allowing you to keep shooting as they are being recorded onto the memory card. Storing a single RAW image takes around 5 seconds, but thankfully it doesn't lock up the camera in any way - you can use the menu system or shoot another image while the first file is being written to memory.
The WB2000 has a great Burst mode which enables you to take 10, 5 or 3 frames per second for JPEG and even at the same rate for RAW images too, although only for a maximum of 10 images in either format. Note that the camera does lock up for over 10 seconds when shooting 10 RAW images in succession. The Pre-capture feature saves up to 9 frames prior to the moment that the shutter button is actually pressed, helping you to avoid missing the action.
Completing the top of the WB2000 is a circular control dial for selecting the different exposure modes. The WB2000 offers advanced controls over exposure, with full manual, aperture and shutter priority modes on offer, which will appeal to the more experienced photographer looking for a pocket alternative to their DSLR. The icing on the cake is support for the RAW format, which makes the WB2000 a real contender in this respect. You can choose to shoot in RAW only, or RAW plus one of the three JPEG quality modes, giving you the best of both worlds. Shutter speeds range from 16-1/2000 seconds and apertures from f/2.4 - f/7.6.
| | |
| --- | --- |
| | |
| Front | Top |
In addition to Program, Aperture Priority, Shutter Priority, and Manual, the WB2000 also offers a Dual Image Stabilisation mode which utilises both mechanical and digital techniques (increasing the ISO speed up to ISO 800) to ensure that your images remain sharp. Next are an extensive range of scene modes. One of those is Samsung's 'beauty shot' mode, useful for both acne-d adolescents and those of us who have over indulged by automatically retouching out spots and blemishes. Spotlighting the WB2000's intended audience as the family, Samsung clearly wants its users to have to spend as little time post-processing images as possible - if any. Samsung's Smart Face Recognition technology automatically adjusts the camera's focus and exposure for up to 20 faces, and it can even recognise the most photographed faces in your photos and focus on them. Smart Face Recognition also lets you quickly search for specific people in your photo album without having to browse through every single photo.
The Samsung WB2000's has a fantastic video mode which offers 1920x1080HQ, 1920x1080, 1280x720, 640x480 or 320x240 pixel footage at 30fps or 15fps in the economical H.264 format. There's also the welcome inclusion of an HDMI port for easy connection to a HDTV set and the ability to use the 5x optical zoom during recording. The WB2000 is also one of the few cameras that let you capture a still image during movie recording - simply press the shutter button to take a full resolution still image - pretty advanced functionality for a mid-range compact. Finally, you can shoot super-slow motion video at 1,000, 480, 240 or 30 frames per second, a novel but nice-to-have feature that will at least impress your friends.
The High Speed Movie mode allows you to record a movie at up to an incredible 1000fps, effectively slowing down the subject movement. Three different frame rates are available - 210fps, 420fps, 1000fps - which are recorded at 432x320, 224x160 and 192x64 pixels respectively. This extreme slow-motion effect is initially very appealing and sure to impress your friends, but there are some drawbacks to be aware of. You can't use the optical zoom, sound isn't recorded at all, horizontal bands can appear as the lighting fluctuates, and the actual sizes of the recorded movies are pretty small, especially the 192x64 pixel, 1000fps mode.
The final mode on the dial is the clever Smart Auto. As it sounds, this is the manufacturer's equivalent of the intelligent auto modes on competitors from Panasonic (its Lumix range), Sony (the latest T-series Cyber-shots) and Canon (Digital IXUS family). The camera automatically chooses the appropriate settings based on the detected type of scene, detecting 17 different types of scene, so beginners can use this mode and rarely have to choose the right mode themselves. Incidentally, as you turn the shooting dial, a virtual version with the same settings rotates in tandem on screen, highlighting and explaining each one as you select it.
| | |
| --- | --- |
| | |
| Front | Function Menu |
The rear of the Samsung WB2000 is dominated by the three-inch fixed AMOLED screen, with eight controls located at its right. The AMOLED screen is brighter and sharper than traditional LCD screens, with 920k dot, VGA resolution and 10000:1 contrast ratio. It's also easier to see outdoors, although it doesn't completely solve the issue of viewing in bright sunlight or from extreme angles. It is significantly better than the majority of compact camera screens, and worth paying a premium for. One small gripe concerns the various display modes. An onscreen horizontal bar runs along the bottom of the screen in two of the three modes, with the third turning off all information. Unfortunately the bar isn't opaque enough to clearly see what's underneath, which means that exact composition is a hit and miss affair unless you switch to the no-information mode, and then you can't see which aperture or shutter speed you're currently using.
At the top of the run of controls on the right of the screen is a plastic grip where your right thumb naturally rests, and a dial for selecting the wide range of continuous and self-timer shooting options and bracketing modes. Underneath is a welcome one-touch movie record button, making it a cinch to start and stop your movie masterpieces. To the left of that is the Menu button which provides a range of selectable options, the brevity or otherwise of which is dependant on the particular mode the user is in.
Directly underneath again is a four-way directional Navigation pad with an OK button at its centre. This will be familiar to just about anyone who has ever used a digital compact before. Ranged around the four points are options for toggling the Display modes to show a nine zone compositional grid, all shooting information or just the very basics (i.e simply the number of shots remaining), ISO speed, macro and focus modes, and the various flash settings.
Surrounding the Navigation pad is a slim circular dial which can be spun left and right to set the aperture, shutter speed and and also scrolling through images and menu options. It's a responsive and well-implemented system that we've seen on the EX1 and from other manufacturers, and it almost makes up for the lack of a traditional front or rear control dial as found on DSLR cameras.
| | |
| --- | --- |
| | |
| Memory Card Slot | Battery Compartment |
Below the Navigation pad is a self-explanatory Playback button and the useful Function button, which handily doubles up as a delete button in playback mode. As expected the amount of information and options accessed via a press of 'Fn' varies dependant on which shooting mode is selected. For example in Smart auto mode the user merely has the ability to adjust the image size. Twist the dial around to Program mode however and there's the ability to adjust the image size, set the white balance, swap focus area, choose a photo style and smart filter, turn image stabilisation on or off, and turn the ubiquitous face detection mode on or off. Like its rivals, Samsung also allows user access to blink detection and smile shot in this mode.
While that's it for the rear of the Samsung WB2000, at its right hand side (if viewing from the rear) we find an included mini-HDMI port for hooking the snapshot up to an HDTV. The required HDMI cable is an optional extra though, so bear in mind if you're on a budget. Alongside the HDMI connection is a proprietary connector for Samsung's power and sync cable - the WB2000 is recharged with the battery in-camera, either from an electrical socket or or alternatively straight from a USB port connected to your computer, rather than via an external recharger, which means that annoyingly you can't use the camera with a second battery whilst charging the first. Note that there is no port for USB and AV out.
The bottom of the Samsung WB2000 houses a centrally located plastic tripod mount and a sliding cover for protecting the shared rechargeable battery / SD/SDHC/SDXC memory card compartment, and there's also 22Mb of internal memory. You'll need to invest in a second battery as the lithium-ion one runs out of juice after a disappointing 175 shots, barely enough for a day's shooting. Also in the box is a quick-start guide as a hard copy, the full manual on CD ROM, plus a wrist strap.
Once you have captured a photo, the Samsung WB2000 has a good range of options when it comes to playing, reviewing and managing your images. You can instantly scroll through the images that you have taken, view thumbnails (up to 20 onscreen at the same time and in a special Calendar view), zoom in and out up to 11.4x magnification, resize, rotate, change the photo style, apply a smart filter, and adjust apply redeye fix and face retouch, and adjust the brightness, contrast, saturation and even add noise. You can also view slideshows with various effects, delete, protect, add a voice memo, set the print order and copy to a card. The Display button toggles detailed settings information about each picture on and off, such as the ISO rating and aperture / shutter speed, and there is a small histogram available during both shooting and playback.