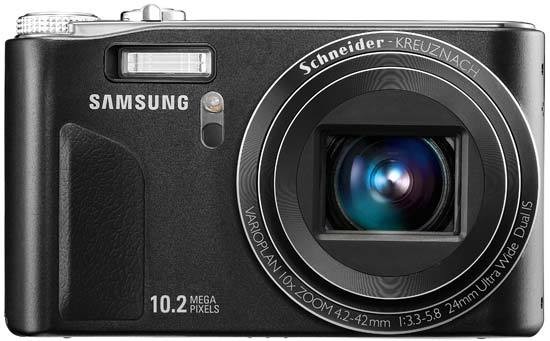 Introduction
The Samsung WB500 (also known as the Samsung HZ10W) is a pocket digital camera featuring a versatile 10x, 24mm wide-angle zoom lens. Taking on the popular Panasonic TZ series of cameras, the 10 megapixel WB500 has a 2.7 inch LCD screen, 24-240mm lens with Dual Image Stabilization, and can record HD video at a resolution of 720p. A wealth of auto modes - Face Detection, Smile Shot, Blink Detection, Self Portrait and Beauty Shot - promise to make it easier for beginners to easily take great photos, while there's also a Manual shooting mode for the more experienced user. The Samsung WB500 / HZ10W is available in black or silver for $299.99 / £229.
Ease of Use
Constructed of robust plastic with chrome detailing and large-ish buttons, Samsung's WB500 was released just a couple of months before its WB550 / HZ15W successor. The two cameras are virtually identical to each other, with the WB500 offering a 10 megapixel sensor and 2.7 inch LCD screen, and the WB550 featuring a 12 megapixel sensor and 3 inch screen, plus adding a HDMI output and Smart Auto mode. With a more affordable asking price of $299.99 / £229 (versus $329.99 / £299 for the WB550), is the 10 megapixel WB500 still worth considering?
First impressions are of a bold and chunky design that with a width of 36.5mm looks rather more conventional than previous additions to the same manufacturer's NV range. It actually looks more like a 35mm film compact of old. Apparently the WB prefix stands for 'Wide' and 'Big' - not necessarily the attributes you'd want attributed to a 'compact', but here it refers to the lens reach, equivalent to 24-240mm in 35mm terms.
Although it hasn't got an 'HD' suffix in the model name, as indicated in our introduction the Samsung WB500 nevertheless offers High Definition video clips (though at 1280x720 pixels rather than the Full HD 1920x1080), and, in what Samsung is claiming as a first for digital compacts in its class, these can be paused mid-record and recording then re-started. The user can therefore perform rudimentary 'editing' as they shoot. Fortunately the full extent of the optical zoom is accessible when shooting movies. Since that is one of the camera's key selling points, it would have been a travesty if it hadn't.
As expected, the large lens dominates proceedings at the front of the WB500, its surround jutting out almost a centimetre even when the camera is inactive, suggesting Samsung could have found room for a lens thread for supplementary attachments - a la Canon. The lens takes up the full height of the face plate, meaning the built-in flash bulb is shifted over to the left out of harm's way.  Immediately beneath this are two small porthole-style windows for the AF assist/self timer lamp, and below it a sensor for an optional remote.
Unusually for a pocket compact, running top to bottom at the left hand side of the front plate (if viewed lens on) is a generous plastic strip with leather effect detailing. This provides enough purchase for the fingers when gripping the camera, as does the fact that the same side of the WB500 curves outward slightly in effect forming a rudimentary grip. This makes the model more comfortable to hold, and steadier too when shooting handheld at the extremities of the zoom. Sometimes bigger can have its advantages.
Looking down on the camera's top plate we find a row of chunky controls set into a wide mirrored chrome strip that lends the Samsung WB500 a modicum of style. Starting at the right, and 'sunk' slightly into the bodywork is a familiar bottle top style dial for the shooting modes. This feels firm to the touch and well implemented, in that the user can't accidentally slip from one setting to the other.
| | |
| --- | --- |
| | |
| Front | Rear |
Ranged around the dial are the expected Auto, Program and Manual settings. Incidentally, as you turn the shooting dial, a virtual version which the same eight settings rotates in tandem on screen, highlighting and explaining each one as you select it. Also found on the dial are a 'Dual IS' mode - which offers both optical image stabilization and the ISO boosting digital variety. In terms of light sensitivity the Samsung WB500 offers a very respectable range, stretching from ISO 80 up to ISO 3200. We'll of course be examining how well it does at its higher settings in the 'Image Quality' section of our review.
Continuing around the dial we discover Samsung's 'beauty shot' mode, useful for both acne-d adolescents and those of us who have over indulged by automatically retouching out spots and blemishes. Spotlighting the WB500's intended audience as the family, Samsung clearly wants its users to have to spend as little time post-processing images as possible - if any.
Also on offer is a dedicated scene mode. But rather than this mode automatically displaying its settings as icons, the user has to press the 'menu' button at the camera's rear and scroll down the text options to find them. Along with 'Portait', 'Children' and 'Landscape' we get 'text', 'sunset', 'dawn' and 'backlight, with a total of 14 choices in all.
The adjacent setting on the dial is for video mode. Here users get the opportunity to either shoot at top resolution, a less memory hungry 640x480 pixels, or 320x240 pixels; choice dependant on intended use (whether playing back on an HDTV or merely posting on the Internet). Maximum frame rate at 1280x720 resolution is 30fps, with a reduced 15fps rate also selectable with a press of the button marked 'Fn' (or 'Function') on the camera back. Should users however plump for the very lowest picture quality, a higher frame rate of 60fps is selectable. Horses for courses obviously.
Staying on the Samsung WB500's top plate, the next control along is the large-ish and springy shutter release button, surrounded by a rocker switch for operating the zoom. Controlled by a protruding lip that falls naturally under the forefinger, the zoom takes around three seconds to travel from maximum wide angle to full telephoto - which is pretty much par for the course for its focal range. We did find on occasion that said zoom took a moment or two to 'wake up' - and that its transitions are sound-tracked by a low mechanical blur; but said sound is low enough to avoid being off-putting.
Confusingly, there's also a second toggle switch top right of the camera back - where we might otherwise find a zoom lever on competing models - that is narrow and uncomfortable, digging into the thumb. Disabled in auto mode, turn the dial round to program and it transpires this is a 'command lever' providing a means of adjusting exposure compensation from +/- 2EV.
| | |
| --- | --- |
| | |
| Front | Top |
That aside, once you've zoomed in and got your composition how you want, with a half press of the shutter button the Samsung WB500 is commendably swift to determine focus and exposure, the AF point highlighted in green and an operational 'beep' confirming you're good to go on and take the shot. With little noticeable shutter lag, at highest resolution setting an image is committed to memory in just under two seconds, the screen blanking out briefly, which isn't bad at all.
Next along the Samsung WB500's top plate, next to the shutter release/zoom combo, is an indented power button, surrounded by a circular ring that glows an attractive 'Samsung blue' when in use. Not perhaps what you'd want if trying to use the camera surreptitiously at night, but then glow from the 2.7-inch, 230k dot resolution rear LCD screen - in the absence of an optical viewfinder - kind of gives the game away anyway. Finally, at the far end of the top plate to the mode dial is located the WB500's built-in speaker, acting as an accompaniment to video clips.
There's no HDMI port on the WB500, which is offered by the newer WB550 model. Instead more run-of-the-mill connections are found over on the right hand flank of the camera - specifically a joint port for USB and AV out, with said cables provided. Also in the box is a quick-start guide as a hard copy, the full manual on CD ROM, plus a wrist strap.
Moving to the back of the Samsung WB500, this is dominated by the 2.7-inch screen with 230K dots, with a vertical strip of controls running from top to bottom at its right. LCD visibility is adequate indoors and out, though you inevitably find yourself cupping a hand or angling the camera for a better view with the latter. We preferred the slightly larger (3 inch), higher-resolution (460K dots) screen of the WB550. At the top of the run of controls we have the previously highlighted slider switch/command lever, below which is the also touched upon Function button. This handily doubles up as a delete button in playback mode.
As expected the amount of information and options accessed via a press of 'Fn' varies dependant on which shooting mode is selected. For example in regular auto mode the user merely has the ability to adjust image size and resolution. Twist the dial around to the program mode however and there's the ability to swap focus area, metering modes, change from single shot to continuous capture, choose from the range of ISO settings, adjust white balance or turn the ubiquitous face detection mode on or off. Like its rivals, Samsung also allows user access to blink detection and smile shot in this mode.
Directly underneath the function button is a four-way directional control pad. With a menu/OK button at its centre, this will be familiar to just about anyone who has ever used a digital compact before. A press of menu will again provide a range of selectable options, the brevity or otherwise of which is dependant on the particular mode the user is in.
| | |
| --- | --- |
| | |
| Memory Card Slot | Battery Compartment |
Let's assume, for example, we're shooting in program mode. With menu selected an icon illustrated top bar provides drop down access to fine tuning the recording options. These include the ability to switch that fiddly command lever from adjusting exposure to ISO or white balance.  One can also tweak operational sounds, LCD display, plus access to a setting menu, enabling memory to formatted or previously selected functions reset.
Surrounding the menu button is that control pad, featuring a means of selecting flash modes, self timer options, macro mode or changing the on-screen display to show a nine zone compositional grid, all shooting information or just the very basics (i.e simply the number of shots remaining).
A thumb press of the pad on the setting for macro mode when shooting video meanwhile allows the user to pause and play/resume the recording - the feature which Samsung is highlighting as one of the WB500's unique ones. It works, though whether most of us would actually need/use it is a moot point.
Bottom left of this pad is an equally obvious play button that doubles up as a means of earmarking selected images for direct printing - while to its right is the camera's final control, a small button marked 'E'. Unlike you might expect this doesn't grant access to a greatly simplified 'easy' shooting mode, but rather photo effects for normal or vivid hues and tones among others.
Up-ending the WB500 and examining its base, we discover a metal screw thread for attaching a tripod and alongside that a sliding cover for protecting the compartment that jointly houses removable SD or SDHC media plus the provided battery.
Battery life is good for approximately 280 shots from a full charge - adequate if not incredible. Samsung provides a compact plug/charger set up in the box that charges the battery within the camera itself.
Use of the Samsung WB500 is, then, fairly intuitive. There's certainly nothing here to fox or confuse less experienced users. While it has a few less features than the WB550, it is cheaper (especially in the UK).