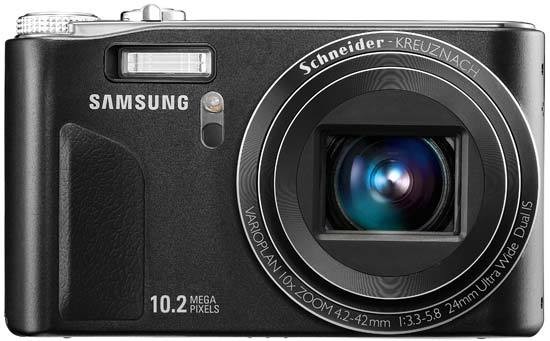 Conclusion
The Samsung WB500 / HZ10W is somewhat confusingly very similar to the WB550 / HZ15W, which was released just a couple of months later with a number of additional features intended to make it more competitive with Panasonic's TZ7 model. Therefore deciding between the two Samsung cameras will depend entirely on whether you require the larger screen, greater megapixel count, Smart Auto mode, HDMI port and better low-light image quality of the WB550. In the US there's only an official price difference of $30 between the two, so unless you can find the WB500 heavily discounted, the WB550 makes much more sense. In the UK the difference is much greater at £70, so it's well worth hunting around for the WB500 if those extra features don't tempt you.

While the Samsung WB500 may not be the most svelte compact around, compensation comes in the form of its broader-than-average focal range which provides competition for Panasonic's similarly specified TZ series of big zoom, small form factor compacts. For my money I prefer the TZ's styling, if admittedly the Samsung is just as much fun to use for candids and close ups, and easy with it. Basically the broader the focal range, the greater the range of compositional options for the user. With ideal shooting conditions the WB500 impresses with its vivid, colour-rich imagery - with the caveat that this can veer towards looking slightly unrealistic on occasion. Keep an eye on the LCD and simply re-compose or stop down if everything looks a tad too bright and breezy.

As with the WB550, the Samsung WB500 compares favourably to the Panasonic TZ7 / TZ6 cameras in value, if not quite in terms of its image quality or features. The WB500 is worth considering if you're looking for a cheaper alternative to either its big brother or the market-leading Panasonics.
Ratings (out of 5)
Design
3.5
Features
3.5
Ease-of-use
4
Image quality
4
Value for money
4