Samsung WB700 Review
August 16, 2011
|
Matt Grayson
|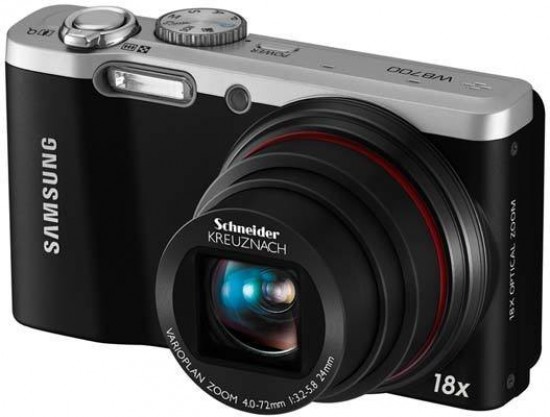 Image Quality
All of the sample images in this Review were taken using the 14 megapixel Superfine JPEG setting, which gives an average image size of around 6Mb.
Picture quality from the Samsung WB700 is very nice. We consistently got well exposed, sharp pictures with punchy colours and a nice amount of contrast. As with all digital compact cameras, the narrow dynamic range became apparent at times but it's nothing that can't be tolerated. Noise tests in controlled light have come out splendidly but we found that in some cases, noise did appear at low settings in natural light.
Noise
Low ISO shots are great on the WB700. Noise is completely absent and edge definition is great. This carries on through the lower sensitivity settings with a slight amount of edge definition being lost at ISO200 and some salt and pepper noise appearing at ISO400.
In fact, colour noise doesn't appear at all until ISO800 where small spots start to appear in mid range tones. Edges start to blur a little at this setting but the camera is still controlling noise admirably. ISO1600 starts to get a cast in the darker areas as though the noise reduction has simply been overwhelmed and bright blue spots appear in dark areas.
At ISO3200, the Samsung WB700 tries some damage control by smoothing out the picture. This causes a fuzziness to the pictures at this setting and the blue colour fudges over a wider area.

| | |
| --- | --- |
| ISO 80 (100% Crop) | ISO 100 (100% Crop) |
| | |
|   |   |
| ISO 200 (100% Crop) | ISO 400 (100% Crop) |
| | |
|   |   |
| ISO 800 (100% Crop) | ISO 1600 (100% Crop) |
| | |
|   |   |
| ISO 3200 (100% Crop) |   |
| |   |
Sharpening
Samsung are producing cameras that take some really good pictures with lenses that are dead sharp. We're perfectly happy with how sharp the pictures came out although they did look better with a boost in Adobe Photoshop.
| | |
| --- | --- |
| Original (100% Crop) | Sharpened (100% Crop) |
| | |
File Quality
The Samsung WB700 has 2 different image quality settings available, with Superfine being the highest quality option. Here are some 100% crops which show the quality of the various options, with the file size shown in brackets.
| | |
| --- | --- |
| 14M Superfine (100% Crop) | 14M Fine (100% Crop) |
| | |
Chromatic Aberrations
We struggled to find chromatic aberration on the Samsung WB700 pictures but we discovered that it's present on the highest contrast of white and black. It's only mild with a thin purple line giving away the lens' inability to focus all colours at the same point.
Example 1 (100% Crop)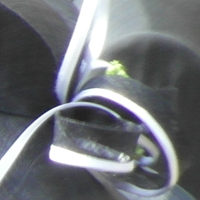 Macro
With a 3cm close focusing, the WB700 can get in close enough for any kind of macro work you would want to do on a digital compact camera. Because of the position of the lens, using a flash at very close proximity gives a black bottom left corner where it has obstructed the light. We also found that it will over expose and bleach out the subject.
| | |
| --- | --- |
| Macro Shot | 100% Crop |
| | |
Flash
Even though we had the trouble with the flash in macro mode, we managed to find a way around it. When the flash menu is open, moving the zoom switch to the right brings up a flash compensation to +/- 2 stops. This is great and not usually seen on a compact, but it still doesn't drop the power enough for macro work. In the end we placed a piece of paper over to scatter the light and got some nice results.
At wide-angle, the flash does give some vignetting with more prominence of light at the right side of the frame. This coincides with the position of the built-in flash unit. At telephoto, the light is even.
| | |
| --- | --- |
| Flash Off - Wide Angle (24mm) | Flash On - Wide Angle (24mm) |
| | |
|   |   |
| Flash Off - Telephoto (432mm) | Flash On - Telephoto (432mm) |
| | |
The Samsung WB700 doesn't have a red-eye reduction feature, instead it has a red-eye fix. This is a piece of software in the camera that will detect and remove red-eye from within a photograph. However, in our tests, we never got any red-eye so couldn't test the effectiveness. On the plus side, you won't need it but it's there in the unlikely event.
| | |
| --- | --- |
| Red Eye Fix | Red Eye Fix (100% Crop) |
| | |
Night
During the night scene test, we found that the Samsung WB700 struggled to find focus and when it finally did give us a green box, the resulting photographs were out of focus anyway. Luckily, we tried it in manual and used manual focus as well as manual white-balance using the kelvin adjust scale.

Results are sharp, relatively noise free at ISO80 over a 16 second time period. The biggest issue we got was with any lights that were on. The flare from the extended shutter speed gives off what looks like a moiré pattern. In our tests we found it all over the frame where the lens flare was.
| | |
| --- | --- |
| Night Shot | Night Shot (100% Crop) |
| | |