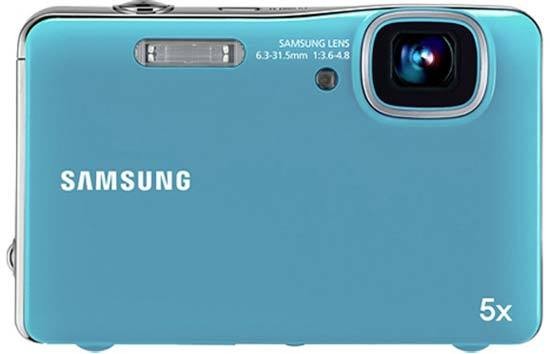 Introduction
The Samsung WP10 (also known as the Samsung AQ100) is a 12 megapixel waterproof digital camera. Samsung's first waterproof model, the WP10 can be used in up to 3 meters / 10 feet of water and has a dedicated Aqua mode for underwater photography. In addition the WP10 offer a 5x optical inner zoom lens with Digital Image Stabilization, a 2.7 inch TFT-LCD screen and can record 720p HD video complete with a HDMI port for easy connection to a HDTV. The Samsung WP10 / AQ100 is available in a range of different colours for an official RRP of £179.99 / $199.99.
Ease of Use
First impressions of the WP10 are pleasing. The eye-searing aqua blue colour of our review model aside, this is a well-constructed camera with a high-quality plastic body that looks and feels more expensive than its budget price-tag would suggest. Officially measuring 93.8 x 61 x 18.5mm and weighing just 120g, the WP10 is a very conventional and compact digicam that won't confuse the beginner audience that it's likely to attract.
The front of the WP10 is quite sparsely populated thanks largely to the internal 5x lens, which sits neatly in the top-right corner and provides a focal range of 35-175mm in 35mm terms. The 35mm wide-angle lens makes this one of the more limited compacts around in terms of focal range, especially compared to some of its main rivals which offer a wider field of view. On the plus side the telephoto end is more versatile, with the 175mm setting providing an angle of view that allows for candid close-ups, especially as the non-extending lens gives the impression to the casual observer that you can't zoom in that far. The WP10 only offers a Digitial Image Stabilisation mode rather than a more effective mechanical system, using in-camera digital techniques (increasing the ISO speed up to ISO 800) to ensure that your images remain sharp.
Also located on the front of the camera are an AF-assist light/Timer lamp and the built-in flash unit, which offers a range of 0.2m - 3.0m and recharges in around 4 seconds. The top of the WP10 is similarly uncluttered, with a small recessed button for turning the camera on/off - a little too small for reliable use underwater - and a raised and responsive shutter release button. There's also a small opening for the mono speaker.
| | |
| --- | --- |
| | |
| Front | Rear |
The start-up time from turning the WP10 on to being ready to take a photo is fairly quick at around 2 seconds. Zooming from the widest focal length to the longest is a lot slower though at over 4 seconds - I'm not sure why zooming just 5x takes so long, especially given that the WP10 uses an internal lens mechanism. Focusing is fairly quick in good light and the camera achieves focus most of the time indoors or in low-light situations, helped by the focus-assist lamp. It takes about 3 seconds to store a JPEG image, during which you can't take another shot until the first is recorded onto the memory card. The WP10 has a Burst mode which enables you to take 1 frame per second for an unlimited number of JPEG images up to the capacity of the memory card. There is a faster 5fps mode, but the image resolution is drastically reduced to just 1 megapixel.
In addition to the standard Program mode, there's an extensive range of scene modes on offer. One of those is Samsung's 'beauty shot' mode, useful for both acne-d adolescents and those of us who have over indulged by automatically retouching out spots and blemishes. Spotlighting the WP10's intended audience as the family, Samsung clearly wants its users to have to spend as little time post-processing images as possible - if any.
Samsung's Smart Face Recognition technology automatically adjusts the camera's focus and exposure for up to 20 faces, and it can even recognise the most photographed faces in your photos and focus on them. Smart Face Recognition also lets you quickly search for specific people in your photo album without having to browse through every single photo. The video mode offers 1280x720, 640x480 or 320x240 pixel footage at 30fps or 15fps, and also includes an HDMI port for easy connection to a HDTV set and the ability to use the 5x optical zoom during recording.
| | |
| --- | --- |
| | |
| Front | Side |
The final shooting mode is the clever Smart Auto. As it sounds, this is the manufacturer's equivalent of the intelligent auto modes on competitors from Panasonic (its Lumix range), Sony (the latest T-series Cyber-shots) and Canon (Digital IXUS family). The camera automatically chooses the appropriate settings based on the detected type of scene, detecting 17 different types of scene, so beginners can use this mode and rarely have to choose the right mode themselves. Incidentally, as you turn the shooting dial, a virtual version with the same settings rotates in tandem on screen, highlighting and explaining each one as you select it.
The rear of the Samsung WP10 is dominated by the hum-drum 2.7 inch LCD screen which has a standard resolution of 230k dots, with seven controls located at its right. The LCD screen is very bright, so bright in fact that images look over-exposed, even though they look fine when viewed on a computer monitor. On the flip side it is easier to see underwater and in darker environments than a "standard" screen.
At the top of the run of controls on the right of the screen is the fairly responsive thumb-operated zoom lever. Underneath is the Menu button which provides a range of selectable options, the brevity or otherwise of which is dependant on the particular mode the user is in. Alongside is a button for setting the shooting mode, with Smart Auto, Scene, Program and Movie on offer. Directly underneath is a four-way directional Navigation pad with an OK button at its centre. This will be familiar to just about anyone who has ever used a digital compact before. Ranged around the four points are options for toggling the Display modes to show a nine zone compositional grid, all shooting information or just the very basics (i.e simply the number of shots remaining), self-timer, macro and focus modes, and the various flash settings.
Below the Navigation pad is a self-explanatory Playback button and the useful Function button, which handily doubles up as a delete button in playback mode. As expected the amount of information and options accessed via a press of 'Fn' varies dependant on which shooting mode is selected. For example in Smart Auto mode the user merely has the ability to adjust the image size. Select the Program mode however and there's the ability to adjust the image size, set the white balance, swap focus area, choose a photo style and smart filter, turn image stabilisation on or off, and turn the ubiquitous face detection mode on or off. Like its rivals, Samsung also allows user access to blink detection and smile shot in this mode.
| | |
| --- | --- |
| | |
| Memory Card Slot | Battery Compartment |
On the right hand side (if viewing from the rear) of the WP10 an mini-HDMI port is included for hooking the camera up to an HDTV, protected by a a lockable cover. Increasingly common for DSLRs that also shoot movies, it's still a comparative rarity to find such on a digital compact. The required HDMI cable is an optional extra though, so bear in mind if you're on a budget. This also doubles up as the connector for Samsung's power and sync cable - the WP10 is recharged with the battery in-camera, either from an electrical socket or or alternatively straight from a USB port connected to your computer, rather than via an external recharger, which means that annoyingly you can't use the camera with a second battery whilst charging the first.
Battery life is only good for approximately 150 shots from a full charge, a disappointing lifespan which means you must purchase an additional battery for day-long excursions. Note that there is no port for USB and AV out. The bottom of the Samsung WP10 houses a centrally located plastic tripod mount and a lockable cover for protecting for the shared rechargeable battery / SD/SDHC/SDXC memory card compartment, and there's also 20Mb of internal memory. Also in the box is a quick-start guide as a hard copy, the full manual on CD ROM, plus a wrist strap.
Once you have captured a photo, the Samsung WP10 has a good range of options when it comes to playing, reviewing and managing your images. You can instantly scroll through the images that you have taken, view thumbnails (up to 20 onscreen at the same time and in a special Calendar view), zoom in and out up to 11.4x magnification, resize, rotate, change the photo style, apply a smart filter, and adjust apply redeye fix and face retouch, and adjust the brightness, contrast, saturation and even add noise. You can also view slideshows with various effects, delete, protect, add a voice memo, set the print order and copy to a card. The Display button toggles detailed settings information about each picture on and off, such as the ISO rating and aperture / shutter speed.