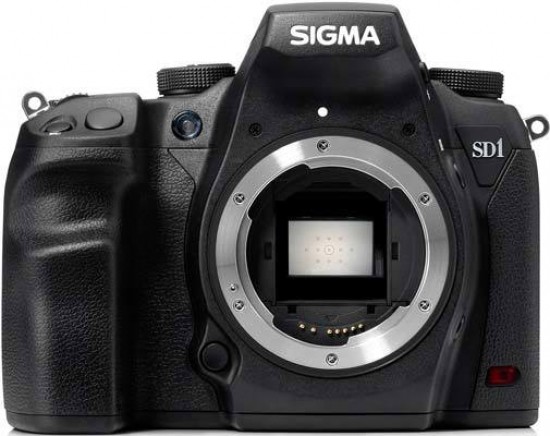 Image Quality
All of the sample images in this review were taken using the 46 megapixel High JPEG setting, which gives an average image size of around 7Mb.
It's fair to say that the screen simply doesn't do the camera justice. When we took the SD1 Merrill out of the box, we excitedly started using it and were dismayed by the picture quality. But then we put the battery on charge and started looking at the specifications. So here's the weird thing: the screen resolution looks distinctly lower than rival cameras which state 921,000 dots. These dots have to be divided by three to get the pixel count because the dots are the RGB dots and three make a pixel. This comes to 307,000 pixels. Sigma say that the screen resolution is 430,000 pixels. We think they mean dots and CIPA regulations now say that dots and pixels are acceptable and can mean the same thing. However, we think that Sigma mean 430,000 dots which equates to 143,333 pixels, less than half the rival manufacturers and certainly explaining our initial horror.
Colour rendition is great on the Sigma SD1 Merrill. Primary colours are punchy but retain realism. We love the bright reds of post or telephone boxes and when the sky is blue, the camera picks it up nicely. More subtle colours are dealt with sympathetically. There's no bleeding with mixed colours.
Metering can be an issue. There are 77 segments in the multi-metering which is good but with a landscape, we found the camera got confused by too much sky and totally silhouetted the ground. It also can't cope with direct light. Shooting into the sun blows the whole photograph. This happens more at dusk or sunrise.

We don't consider the SD1 Merrill to have a very wide dynamic range. We got a lot of burn out on highlights in strong or low sunlight. We lost our decent weather though so couldn't test it more fully, it is winter in the UK after all. This would be a good reason to break out the tripod and try some HDR photography.
All pictures were taken in RAW & JPEG at the finest quality unless stated. A fine JPEG file size can start from under 5Mb and go as high as more than 8Mb. RAW files can be as much as 56Mb and converting them to TIFF boosted that up to 80Mb.
Noise
Noise simply doesn't exist at ISO 100. Pictures are smooth, detailed where they need to be and three dimensional in appearance. We started to see minor amounts of noise at ISO 400 but it's most certainly manageable. It becomes more of a problem at ISO 800 with a degree of salt and pepper noise aggravating edge detail.

ISO 1600 sees a slight cast appear with purple and green colour invading the mid-tones and swarming the low key areas. Noise is definitely visible at ISO 3200 with edges becoming blurry and all but high key areas losing a lot of image quality. Still the Sigma climbs the scale and at ISO 6400 all hope is lost. Texture, image detail, edge definition are all gone.
It's this poor performance in noise that recalls the Nikon D3x. That was a camera priced at a ridiculous amount of money but the ISO performance was poor. We're happy to say that the SD1 Merrill has a better performance but the argument is this: if you're going to pay all this money for a camera, wouldn't you want it to have excellent noise performance at all settings?
Of course, an argument could be that you wouldn't buy a Lambourghini and complain about its off-road capability. This is a studio camera primarily and as such will be used in controlled lighting at low ISO. Fair enough, so why put up to ISO 6400 on it? If I bought a Lambourghini that had an off-road setting but was rubbish then yes, I would complain. Similarly the SD1 Merrill has high ISO and is rubbish at it.
| | |
| --- | --- |
| ISO 100 (100% Crop) | ISO 200 (100% Crop) |
| | |
|   |   |
| ISO 400 (100% Crop) | ISO 800 (100% Crop) |
| | |
|   |   |
| ISO 1600 (100% Crop) | ISO 3200 (100% Crop) |
| | |
|   |   |
| ISO 6400 (100% Crop) |   |
| |   |
Sharpening
Despite being extremely impressed with the sharpness of the 18-50mm lens we used for the test and the amount of detail that the camera can record, we still think it benefited from a small boost in sharpening in Adobe Photoshop.
| | |
| --- | --- |
| Original (100% Crop) | Sharpened (100% Crop) |
| | |
|   |   |
| | |
File Quality
The Sigma SD1 Merrill has 3 different image quality settings available, with Fine being the highest quality option. Here are some 100% crops which show the quality of the various options, with the file size shown in brackets.
| | |
| --- | --- |
| 46M Fine (6.97Mb) (100% Crop) | 46M Normal (2.94Mb) (100% Crop) |
| | |
|   |   |
| 46M Low (1.90Mb) (100% Crop) |   |
| |   |
Flash
We found the SD1 Merrill's flash a little hit and miss. It certainly doesn't have the intelligence seen in built-in flash units these days that have auto illuminance correction for more balanced shots. It means that pictures we would expect to be balanced came out harsh and over exposed. There's slight vignetting in the corners of the frame at 18mm but by 50mm this has disappeared so if you're shooting portraits, it's not going to be an issue.
| | |
| --- | --- |
| Off - Wide Angle (18mm) | On - Wide Angle (18mm) |
| | |
|   |   |
| Off - Telephoto (50mm) | On - Telephoto (50mm) |
| | |
And here are some portrait shots. As you can see, neither the Flash On or the Red-eye Reduction settings caused any red-eye.
| | |
| --- | --- |
| On | On (100% Crop) |
| | |
|   |   |
| Red-eye Reduction | Red-eye Reduction (100% Crop) |
| | |
Night
The Sigma SD1 Merrill's maximum shutter speed is 30 seconds and there's also a Bulb mode for even longer exposures up to 2 minutes, which is excellent news if you're seriously interested in night photography. The shot below was taken using a shutter speed of 3 seconds at ISO 100.
| | |
| --- | --- |
| Night Shot | 100% Crop |
| | |