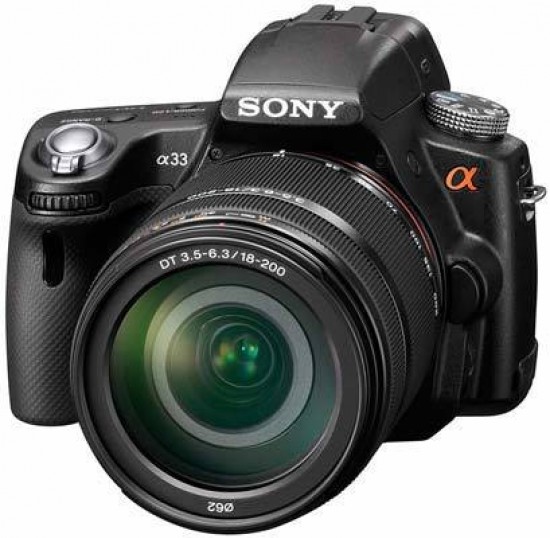 Conclusion
The Sony A33 turns conventional design on its head to provide what is in many ways a better user experience than traditional DSLRs can achieve, at a price point that Canon and Nikon must be worried about. If you can overcome your reservations about electronic viewfinders, the Sony A33 is a great choice for both beginners and more cautious enthusiasts alike.

The A33's translucent mirror and EVF open up a world of possibilities for Sony, with headline grabbing burst shooting speeds, fast auto-focus for both stills and video, and 100% scene coverage, all for the price of a mid-range DSLR. There are some limitations of this ambitious design, most notably the almost complete inability to pan with your subject, limited creative control over movies, and rather noticeable jumps in focus if using continuous auto-focus during video recording, but overall the first-generation A33 feels remarkably mature.

Image quality is very good, with results from the APS-C sensor rivalling the DSLR competition and in most cases surpassing the Compact System Camera alternatives, especially if you're after shallow depth-of field effects. Noise doesn't rear its ugly head until ISO 3200 for JPEGs, although the A33 does apply some pretty aggressive noise reduction to keep the files clean, resulting in loss of fine detail. The myriad of creative effects such as HDR, Dynamic Range Optimisation, creative styles and the innovative sweep panorama mode help to get the most out of the A33.

Despite its cutting-edge internal design, the Sony A33 is a wisely more refined version of many other Alpha cameras in terms of handling, offering a tried and trusted approach with few real drawbacks that both new DSLR users and the more experienced will warm to. The Sony A33 is a great marriage of new and old, competitively priced to take on the best that mid-range DSLRs and Compact System Cameras can offer, and surpassing both in many ways. Highly Recommended.
Ratings (out of 5)
Design
4
Features
4.5
Ease-of-use
4
Image quality
4.5
Value for money
4.5