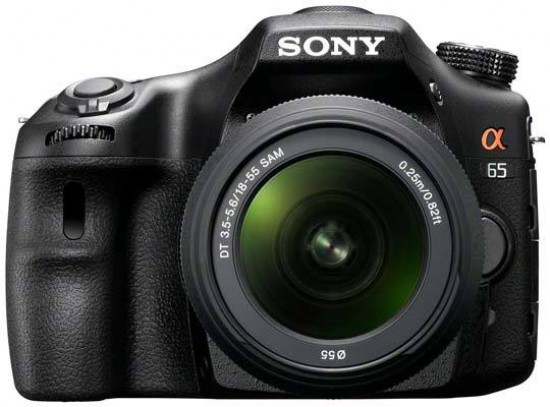 Conclusion
The Sony A65 represents a significant upgrade for Sony's mid-range DSLRs, offering a feature-set and performance that few other rivals can match. The new 24.3 megapixel sensor offers greatly increased resolution without impacting on low-light performance or operational speed, while the OLED viewfinder is simply the best EVF that we've ever had the pleasure of using. The inclusion of full 1080p movies, built-in GPS, 10fps burst shooting, and an excellent LCD screen should also help to make the Sony A65 a real contender to equivalent offerings from the Big Two of Nikon and Canon.

As with its SLT predecessors, the A65's translucent mirror and EVF combination open up a world of possibilities for Sony, with headline grabbing burst shooting speeds, fast auto-focus for both stills and video, barely any shutter lag to speak of, and 100% scene coverage, all for the price of a mid-range DSLR. There are some limitations of this ambitious design, most notably the almost complete inability to pan with your subject and rather noticeable jumps in focus if using continuous auto-focus during video recording, but overall the new A65 feels more mature and well-rounded than the first generation.

Image quality is excellent, with results from the 24.3 APS-C sensor easily rivalling the DSLR competition. Noise doesn't rear its ugly head until ISO 3200 for JPEGs and even the faster settings prove eminently usable, although the A65 does apply some pretty aggressive noise reduction to keep the files clean as shown by the much noisier RAW images. The myriad of creative effects such as HDR, Dynamic Range Optimisation, creative styles, picture effects and the innovative sweep panorama mode help to get the most out of the A65.

Compared to the more expensive A77 model, the smaller plastic-bodied A65 is clearly designed to a more aggressive price-point. It doesn't have a magnesium body, two control dials, 12fps burst mode, 3-way swiveling LCD screen, top LCD panel, 19-point autofocus (instead it has 15), flash sync socket, or a vertical grip. But if you can live without those features and want to pocket the rather substantial cash saving instead, the A65 is still a fantastic SLT camera that is a genuine threat to the more conventional prosumer DSLRs on the market.
Ratings (out of 5)
Design
4
Features
5
Ease-of-use
4.5
Image quality
4.5
Value for money
5