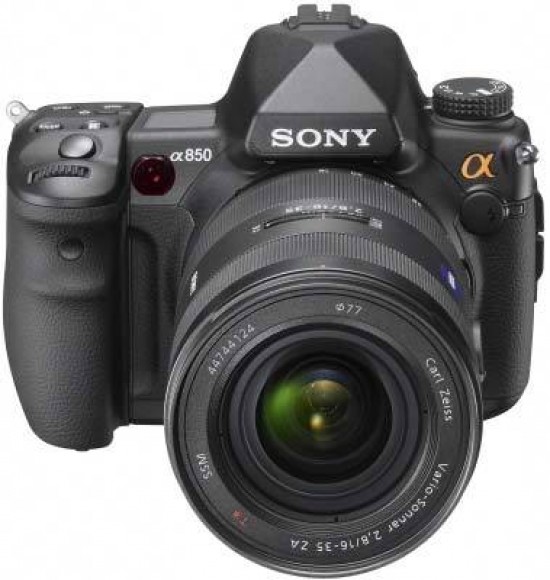 Conclusion
The Sony A850 is virtually identical to the A900 for significantly less money, with the only concessions to price being the slightly smaller viewfinder coverage, slower burst shooting mode and the lack of a remote control in the box. We're a little late in reviewing the A850, but that still doesn't stop it from being an attractively specified and crucially well-priced full-frame DSLR.

The Sony A850 is not simply the highest-resolution DSLR out there – it's much more than that. Its viewfinder is one of the best you'll find south of medium format, the build is incredibly robust, the controls are intuitive, with some of them – such as the dedicated Histogram button, the metering mode knob or the well-implemented rear joystick – being close to pure genius. On top of that, the fact that it is the only full-frame digital SLR with image stabilisation integrated into the body (alongside the A900) makes it a very attractive proposition. Add to this a few useful features such as Manual Exposure Shift (ME Shift), AF Micro Adjustment and Dynamic Range Optimisation, and you have a very well-rounded photographic tool that is not likely to let you down in the field.

In terms of image quality, the A850 is also hard to find fault with. The resolution is jaw-dropping, the dynamic range is fantastic, the tonality is great and the colours are pleasing. You do get quite a bit of noise at ISO 1600 and higher (and sometimes lower as well), but it won't really impact on the final output unless you print those high-ISO shots really, really big, and then scrutinise them from a distance that borders on the ridiculous.

Does this mean that the A850 is the perfect camera then? Of course not – there is no such thing as a perfect camera. The auto-focus system, while capable, leaves a lot to be desired. The AF points need to be arranged more sensibly, and all of them need to be a cross type – or a double cross type, like the central one – in order to be really useful. Some kind of Live View – preferably off the main sensor, so that the great optical viewfinder is not compromised – would be more than welcome for the sake of all the tripod users out there. We do realise, however, that there are many photographers who will be more than happy with the AF system of the A850 as it is, and won't miss Live View at all – which is why we do not hesitate to award this camera our coveted Highly Recommended rating.
Ratings (out of 5)
Design
5
Features
4
Ease-of-use
5
Image quality
4.5
Value for money
5