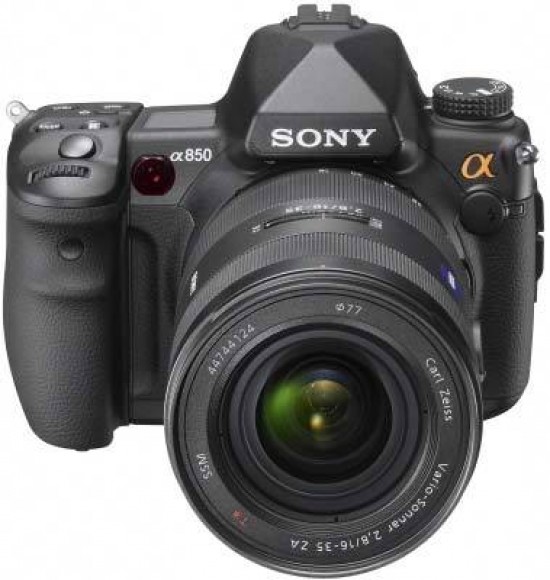 Image Quality
All of the sample images in this Review were taken using the 24.6 megapixel Extra Fine JPEG mode, which gives an average image size of around 8Mb.
During the review the Sony A850 produced photographs of stunning quality. The amount of detail resolved by the Carl Zeiss Vario Sonnar T* 2.8/24-70mm SSM lens and the A850's 24.6-megapixel sensor is truly astounding, even if you need to produce huge prints and look at them very closely to see it all. This resolution is likely to be enough for even the most demanding applications, such as magazine spreads, coffee table books, and calendars etc. Of course, resolution is not the only measure of image quality – and for some, it does not even rank among the most important. Fortunately, the A850 delivers the goods in the other departments as well. Colours are rich, vibrant and very pleasing, the dynamic range is fantastic and the tonality is superb. There is no denial that noise is present in images at ISO 1600 and above (and sometimes below as well), and it is easy to see it in 100% crops – but to see it in the final output, you have to print really, really big. At most print sizes, including some that would be described as large by most people, noise is simply not an issue, particularly if you shoot in the RAW format.
Noise
The base sensitivity of the Sony A850 is ISO 200, but you can go down to ISO 100 if you wish. ISO speeds are accessed by way of a dedicated button, which, as noted in the Ease of Use section, is a bit inconveniently located. You can select "full" ISO speeds with the front control wheel and in-between values – such as ISO 250 for example – with the rear wheel. An Auto ISO option is also provided, with the ability to set a minimum and a maximum threshold. Unfortunately, Auto ISO is not available in M mode. The camera produces admirably clean files between ISO 100 and ISO 400. ISO 800 will depend heavily on the lighting, whereas ISO 1600 clearly exhibits noise at 100% viewing. The situation gets worse at 3200, while the expanded setting of ISO 6400 looks rather nasty up close. We have provided, as usual, a set of 100% crops, but with the photos produced by the A850 being nearly 25 megapixels, it is imperative that we point our how small a portion of the full frame these crops represent. Therefore we urge you to judge them accordingly – remember that no matter how ugly the ISO 6400 crops may look, they still retain more detail than most other cameras can capture in the first place. Also note how the appearance of the noise differs between the JPEG and RAW crops, with JPEGs exhibiting some rather blotchy colour noise and fairly obvious luminance smoothing. The JPEG crops are from Extra Fine JPEGs, whereas the RAW samples are default Photoshop CS3 conversions. Individual parameter adjustments or the use of a different RAW converter may have yielded a slightly different look.
| | | |
| --- | --- | --- |
| JPEG | RAW |   |
| ISO 100 (100% Crop) | ISO 100 (100% Crop) |   |
| | |   |
| ISO 200 (100% Crop) | ISO 200 (100% Crop) |   |
| | |   |
| ISO 400 (100% Crop) | ISO 400 (100% Crop) |   |
| | |   |
| ISO 800 (100% Crop) | ISO 800 (100% Crop) |   |
| | |   |
| ISO 1600 (100% Crop) | ISO 1600 (100% Crop) |   |
| | |   |
| ISO 3200 (100% Crop) | ISO 3200 (100% Crop) |   |
| | |   |
|   |   |   |
| ISO 6400 (100% Crop) | ISO 6400 (100% Crop) |   |
| | |   |
File Quality
The file quality settings available on the Sony A850 are Standard, Fine and Extra Fine for JPEGs, plus there is the option of shooting either compressed or uncompressed RAW. Both RAW and cRAW can be combined with JPEG, but in this case, the only JPEG setting available is Fine. Here are some 100% crops which show the quality of the various options, with the file size shown in brackets.
| | |
| --- | --- |
| 24.6M Extra Fine (100% Crop) | 24.6M Fine (100% Crop) |
| | |
|   |   |
| 24.6M Standard (100% Crop) | 24.6M RAW (100% Crop) |
| | |
Sharpening
The out-of-camera JPEGs are in fact quite sharp at the default settings if you use a sharp lens to begin with, but you may decide that they benefit from some further sharpening in a program like Adobe Photoshop. Here are two 100% crops which have been Saved as Web - Quality 50. The right-hand image has had some sharpening applied.
| | |
| --- | --- |
| Original (100% Crop) | Sharpened (100% Crop) |
| | |
|   |   |
| | |
Night Shot
The Sony A850 has a maximum shutter speed of 30 seconds and a Bulb setting for even longer exposures, which is very good news if you are seriously interested in night photography. The shot below was taken using a shutter speed of 25 seconds, aperture of f/8 at ISO 100. I've included a 100% crop of the image to show what the quality is like.
| | |
| --- | --- |
| Night Shot | Night Shot (100% Crop) |
| | |
Anti Shake
The A850 has a SteadyShot INSIDE function, which is an improved version of Minolta's Anti Shake technology; an image stabiliser that is built into the camera body itself rather than the lens, adjusting for external hand-shake by counter-moving the CCD in a compensating manner. Crucially, it works with any lens that you attach to the camera, removing the need to buy more expensive lenses with anti-shake. This allows you to take hand-held photos at shutter speeds that are critically slow for the focal length used. SteadyShot is activated with a sliding switch on the back of the camera, which requires a reassuringly firm flick of the thumb, meaning that accidental activation or deactivation isn't a problem. The crops below are from two photographs, both taken at 1/4 second at 70mm. As you can see, anti-shake does make a difference at shutter speeds like this. Importantly though, it won't help when even longer exposure times are required – in those cases, switch off SteadyShot and use a sturdy mount such as a tripod.
| | | |
| --- | --- | --- |
| Shutter Speed / Focal Length | Anti-Shake Off (100% Crop) | Anti-Shake On (100% Crop) |
| 1/4th sec / 70mm | | |
Dynamic Range Optimizer
D-Range Optimiser (DRO) is Sony's solution to improve shadow detail in photos taken in contrasty light. The selectable settings are Off, Standard, Advanced Auto and Advanced Level 1-3. Especially the last of these, the ability to set DRO to one of three levels, is very effective, as our examples show.
| | |
| --- | --- |
| Off (100% Crop) | Standard (100% Crop) |
| | |
|   |   |
| Advanced Auto (100% Crop) | Advanced Level 1 (100% Crop) |
| | |
|   |   |
| Advanced Level 2 (100% Crop) | Advanced Level 3 (100% Crop) |
| | |
Creative Styles
Sony's Creative Styles are akin to Canon's Picture Controls in being preset combinations of different sharpness, contrast, saturation and brightness settings. The default Creative Styles include Standard, Vivid, Neutral, Portrait, Landscape and Black-and-White, and are accessed by pressing the 'C' button, unless another function has been assigned to it. They can also be changed on the interactive status screen. There are other "image styles" available, some of which – such as 'Sunset' and 'Autumn' – are almost like scene modes in that they override the white balance setting too. Within each Creative Style and "image style", the user can fine-tune the sharpness, saturation, contrast etc. settings. Shown here are the six default Creative Styles for illustration.
| | |
| --- | --- |
| Standard | Vivid |
| | |
|   |   |
| Neutral | Portrait |
| | |
|   |   |
| Landscape | Black-and-White |
| | |