Sony Cyber-shot DSC-H55 Review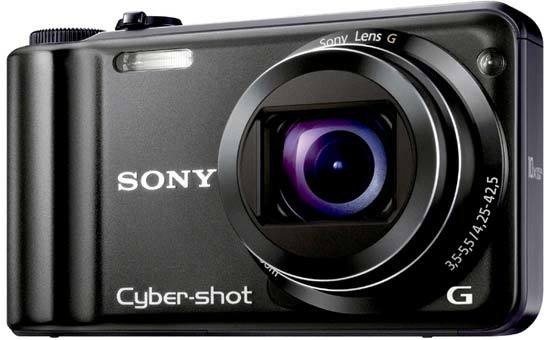 Introduction
The Sony Cyber-shot DSC-H55 is a new travel-zoom camera, boasting a 10x optical lens with a focal range of 25-250mm and Optical Steady Shot image stabilisation. Other highlights of the Sony H55 a 14.1 megapixel sensor, 3 inch LCD screen, 720p HD video recording, Self portrait timer and Smile Shutter technology, plus Sony's trademark Sweep Panorama feature that lets you capture panoramic photographs effortlessly. The Sony Cyber-shot DSC-H55 is available in black and silver for about £240 / $250.
Ease of Use
Described as a stylish super zoom with high end features by its manufacturer, we couldn't, on first impressions, claim to disagree with Sony's assessment of the Cyber-Shot DSC-H55 digital compact. It marries a high performance 10x optical zoom lens backed up with optical SteadyShot image stabilisation to impressive 14.1-megapixel effective resolution from a Super HAD CCD (as opposed to Exmor R CMOS) plus 720p HD movie recording, yet it still manages to squeeze unobtrusively into a trouser or jacket pocket.
As such this big zoom, small-ish form factor compact (with dimensions of 102.9x57.7x28.9mm) does battle for your pennies with a growing number of rivals. These include Panasonic's TZ series, Canon's PowerShot SX210 IS, plus Casio's Exilim EX-H15 to name a few. There's no question that a bigger than average zoom affords a greater wealth of compositional opportunities - from landscapes and group shots to candid close ups - and, high pixel count aside, this is the camera's main lure. With a focal range that stretches from a 35mm-equivalent 25-250mm, the price, surprisingly for a Sony compact, also feels rather fair at around £249. With a more conventional layout than recent Sony snapshots, complete here with top-mounted shooting mode dial, the camera pulls off the usual trick of feeling solidly built whilst relatively lightweight when gripped at 200g with battery and removable media inserted.
Like the more expensive albeit waterproof DSC-TX5 fashion compact we had in to review simultaneously, the H55 features several of Sony's recent technologies, including the operationally impressive sweep panorama function. This takes a rapid burst of images as the user pans with the camera and automatically stitches them together to provide a single letterbox-format image - so there's no need for Photoshop expertise post-capture to achieve similar. Face Detection, Smile Shutter - the camera automatically firing when a smile is detected in the frame - and intelligent auto modes also feature, further ensuring point and shoot simplicity. Active SteadyShot image stabilisation can also be deployed when shooting video to enable smoother imagery if filming whilst walking for example. Macro shooting is possible as close as 5cm from your subject.
Seemingly having all operational bases covered, such thoroughness extends to choice of recording media. With the Cyber-shot DSC-H55 Sony is offering users the choice of recording to removable Memory Stick Pro media or the more widely available SD or SDHC cards. Like the TX5 there's only one slot for both, located within the battery compartment at the camera's base. The obvious problem here is that the different media are of different physical dimensions, so in practice we found it fiddly to wiggle a Memory Stick into (and out of) the wider SD-shaped slot. Fair enough it works, but parallel slots (as usually offered by digital cameras that boast compatibility with more than just the one card) might have been a more practical solution.
| | |
| --- | --- |
| | |
| Front | Rear |
Battery life is good for 310 shots according to official CIPA testing, a performance that is neither great nor bad - in fact it's respectably average for its class. In practical terms, we took the camera away for a week and a half's holiday using it every other day and only had to recharge it on our return.
As mentioned at the outset, the faceplate of the metal and plastic build H55 is fairly conventional looking, given a dose of sophistication courtesy of its all-black livery. It is dominated by the large G series Sony 10x optical zoom lens, protected by an automatic cover when not in use. Though it can't obviously compete with ultra slender 3x or 4x zoom models in terms of portability, helping to keep dimensions as compact as possible the majority of the H55's lens is also concertinaed within the body when the camera is inactive.
Top left of the lens (if the camera is viewed face on) is a lozenge-shaped window for the built-in flash, and, over at the top right hand side of the lens, a porthole window for built-in self-timer/AF assist lamp. The flash positioning means that it's all too easy for fingertips to creep in front of it when gripping the camera firmly, a compromise we have to put up with in return for overall compactness. On a more positive note, a slightly rounded edge to the side of the camera welcomingly provides more purchase for the fingers to snake around than slender pocket snapshots. There's also a thoughtful indentation at the top right edge of the camera back that provides a comfortable resting place for the thumb.
The top plate of the camera continues the impression of a conventional operational ethos, featuring as it does the aforementioned mode wheel set into the top of the grip, an adjacent large and springy shutter release button encircled by lever for operating the zoom - a raised lip falling under the pad of your forefinger - and smaller on/off button. Unlike the other two controls this power button is recessed into the bodywork to help prevent accidental activation when placing into or retrieving the H55 from a pocket.
| | |
| --- | --- |
| | |
| Front | Top |
The shooting mode dial meanwhile feels slightly loose; ranged around this are intelligent auto, program, manual exposure, sweep panorama and video shooting modes, joined by dedicated 'easy' mode and separate scene mode settings.  The 11-strong options presented on the latter feel distinctly weedy in number when compared with the 40+ options on Casio's also 10x zoom, 14MP EX-H15 rival, but in truth feature all the essentials. So with the Cyber-shot we get pre-optimised High Sensitivity, Soft Snap (defocused background for portraits), Sports, Landscape, Twilight, Twilight Portrait, Gourmet and Pet modes, plus Beach, Snow and Firework options.
Press the on/off button and the camera powers up in just under two seconds, rear 3-inch, 230,400-dot resolution LCD displaying the Cyber-shot logo before revealing the scene/subject before the lens, the optic extending to maximum wideangle setting from its former resting place within the body. As expected there's no optical viewfinder alternative - the screen itself does all the work. A half press of the shutter release button meanwhile and the H55 determines focus/exposure more or less immediately, central AF point highlighted in green. Go on to take the shot, and maximum resolution JPEGs are committed to memory in 2-3 seconds; another standard showing for a camera of this class.
Examining the back of the camera, to the right of the screen there is a minimal quartet of buttons - all relatively small in size and seemingly needlessly so. Topper-most is an immediately identifiable playback button, with just below it a four-way directional control pad featuring centrally located set button. At 12 o'clock on this dial and moving around it in a clockwise direction are a way of manually adjusting the LCD display from normal (default) brightness to 'bright' setting, a further 'bright plus exposure info' setting (i.e with a live histogram on screen), plus finally, the brighter setting again but now with all other screen icons turned off. Moving around to three o'clock we have a means of adjusting the flash settings - basically to either on or off if shooting in one of the fully auto modes. Switch to program mode and auto and slow synchro options are added.
At six o'clock on the dial is a means of selecting self-timer options. Here we find the usual two or ten second variations joined by two face detection-linked options - the camera firing two seconds after it detects either one or two faces in the frame, making it suitable for self-portraits. At nine o'clock on the dial is the familiar to the Sony range smile shutter option. As expected the camera responds instantly to all such adjustments and settings, making operation a fluid process.
| | |
| --- | --- |
| | |
| Memory Card Slot | Battery Compartment |
Below this four-way control pad is a final pairing of buttons - with a menu control to the left, and an always very useful dedicated delete button to the right to save having to otherwise dip into menu folders. A press of the 'menu' button summons up a Canon-like toolbar which graces the left hand side of the H55's LCD screen. Using the control pad users can tab up or down and select highlighted options with a central press. Its here that, when shooting in Program or Manual mode, users can adjust image size, from the full complement of a 14 megapixels, 4:3 ratio image down to 640x480 pixels in the same ratio, or 11 or two megapixels in 16:9 widescreen format if so desired for reviewing on a flat panel TV or widescreen monitor. Next down the tool bar there is a means of switching from single shot to burst shooting, and next down again, we find a chance to bracket for both exposure and - separately - white balance.
Fittingly then, the next item on the LCD's tool bar allows adjustment of exposure compensation (-/+ 2EV), then ISO (ISO80 through ISO800), white balance, focus (multi area, central or spot AF), and metering (multi zone, centre weighted or spot again). Subsequent toolbar options let the user govern the camera's sensitivity to detecting a smile - firing the shutter only on a slight, normal or big smile for instance. Face detection and dynamic range optimizer also get their own toolbar settings - the latter allowing the user to either turn off the shadow detail/exposure enhancing feature, again set it to 'standard' optimisation or maximum DRO Plus setting. At the very end of all these toolbar options there appears a toolbox icon denoting the camera's set up folder.
Here, as on the TX5 snapshot we examined at the same time as the H55, the user has access to four further sub folders governing further shooting settings, main settings, media card and clock settings. It's amongst the former settings that photographers can turn red eye reduction on when shooting with flash, activate the AF illuminator (or turn it off) plus summon up compositional grid lines. Basically providing the degree of control you'd expect from a camera of this ilk.
While that's it for the camera back, the right hand flank of the camera if examined from the rear provides a lug for attaching the wrist strap included in the box, while the opposing side is free of any controls whatsoever. The base of the H55 meanwhile features an unprotected slot for the attachment of the composite AV/USB cable provided, and, over to one side and just left of the lens (rather than directly below) a screw thread for attaching a tripod. At the other side of the camera base is a slide open, spring-loaded catch protecting combined battery and media card compartment. Though this can be easily slid open with the thumb it doesn't feel like it might just pop open unexpectedly.
So while that's it for the H55 in terms of operation, let's next examine how it fares for image quality. Can the shots match the scope suggested by its lens and feature set?