Sony Cyber-shot DSC-J10 Review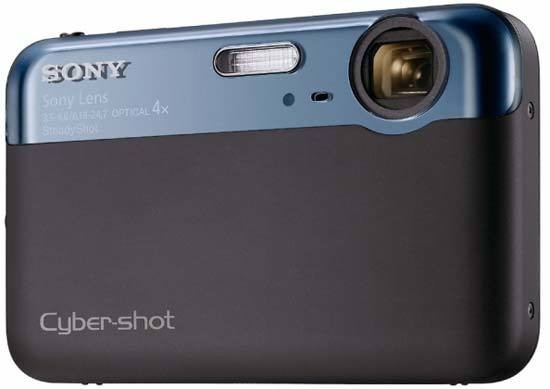 Conclusion
It's reasonable to say that the Sony Cybershot DSC-J10 is designed for travellers, point and shooters and social networkers. It looks great, has a decent set of features and the addition of the built-in USB means the camera can be charged up in any computer while also downloading the pictures. Perfect for travellers or anyone without a computer using an internet cafe that wants to update Facebook, Twitter or Flickr.

The sensor works well because it provides a good dynamic range and has good colour rendition. Using a dedicated BIONZ processor would probably improve picture quality and speed up transfer times and it's a shame it's not fitted into the J10 but then they have to separate the high-end cameras with the more budget models.

Should we criticise the camera for only having a 2.7 inch screen when there are so many out there with 3 inch and even 3.5 inch monitors. But then what are Sony to do? After all, everyone wants a smaller camera but with a bigger screen. There has to be a compromise somewhere and it's reasonable to drop the screen size down. What Sony have done to compensate is make the screen a nice, bright one meaning it's very easy to see. However it does have issues at oblique angles whereby the image goes into negative. The rest of the build quality is good and we love the design of the flush screen and clear plastic trim on the front. It gives the camera a fresh approach to camera design that makes it stand out more for the fashion conscious.

Design-wise, it's unfortunate that the J10 couldn't have some more advanced features such as a touch-screen. The reason being that it would smooth out the bumpy bits of the camera such as the zoom rocker and mode switch because they could be put on the back of the camera. Features-wise we're surprised not to see more fun things to do on the camera. It's aimed at photographers that enjoy using quirky modes and to leave them out could be a problem. Happy snappers are getting into the vintage look with their pictures and the J10 offers nothing along these lines.

If you enjoy traveling and don't fancy carrying a load of wires and a separate charger with you or if you're a point and shooter that wants to upload and go then the Sony is perfect for this.
Ratings (out of 5)
Design
5
Features
3.5
Ease-of-use
4
Image quality
4
Value for money
4