Sony Cyber-shot DSC-TX10 Review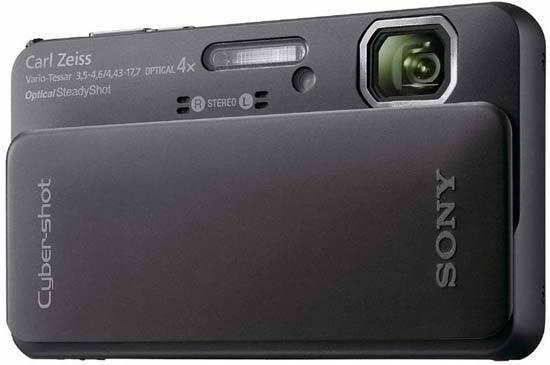 Introduction
The Sony Cyber-shot DSC-TX10 is a waterproof, freezeproof, dustproof and shockproof digital compact camera. The 16 megapixel TX10 features an "Exmor R" back-illuminated CMOS image sensor which promises to greatly improve low-light performance, resulting in cleaner images with less noise. Featuring a metal body, sliding front plate and folded lens optics, the super-slim Sony TX10 offers a 25-100mm equivalent 4x zoom lens, 3 inch touch-sensitive rear screen, Super SteadyShot optical image stabilisation, face and smile detection technology, ISO 3200 and intelligent scene recognition. The Sony TX10 also boasts continuous burst shooting up to 10 frames per second at full resolution, clever Sweep Panorama mode for extra-wide landscapes, and 1920x1080 pixel Full HD movie recording with stereo sound and HDMI output. Compatible with both SD(HC) and Memory Stick PRO Duo memory cards, the Sony TX10 camera is available in silver, black, green, blue and pink for around £319 / $330.
Ease of Use
Generally speaking, exposure to water, the cold, dust and dirt aren't the best methods of prolonging the lifespan of any electronic gadget. But the problem is that we don't want this accepted fact to limit our picture taking. Enter a solution in the fashion-conscious Sony Cyber-shot DSC-TX10, which follows on from the TX5 we reviewed last year, and is likewise a waterproof, dust, shock and freeze proofed model. At the same time it's one that doesn't immediately resemble your typical toughened compact.
This is down to the 'disguise' of a sleekly minimalist appearance with dinky regular-sized buttons (no concessions to glove wearers here), plus an 'on trend' 3-inch, 921,600 dot resolution widescreen ratio touch panel LCD, with equally small touch-sensitive icons, which swallows up the entire backplate. Missing here are the chunky bolts to the faceplate, rubber-padded corners and over-sized controls witnessed on toughened rivals from the likes of Olympus, Fujifilm, Panasonic et al. Although appearances can be deceptive, this immediately suggests that the Sony may not quite be up to having its rugged credentials tested to the very limit. Indeed the manufacturer warns that the touch panel display may 'react' to water drops, so it's best to hide the on-screen icons before using it under such circumstances. Hmm.
Although outwardly then this slim and trim DSC-TX10 is another svelte chip off the 'T' series block, resembling an executive business card holder with lens covered, and available in a choice of black, pink or metallic silver, it differs from the DSC-TX5 in being capable of withstanding a dunking to depths of five metres (or 16ft). While this improves on the TX5's 10ft, the destruction-bucking spec is otherwise the same as last year: the TX10 is also dust proof, shockproof (against drops from 1.5 metres) and freeze proof (to minus 10°C). Manufacturer's asking price for the TX10 is £319, so while that's by no means cheap compared with an un-strengthened point and shoot, at least it's £20 less than its predecessor for a better overall feature set. It is considerably more than Fujifilm's XP30's £199 however, which shares similar toughened qualities (on paper at least) and adds on GPS; having said that the Sony feels better built and more streamlined.
You wouldn't notice a change in proportions between the two Cyber-shots, although the TX10 is apparently 17.9mm in depth compared to the TX5's 17.7mm. Like its forebear it will slot readily into a trouser or jacket pocket for shoot-from-the hip snapping. Overall proportions are a very manageable 95.6x56.1x17.9mm and it weighs 133g when loaded with battery and card inserted. There's no concession to a grip of any sort, so camera shake and resultant blur is a distinct possibility in lower light.
As with the TX5, getting up and running is as simple as anyone could hope for. The TX10 once again sports a slide open and shoot lens cover mechanism that powers up the camera at the same time, even though there are separate on/off and playback buttons that achieve the same end. This ensures that as soon as the camera's lens is exposed, stereo microphones situated just below, you're ready to take a picture with it, which is as should be. The rear LCD bursts into life at the same time for lining up the shot, accompanied by an audible flourish.
You do have to apply firm pressure to the uppermost edge of the lens cover to get it to open however, and clear the marginally wider chunk of the body immediately below. This extra effort at least means there's less chance of the cover accidentally slipping open and the camera powering up when fetching it out of a pocket. We'd be nervous using the TX10 in a sandy or gritty environment however, as we can't imagine getting particles trapped between cover and lens would do it any good whatsoever; even though in theory these could be rinsed clear if you notice beforehand.
| | |
| --- | --- |
| | |
| Front | Rear |
When shooting stills, the screen's dimensions are cropped to present a 4:3 ratio picture, black bands framing the image left and right, upon which shooting info and operational buttons (including shooting mode) are overlaid. The latter can be given an inquisitive prod with a fingertip or, for greater pinpoint accuracy, the provided plastic stylus pen that is attachable to the wrist strap. These image cropping bands disappear when the (physical) red video record button nestling top right of the LCD is pressed and filming commences, the Full HD, AVCHD format video image instead expanding to fill the entire frame. The Sony offers 'dual recording', so a still picture can be captured without interrupting the flow of the video. Of course the resultant shot is also by default presented in 16:9 ratio, and at a lower three-megapixel resolution.
For those who do just want to point and click, the reliable scene and subject recognising Intelligent Auto and image enhancing Superior Auto modes are provided among the options here, with 1cm macro, 12 scene modes and a manually selectable light sensitivity range of ISO125 to ISO3200 added to the mix. For action shooters there's also continuous capture of up to 10 frames per second at 16.2MP max resolution. Alternatively, for the creatively minded there is a 'background defocus' shooting mode via which to 'fudge' a DSLR-like shallow depth of field and achieve a sharp subject yet attractively defocused background. The Sony achieves a similar effect by taking two shots and overlaying them.
The TX10's lens is somewhat modest, but adequately usable. Its 4x optical zoom is internally folded so once again at no point protrudes from the body, the focal range equivalent to a wide 25-100mm in 35mm film terms, and the lens sporting a f/3.5 maximum aperture. This is supported by optical SteadyShot anti shake.
The TX10's so-so lens is married to a 1/2.3-type back illuminated Exmor R CMOS sensor offering the suggestion of a better low light performance but also 16.2 effective megapixels, a considerable mark up from the TX5's 10.1 MP (or the TX9's 12MP).
For those who like a healthy dose of gimmickry with their gadgets, Sony claims that the TX10 is one of the first of its type (along with three co-announced Cyber-shot siblings) to offer a 3D still image mode - an addition to the now expected 3D Sweep Panorama mode and the 'cheat' of the lenticular print-like Sweep Multi Angle mode, also again featured here. This option doesn't require two lenses and two sensors to produce a stereoscopic image. Like the Olympus SZ20 that has its own 3D still generation, the Sony likewise takes two consecutive shots from two different vantage positions and combines them for its 3D effect. Like all of its stereoscopic rivals you'll still need a 3D equipped TV to properly view the results.
Being a touch screen model, physical controls on the TX10 are few and limited to the core essentials. Thus we get a recessed on/off button and larger, elongated shutter release button adjacent to each other on the top plate, set forward of a dedicated playback button and aforementioned video record button on the upper slope of the rear plate. Over at the right hand edge - if viewing the camera from the rear - is a raised joystick-like lever for operating the 4x zoom, its ridged surface preventing slippage when resting under the forefinger.
| | |
| --- | --- |
| | |
| Front | Top |
A half press of the shutter release button and, after a brief pause, AF point/s appear highlighted in green on screen with a bleep of affirmation that the shot is ready to be taken. Press down fully to take the shot and, after the standard 2-3 second wait, a single image is committed to memory.
JPEG and AVCHD files are written to a choice of Sony Memory Stick Duo, or non proprietary SD, SDHC or SDXC cards, which share the same slot at the camera's base, beneath a catch operated cover that also protects the rechargeable lithium in battery, good for approximately 250 shots (CIPA standard).
As we've noted with most flat fascia Sony Cyber-shots, the positioning of the lens, by being located over at the far edge of the faceplate, means that it can often fall victim to fingertips straying into shot when gripping the camera in both hands. Though, with use, you become more aware of where you're putting your fingers to avoid this irritation, hand the camera to anyone else for a quick portrait of you and yours and there will inevitably be tell tale finger-shaped blobs appearing in the top left hand corner of the frame.
Give the zoom toggle a nudge and the camera takes just over two seconds to power from maximum wideangle to extreme telephoto setting. Operation is both smooth and silent, and happily the optical zoom can be accessed when shooting video as well as stills, where its silent transitions really are a boon.
While there are a few key essential physical controls as noted, the TX10's heart is really the three-inch touch screen, which you'll be constantly wiping clear of fingerprint smudges. It's a given that regular display info such as an indication of battery life and number of shots remaining features on screen, though we did find ourselves hunting around for the likes of ISO, so everything isn't laid out perhaps as transparently as could be. Still, with near instant response the camera's screen performs as well as expected: pre-captured images can be scrolled through with a flick of a finger in playback mode, or tapped to progressively enlarge a section and check for sharpness. That much at least is intuitive.
| | |
| --- | --- |
| | |
| Memory Card Slot | Battery Compartment |
The record/shooting modes number eight on the TX10. We have the aforementioned Intelligent Auto and Superior Auto modes, the iSweep Panorama shooting mode (a tap of which also provides access to a dedicated underwater panorama option), plus Movie Mode, regular Program Auto, Background Defocus, 16-option Scene Selection (also including an underwater option alongside the regular portrait, twilight shooting and backlight correction modes), plus 3D Shooting mode. It's with a tap of the latter that the user is given access to 3D still image, 3D Sweep Panorama and Sweep Multi angle options that we (ahem) touched on earlier.
As well as the physical playback button atop the camera, we also get a small virtual review button nestling below the one for accessing the shooting modes which, when in playback, automatically becomes a capture mode icon for swapping back between the two. This in particular is one of the icons that could have done with being a little larger as it required a couple of finger taps from us to summon a response.
Top left of the screen we get a dedicated button for the self-explanatory menu, buttons for accessing flash settings, self-timer options, image size and resolution wedged between this and an enigmatic question mark. An inquisitive press of the latter reveals this to be hiding an in-camera function guide for newcomers, including help with troubleshooting as well as navigating functions.
On the right hand flank of the camera, as viewed from the back, we find separate ports for HDMI output (cable not supplied) and USB/AV output hiding under a protective catch-operated flap, while the opposite edge of the camera is resolutely smooth and entirely feature free.
The base of the TX10 meanwhile features an off-centre screw thread for using it with a tripod, with a flick of centrally located catch springing open the door that protects the joint memory card slot and battery compartment. But are the images that this slender yet robust Sony delivers worthy of your retrieval? Or does the Sony Cyber-shot DSC-TX10 teeter uncertainly between being all style on one hand, and no substance on the other? Read on to find out…