Sony Cyber-shot DSC-W570 Review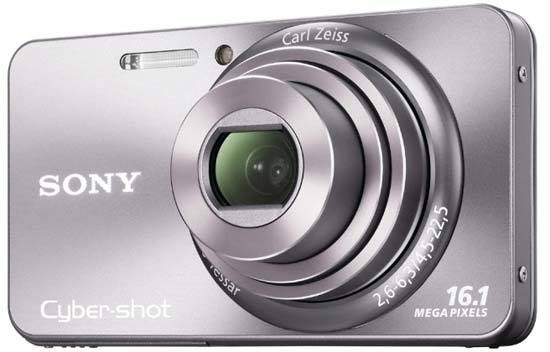 Image Quality
All of the sample images in this Review were taken using the 16 megapixel JPEG setting, which gives an average image size of around 5.5Mb.
We took pictures with the Sony Cyber-shot DSC-W570 on a lovely day and it recorded colours in nature perfectly. Greens were natural without the over saturation of an eager processor which shows the intelligence that goes into BIONZ. The sky comes out brilliantly as a rich blue with great contrast in white clouds. Closer inspection does show a substantial amount of noise considering the bright day and low ISO 100 sensitivity setting. However, we thought that the results were pleasing for the market that the camera is aimed at. Metering is good in everyday situations although in tough scenarios with complex light and hard contrast, the metering system struggled to cope even with DRO switched on to full. Portraits came out nice with good skin tones rendered and not even a hint of red-eye.
The part that we're most puzzled by is the lack of a macro function. That's not to say that the Sony Cyber-shot DSC-W570 doesn't have a close focusing system, it appears to be fully automated. However in our lab test of the macro when taking a picture of the memory card, we found that the camera struggled to focus on the subject unless it was around 40 – 50cm away from the camera. Later as we took general pictures of flowers, the camera focused much closer so we retook the macro shot in the studio and it focused around 5cm away. So it looks like the focusing can be a bit hit and miss sometimes. We also figured that the macro function would be enabled in intelligent auto mode but it rarely was. But then again, if the camera focuses closely, does the camera need to be in "macro mode" or is it just our need to know that the camera is in a dedicated mode to be working properly?
File sizes range from around 5.5 to 6Mb at full resolution and there's no option to drop the quality setting.
Noise
With the impressive specification of the Sony Cyber-shot DSC-W570's lens and processor we were expecting some spectacular results but unfortunately, we were cut short. While there's no distinct evidence of noise at ISO 80, the image is still not as smooth as we hoped for. Interestingly, at ISO 100 the picture is smoother which must mean that noise reduction is starting to work already.
There's a trace of salt and pepper noise at ISO 200 and looking at higher settings, the problems only get worse. Noise reduction does do a good job up to ISO 800 although at the latter setting coloured noise is starting to creep through in shadow areas. The noise is kept at bay for the remaining settings although detail breaks down in the picture so sharp lines are broken down.
| | |
| --- | --- |
| ISO 80 (100% Crop) | ISO 100 (100% Crop) |
| | |
|   |   |
| ISO 200 (100% Crop) | ISO 400 (100% Crop) |
| | |
|   |   |
| ISO 800 (100% Crop) | ISO 1600 (100% Crop) |
| | |
|   |   |
| ISO 3200 (100% Crop) |   |
| |   |
Focal Range
The Sony CyberShot DSC-W570's 5x zoom lens offers a fairly versatile focal range, as illustrated by these examples.
| | |
| --- | --- |
| 25mm | 125mm |
| | |
Sharpening
Throughout the test we found that the BIONZ processor sharpened picture relatively well. When we tried boosting the sharpening in Adobe Photoshop CS4 edge detail was improved but only by a little, so much so that we would be perfectly happy without any boost in editing at all.
| | |
| --- | --- |
| Original (100% Crop) | Sharpened (100% Crop) |
| | |
Chromatic Aberrations
Chromatic aberration is present on the Sony Cyber-shot DSC W570 and we found it more on hard edge contrasting areas such as objects silhouetted against the sky.
Example 1 (100% Crop)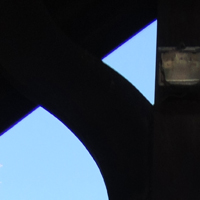 Macro
There's no particular macro setting on the Sony Cyber-shot DSC-W570 which we found unusual because it's been a staple requirement of digital compact cameras for as long as we can remember. Saying that, for a long time now we've been considering the need for a dedicated macro mode. Most macro facilities will focus to a close distance but then work all the way to infinity. If that's the case, then leaving the camera in macro mode will get the best of both worlds. It seems that Sony have had a similar thought and done away with the need for macro altogether. Time will tell if this is a possible future change of digital photography or blatant absent-mindedness.
| | |
| --- | --- |
| Macro Shot | 100% Crop |
| | |
Flash
Looking at our test shots, there's no obvious difference in light distribution between switching the flash on or leaving it off. This is actually quite brilliant because it means that you get natural light in any situation and any time of day or night.
| | |
| --- | --- |
| Suppressed Flash - Wide Angle (25mm) | Forced Flash - Wide Angle (25mm) |
| | |
|   |   |
| Suppressed Flash - Telephoto (125mm) | Forced Flash - Telephoto (125mm) |
| | |
Red-eye reduction has 3 settings; on, off and auto. The camera defaults to auto and to change it, you have to access it in the main menu. We found no red-eye in the shot even with the reduction function turned off.
| | |
| --- | --- |
| Forced Flash | Forced Flash (100% Crop) |
| | |
|   |   |
| Red-eye Reduction | Red-eye Reduction (100% Crop) |
| | |
Night Shot
The Sony Cyber-shot DSC-W570 selects a long exposure in night scene mode blurring moving subjects and even at a low ISO setting, substantial noise shows through in the darker areas. Edge definition also breaks down. The camera does select an exposure that gives a decent result and the white-balance setting also produces realistic results.
| | |
| --- | --- |
| Night Shot | Night Shot (100% Crop) |
| | |