Sony Cyber-shot DSC-WX100 Review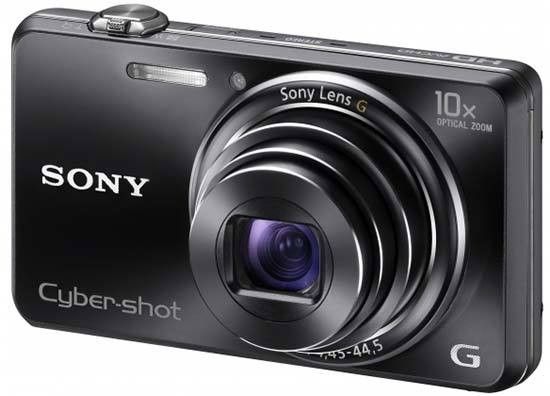 Image Quality
All of the sample images in this review were taken using the 18 megapixel JPEG setting, which gives an average image size of around 5Mb.
While taking the pictures through the test, we were a little unsure about whether they would come out ok. This was because the Sony Cyber-shot DSC-WX100's screen wasn't all that precise at relaying what the sensor was recording.
In reality when we looked back on the pictures, they look much better. Blues and greens are realistic while complicated colours such as purple and subtle hues are dealt with nicely.  Bright colours are punchy without being over saturated. The part that surprised us was how narrow the dynamic range is on the sensor. After all, this is Sony and - in our opinion - their DSLR sensors have a great dynamic range. While the sensor on the WX100 isn't the same as a DSLR, there should be the same technology filtering down to add benefit.
Metering can be tricky, the camera obviously favours darker areas which gives burnt out highlights. Usually, metering from the horizon or the edge of the dark area and light area can give a relatively balanced result but not with the WX100. We found that we either got a slightly over or under exposed dark area than what we're used to seeing.
Noise
Low ISO images from the Sony Cyber-shot DSC-WX100 look great but if you drill down to 100% magnification, you can see a small amount of noise reduction software working which makes us think that the sensor isn't all that good. Still, edges are sharp and if you view them from a normal distance, you can't possibly see the issue we mentioned. As we climb through the settings, the problem gets worse. Decay in image quality can be seen at every setting which is unusual at the low stages. ISO 400 shows a break down of edge sharpness although colour invasion isn't apparent by now.
Small amounts of colour appear at ISO 800 but the major changes don't happen until ISO 1600. At this point there's a considerable drop in quality while noise reduction does it's best to stem the tide. But noise comes washing in and there's little the camera can do to stop it. As we reach the pinnacle of the sensitivity settings, there's little similarity between the image we saw at the start. In fact, we'd go so far as to say that Sony put too high a setting on the camera. ISO 6400 is by no means perfect but it's a legible option if you need it. ISO 12800 just looks wrong.
| | |
| --- | --- |
| ISO 100 (100% Crop) | ISO 200 (100% Crop) |
| | |
|   |   |
| ISO 400 (100% Crop) | ISO 800 (100% Crop) |
| | |
|   |   |
| ISO 1600 (100% Crop) | ISO 3200 (100% Crop) |
| | |
|   |   |
| ISO 6400 (100% Crop) | ISO 12800 (100% Crop) |
| | |
Sharpening
Although we're happy with how sharp the Sony Cyber-shot DSC-WX100's lens is, we found that adding a standard sharpening to the images in Adobe Photoshop added a little extra to them.
| | |
| --- | --- |
| Original (100% Crop) | Sharpened (100% Crop) |
| | |
Chromatic Aberrations
We barely found chromatic aberrations in the pictures we looked at. It is present but it's in weird places and there seems to be no logical continuity to it.
Chromatic Aberrations 1 (100% Crop)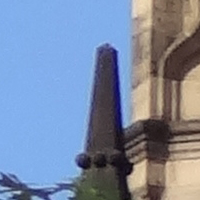 Macro
Flicking the Sony Cyber-shot DSC-WX100 into macro mode allows you to get in closer to the action when taking pictures. The macro mode on the WX100 is sufficient for everyday use but it's nothing special. The lens is sharper in the centre of the frame which is nothing new and image quality does drop off substantially to the edges of the frame.
| | |
| --- | --- |
| Macro Shot | 100% Crop |
| | |
Flash
There's a degree of vignetting  on the Sony Cyber-shot DSC-WX100 without the use of flash and this is maintained through to full zoom. Adding flash doesn't eradicate it, it simply brightens the centre area. We didn't pick up any red-eye in the portrait test although there's what looks like chroma around the catch light.
| | |
| --- | --- |
| Suppressed Flash - Wide Angle (25mm) | Forced Flash - Wide Angle (25mm) |
| | |
|   |   |
| Suppressed Flash - Telephoto (250mm) | Forced Flash - Telephoto (250mm) |
| | |
And here are some portrait shots.
| | |
| --- | --- |
| Forced Flash | Forced Flash (100% Crop) |
| | |
|   |   |
| Red-eye Reduction | Red-eye Reduction (100% Crop) |
| | |
Night Shot
Taking a night shot in auto mode gives a darker response than the night scene mode because of the shorter shutter speeds that the Sony Cyber-shot DSC-WX100 allows in this mode. However, ISO can be controlled so if you can get a decent exposure, it's best to use the auto setting. However, in our night scene test, the results aren't all that bad. Noise control is working overtime and the picture does have that oil painting effect caused by smudging the image to remove speckles, but an amount of detail has been retained.
| | |
| --- | --- |
| Night Auto | Night Auto (100% Crop) |
| | |
|   |   |
| Night Scene | Night Scene (100% Crop) |
| | |